Good morning! It is remarkably warmer this morning across Texas and Louisiana, in some cases more than 30 degrees above lows from just 24 hours earlier. Aside from this dramatic warm-up, the big story for the next couple of days is our rain chances later today and tonight, and then mild conditions for the New Year's holiday.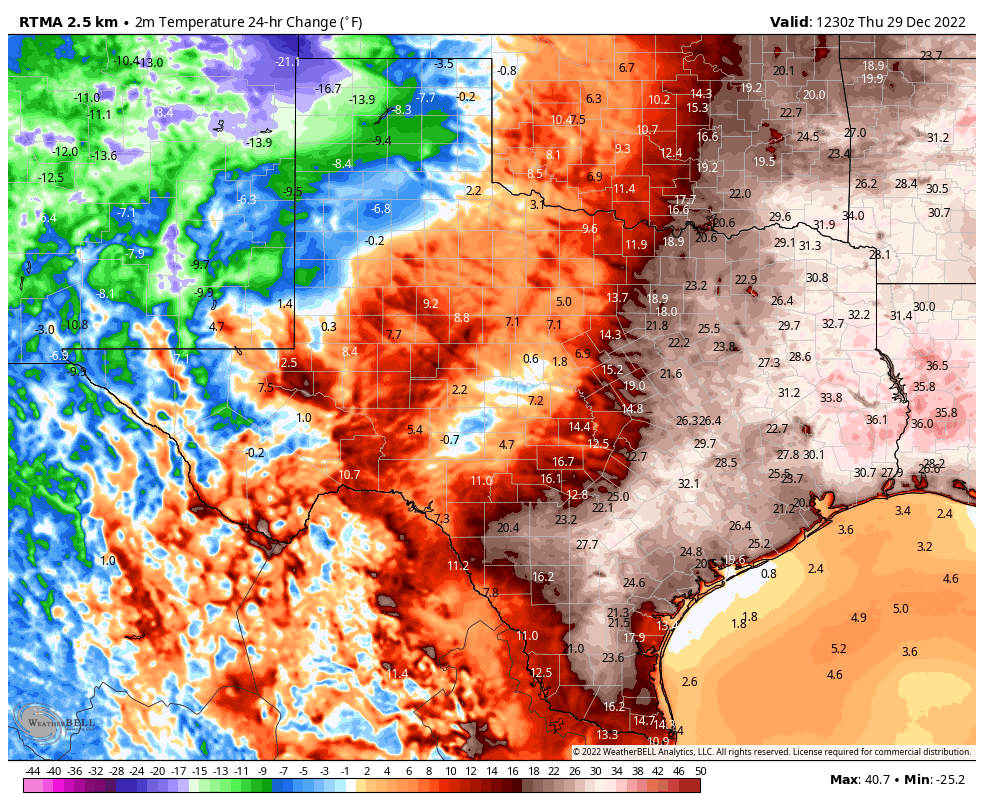 Thursday
Starting with lows around 60 degrees, we'll warm up into the upper 70s today with mostly cloudy skies. With ample moisture in the atmosphere and an inbound disturbance, there will be a chance of showers and thunderstorms today, perhaps around 50 percent. But the greater chance of storms will come late this afternoon, evening, and during the overnight hours. These storms will be hit or miss, I think, with some areas picking up just 0.25 and inch of rain, but nearby areas seeing 2 or even 3 inches. Areas that see the heaviest rainfall may experience minor street flooding.
Friday
Rain chances likely end during the pre-dawn hours. A weak front will the slide into the region on Friday, so we likely will see partially clearing skies during the afternoon with highs in the low-70s. Winds will be light, shifting to come from the north. Lows on Friday night will drop into the low 50s.
New Year's Eve
The final day of 2022 will be a fine one, with mostly sunny skies, moderately dry air, and highs in the mid-70s. Temperatures at midnight will be mild, about 60 degrees, with perhaps a few clouds in the air. Celebrate the new year outside, and safely!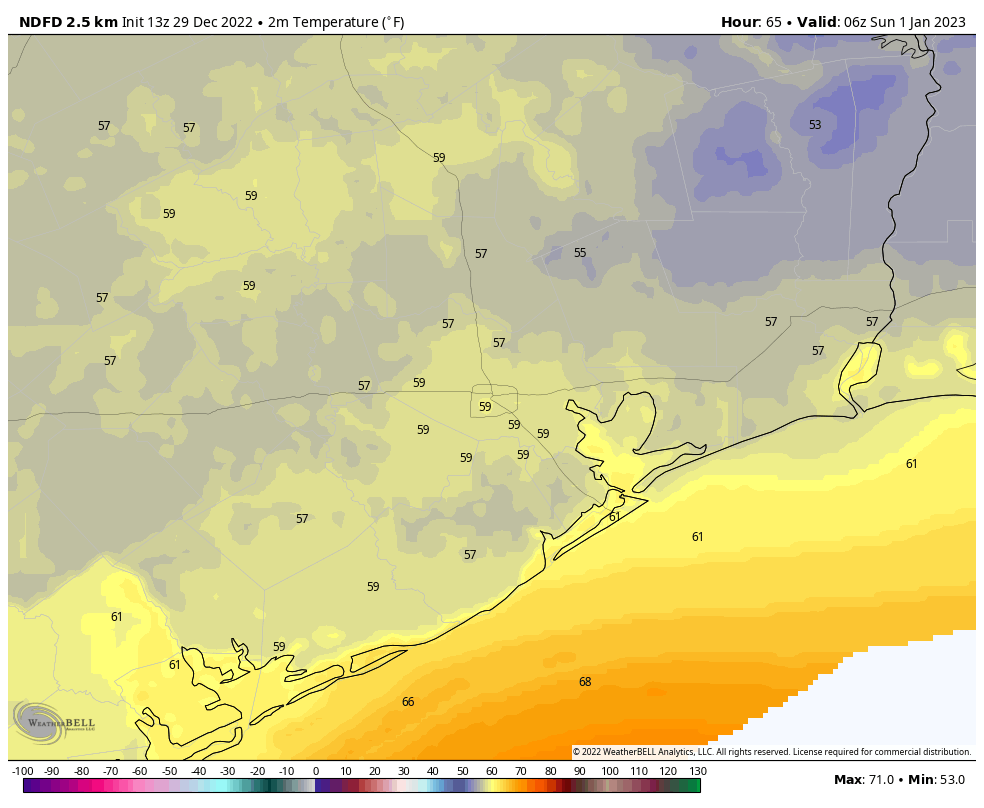 New Year's Day
The first day of 2023 will be a bit warmer, with highs in the upper 70s to 80 degrees, and partly sunny skies. Lows on Sunday night will only drop into the upper 60s, and perhaps only briefly.
Monday
This will be a wet, and potentially stormy day ahead of another cold front. Details are to be determined, but we're likely to see 1 to 2 inches of widespread rainfall. The question is whether all of the dynamics in the atmosphere line up to favor severe storms, and for now I think the answer is that such conditions are more likely to the northeast of Houston, rather than over the city itself. We shall see. Otherwise expect highs in the upper 70s.
Rest of next week
Most of next week will probably see highs in the 60s, with lows in the 40s and 50s. There looks to be a fair amount of sunshine as well. So overall, the first week of 2023 looks to be fairly nice. Hopefully one might be able to say that about the whole year.
Holiday lights
We're in the final days of being able to enjoy the holiday light shows at Space Center Houston and the Houston Botanic Garden. Here's a review we wrote of these attractions earlier this year. You can find more information about each there, along with a discount code to save you $5 on each ticket.