Sunday's cold front certainly took its sweet time moving through Houston—the city tied a record high with 92 degrees, and Galveston broke its record high of 91 degrees—but cooler and drier air did finally blow through during the afternoon and early evening hours. And it's everything we'd hoped it would be, strong enough, and lasting long enough, that we're declaring this Fall Day for 2017 in Houston.
Monday
It's been a breezy night, especially along the coast, as the front has pushed deep into the Gulf of Mexico. These winds should die down later this morning, although some gusts in the low 20s are possible throughout the day. Look for highs in the upper 70s this afternoon under sunny skies. Temperatures tonight will be pleasant for fall, ranging from around 50 degrees well north in Houston, into the mid-50s for much of Houston, and upper 50s closer to the coast. It's going to feel, dare I say it, almost cold?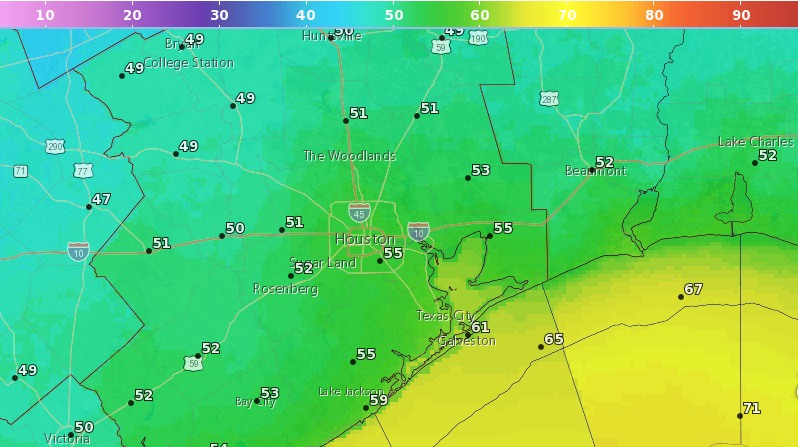 Tuesday
Another day a lot like Monday, with less wind. Look for highs in the upper 70s, sunshine, and another cool night heading into Wednesday.

Wednesday and Thursday
We'll be a bit warmer, and some humidity will work its way back into the region, but these still should be pretty nice days. Look for highs in the low 80s, perhaps a few clouds, and overnight lows in the mid- to upper-60s.
Friday through early next week
The forecast for this weekend is somewhat uncertain as forecast models are divided on how to handle the movement of an area of low pressure in the upper levels of the atmosphere. Some models bring it through the area fairly quickly, and others drag it through over a matter of days. What I think is most likely this weekend is partly to mostly cloudy days, with muggy highs in the low 80s, and intermittent rain showers. Depending upon the aforementioned evolution of that low pressure system, we could see anywhere from 0.5 inches to a few inches of rainfall. Right now I'm not overly concerned about the rainmaking potential for this system, but it's something we'll watch for.
Eventually a cool front moves into the area next week, perhaps on Monday or Tuesday, likely bringing an end to the rain.