Good morning. Houston faces a couple of more wet days, with the potential for heavy rainfall, before drier and slightly cooler weather arrives early next week.
Thursday
After a quiet night, in terms of rainfall, we'll see activity increase this morning along the coast and migrate inland during the day. These storms should move along at a decent clip, so we don't expect major impacts, but some locations could pick up a quick half inch of rainfall. Rain chances are probably greater than 50 percent south of Interstate 10, and less than that for inland areas. With mostly cloudy skies, high temperatures likely will remain confined to the mid-80s for much of the area. Rain chances should slacken late this afternoon, or during the evening.
Friday
This should be a similar day, as our atmosphere remains moist and open to upper-level disturbances moving through. Rain chances are probably 60 to 70 percent during the daytime, with briefly heavy rain and thunderstorms possible. While there is the potential for heavy rainfall on Friday, conditions are more favorable for this to happen closer to Austin than Houston. Storms should weaken during the late afternoon hours, and likely wind down after sunset. Highs will again be in the mid-80s.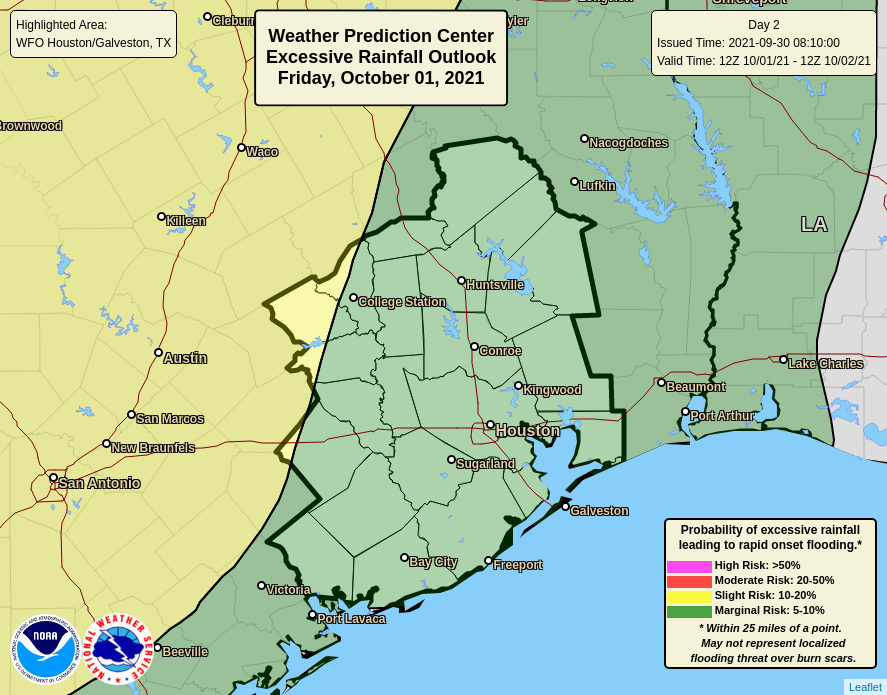 Saturday
The first half of the weekend is far enough out that I don't feel too confident in the specifics, but with elevated moisture levels it does seem possible that we could continue to see the potential for widespread showers, and some heavy rainfall on Saturday—maybe during the morning hours? The bottom line, I think, is that any outdoor plans on Saturday should come with an asterisk. Highs will probably reach the mid-80s with more cloudy skies.
Sunday
The pattern begins to change on Sunday, with atmospheric moisture levels dropping in advance of a frontal passage. As a result, skies should turn partly sunny on Sunday, with rain chances falling during the day. Highs will be in the mid- to upper-80s. The front itself, which is fairly weak, should push into Houston during the late evening hours or so, and move off the coast over night or early on Monday.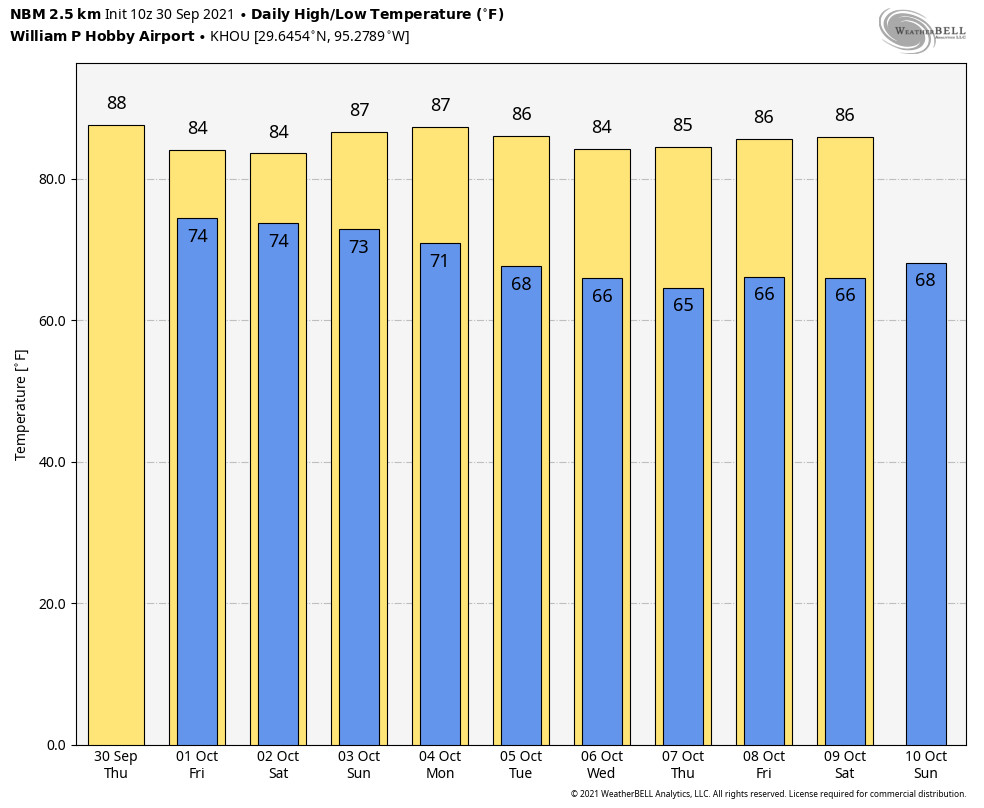 Next week
Next week should be sunny, in the wake of the front, with highs in the 80s and lows in the 60s. The cooldown won't be too dramatic, but rain will go away for several days, and the air will be noticeably drier. I'll take it.