A fairly robust line of thunderstorms rumbled through Houston during the wee hours this morning. Several locations recorded wind gusts in excess of 40 mph, but power outages were fairly scattered with only about 20,000 customers affected in the metro area as of sunrise.
The storms generally brought 1 to 2 inches of rainfall, and this was manageable by the area's flood system. Transtar is reporting no major flood-related issues on area roadways. We'll see continued rain chances into the weekend, but this morning's action was probably the most significant we're going to see for awhile.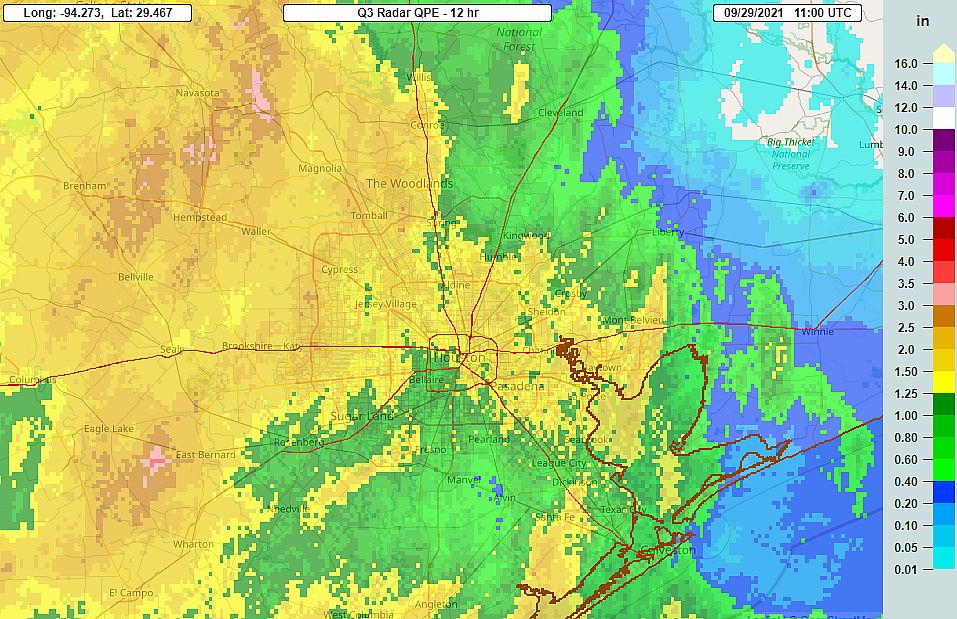 Wednesday
The squall line with the strongest storms has moved well east of the Houston region, but light showers will likely continue into mid-morning for much of the area. By or before noon, even this light rain should end and we should start to see some partly sunny skies. As a result, high temperatures should push into the upper 80s away from the coast. A few scattered showers will be possible later this evening or during the overnight hours, but for the most part things should be a lot quieter than Tuesday night. Lows will be sticky, likely only falling into the mid-70s.
Thursday
This should be another day with a mix of clouds and sunshine, and temperatures in the mid- to upper-80s. Rain chances are probably about 50 percent, but we shouldn't see any kind of organized storms like we saw Tuesday night into Wednesday morning.
Friday and Saturday
Healthy rain chances will continue on Friday and Saturday, with both days likely seeing partly to mostly cloudy skies. It's certainly not going to be wall-to-wall rain, but there should be enough activity that you'll want to have a contingency plan for any outdoor activities. Highs both days will probably be in the mid-80s. I would guess that most areas see an additional 1 inch of rainfall, or less, from Wednesday afternoon through Saturday.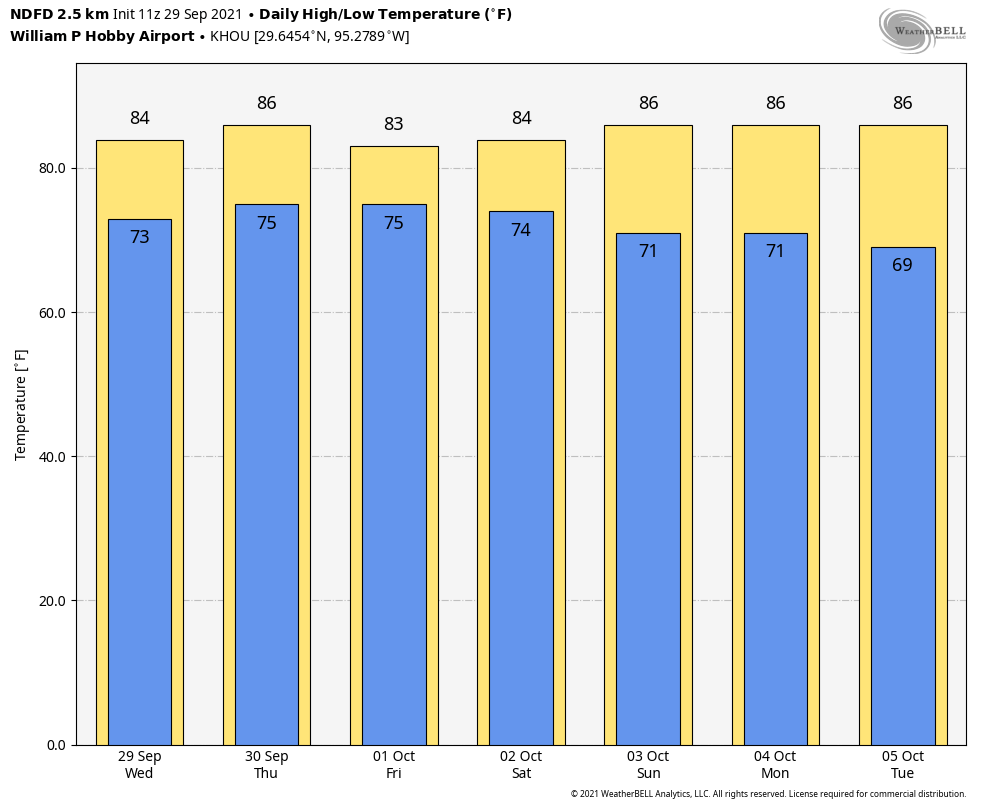 Sunday and beyond
Will it or won't it? That's the question with a cold front approaching our region by Sunday, and possibly pushing through Houston and off the coast. I think there will be enough dry air moving into our region that Sunday should be partly sunny, with diminished rain chances. Temperatures should therefore be a bit cooler to start next week, with models now indicating that a second push of colder air could arrive by mid-week. By Wednesday or Thursday, then, it probably will start to feel more fall-like.