Steady, moderate to heavy rain showers are continuing to fall across the Houston metro area tonight. But even the most intense showers are only producing rain at a rate of about 1.25 inches an hour. That is within the capacity of most Houston roadways and bayous to handle.
Emphasis on "most." During the last hour some of the heaviest rain has fallen in central Houston, where areas like White Oak Bayou at Heights Boulevard has risen to within about 2.5 feet of the top of its banks. The bayou is likely to stray beyond its banks later this morning. A number of downtown streets may flood early Sunday morning.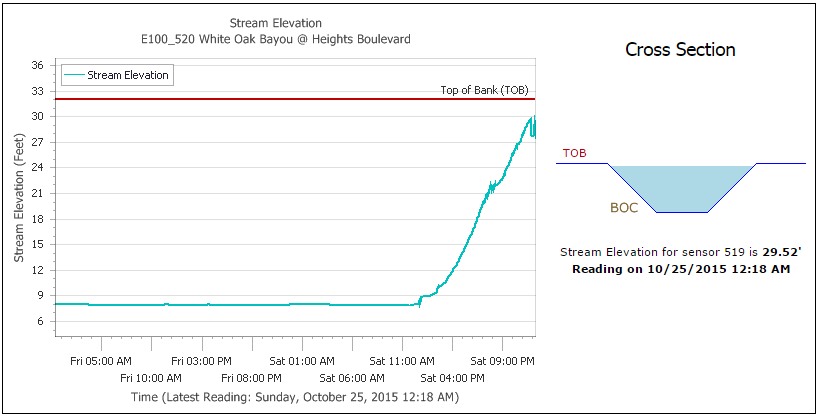 It's also true that there are already more than two dozen roadway closures in the region due to high water. But these are, for the most part, temporary closures of roads that often flood during heavy rains.
The reality is that this storm appeared capable of producing rainfall rates of 3 or even 4 inches per hour, which we have not seen so far today, nor do we seem likely to see on Sunday. This has allowed the region's bayous to so far largely contain the heavy rain.
I'm striking a hopeful tone in this post because I think there's a reasonable chance that Houston gets out of this storm with relatively minor damage considering the potential for flooding. My one concern is that these 1 to 1.5-inch hourly rain rates continue through Sunday morning, which would bring some parts of the city above 10 inches total. That would push some bayous past their banks.
In addition to White Oak Bayou, Harris County Flood Control District's Jeff Lindner reports concern about the following bayous:
Hunting Bayou: 3 ft from bankfull on upper portion of the watershed near Lockwood
South Mayde Creek: 2.1 ft overbanks. Water is likely now starting to impact the south approaches on Greenhouse Rd
Lower Cypress Creek: nearing bankfull at Cypresswood
Halls Bayou: nearing 3.0 ft below bankfull at Jensen Dr
Keegans Bayou: 1.5 ft below bankfull at Roark
Nevertheless, without the explosive rain rates, and with the rains coming to an end through the day on Sunday, we are unlikely to see widespread flooding of homes like Houston experienced during the Memorial Day weekend. That is very good news.
I will have an update at 2:30 or 3:00 a.m.
Posted at 12:30 a.m.