A round of thunderstorms moved through Houston during the overnight hours, dropping as much as 2 inches of rainfall for some areas pretty quickly, but now the Houston region is seeing a break that should hold through at least sunrise and probably the morning commute.
Wednesday
The cold front that's helping to drive these showers (along with some kinks in the atmosphere moving northward into the region) isn't going away, so there's the potential for redevelopment of heavy rain later this morning and throughout the day. To that end, the National Weather Service has issued a Flash Flood Watch through 3pm this afternoon for most of the region, excepting the coast.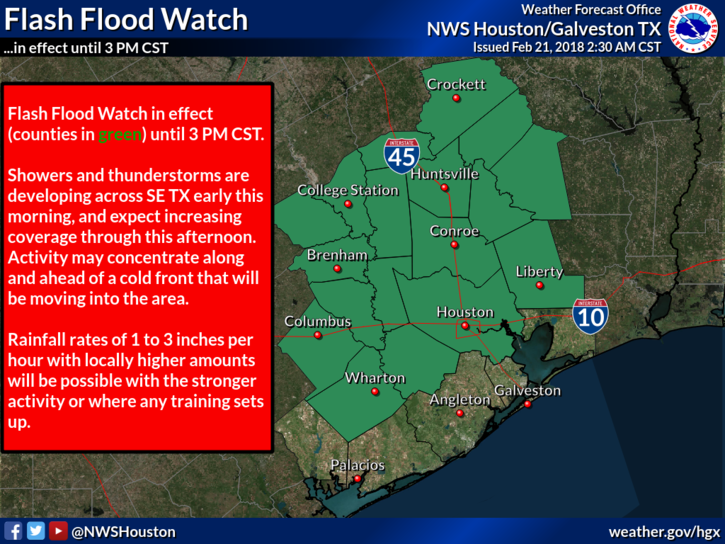 With that said, I don't things will get too bad today, and probably at most we are looking at the potential for some short-lived street flooding during heavier downpours. Bottom line—check the radar before heading out for any trips beyond the local grocery store. The front should eventually make its way through most of Houston, leading to a somewhat cooler night in the 50s for most of the area except for probably along the coast.

Thursday
The chance for heavier rain falls off, but we are still going to see at least scattered and probably widespread, intermittent showers on Thursday with cloudy skies. I'm not particularly concerned about accumulations, however, as they should remain well under one-half inch for most of Houston. Highs will be in the mid-70s as the cool front lifts back to the north.
Friday and Saturday
Heading into the weekend, we're going to see more of the kind of gray, and warmish weather Houston has experienced for much of this month. Look for highs in the upper 70s, with warm nights in the 60s, and a decent chance of showers and thunderstorms both days. Neither will be a washout, but the threat of rain will hang over us.
Sunday, Monday, and Tuesday
A cool front will reach Houston on Saturday night (probably, the timing is not 100 percent locked in), and this should bring us some moderately cooler weather beginning on Sunday. I think we can probably expect some high temperatures in the mid-60s to lower-70s, with overnight lows in the lower 50s through Tuesday night. Parts of Monday and Tuesday may also be mostly sunny, if you can believe that, although enough moisture will remain that we can't totally rule out some rain. Anyway, the early part of next week doesn't look too bad.
We'll have a full outlook for the rodeo forecast tomorrow.