Conditions favorable for heavy rainfall will set up over Texas beginning later today, but for now we continue to think that the hardest hit areas will be north of Houston over the next two days. Regardless, we'll be watching the system closely because of its potential for mischief.
Tuesday
After a warm morning, conditions will remain muggy throughout the day, with highs in the upper 70s and mostly cloudy skies. Winds will be gusty out of the south, and we may see some scattered rain showers this afternoon—but nothing to get too concerned about. We'll have to wait until the overnight hours for heavier stuff.
Tuesday night, Wednesday, and Wednesday night
The combination of a very slow moving cold front (moving in from the northwest), very moist air, and a series of atmospheric disturbances moving north from Mexico will create conditions for bands of very heavy rainfall across Texas. As the map below from NOAA shows, the best chance for heavy rainfall appears to be north of the Houston metro area.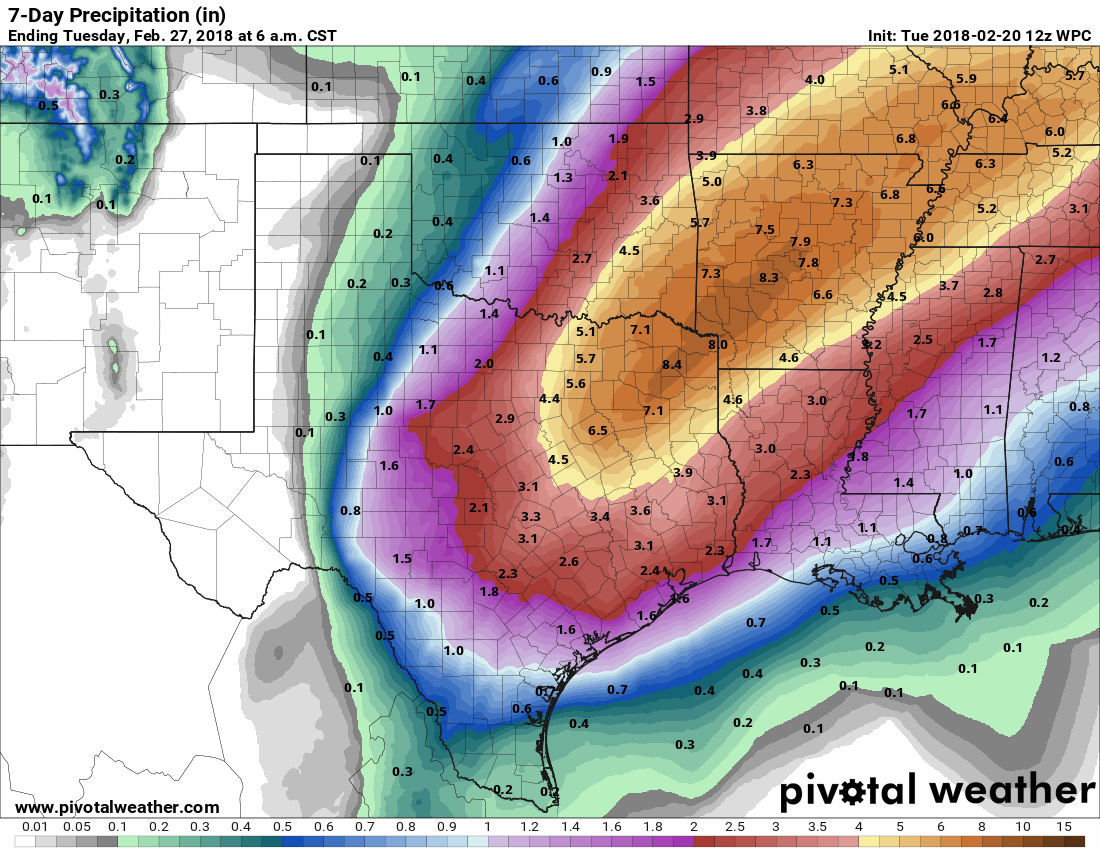 As always, with these forecasts, they are a guide about general conditions rather than an exact prediction. Given the atmospheric conditions, we definitely will have the potential for heavy rainfall in Houston, too.

What we think will happen is that showers and thunderstorms will become more widespread for areas north of Houston on Tuesday night—including parts of Austin, Waller, Montgomery, and Walker counties—with these storms spreading into Houston during the day Wednesday as the cold front slogs southward. Right now, it doesn't appear as though Houston will face any more severe a threat than the potential for some street flooding. But the caveat here is that the aforementioned front could move a bit further south than presently forecast, and line up the system's heaviest rains over the metro area. Can't rule that out for now.
Thursday
The front will probably begin pulling back to the north on Thursday, and this should lead to a gradual diminishing of rainfall likelihood, especially for heavier showers. Rain chances overall should fall off by the afternoon or evening hours, with a high in the 70s.
Friday and Saturday
While we can't rule out some scattered showers, for the most part I think we'll just have to contend with gray skies. Conditions will remain muggy, with highs in the 70s, and lows in the 60s.
Sunday and early next week
It looks like a cool front will actually make it all the way offshore on Saturday night, or so, which could lead to a few cooler days and some nighttime lows in the 50s. But how strong this "next" front is doesn't seem all that clear at this point, and I expect we'll muddle along with ongoing rain chances in its wake.