Hello, winter. It's easy to pinpoint the moment at which the most recent front barreled into Houston. At 3:15 am on Wednesday morning it was 70 degrees at Bush Intercontinental Airport. The dewpoint was 66 degrees—which is rather sticky for late November—which made for a relative humidity of 88 percent. Then winds started to gust out of the north at 25 to 30 mph. An hour later the temperature had dropped into the 50s, with the dewpoint in the 40s. This morning the low bottomed out in the upper 30s for Bush, and other inland areas. This is proper winter weather for Houston.
Goodbye, winter. As quickly as the front moved in on Wednesday, it will start to head for the exits today. Winds are already turning easterly and this will moderate temperatures, setting the stage for a warm weekend. It looks like we're going to remain anomalously warm for awhile, but there is some hope on the horizon for those who like a bit of colder air with their holiday season. The overall pattern will start to favor an influx of significantly colder air in about 7 to 10 days time.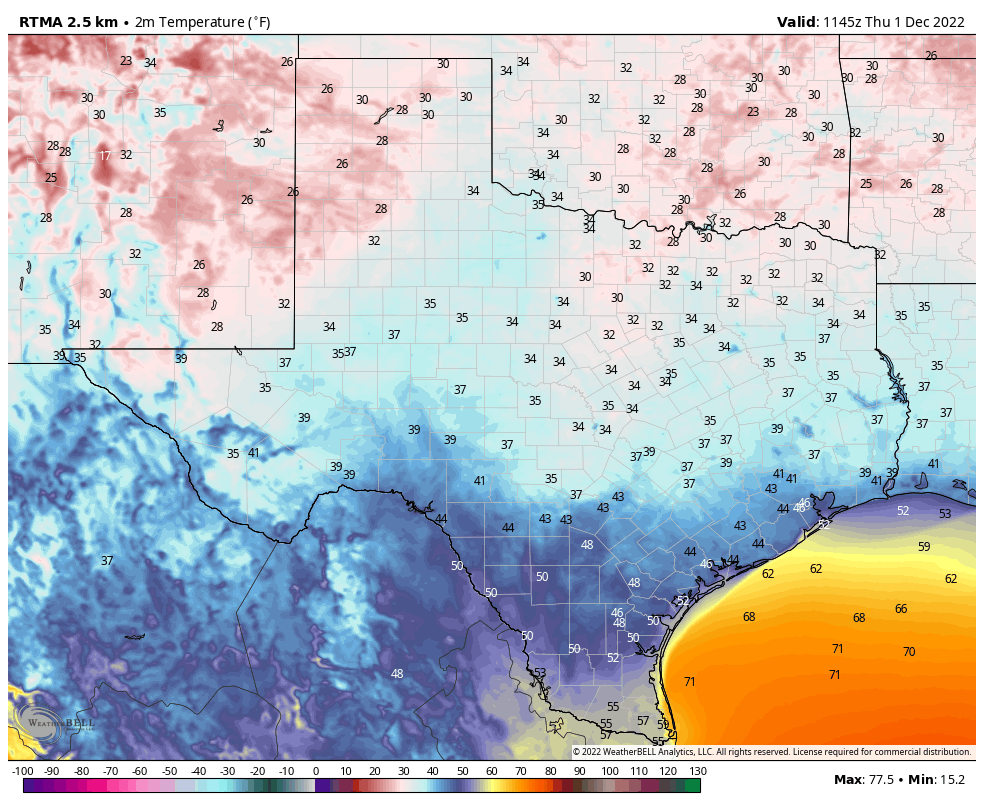 Thursday
This morning is cold, with inland areas seeing lows in the upper 30s, and much of the rest of the region in the low 40s. Skies are clear, but with those easterly winds today we're going to see clouds start to develop. Highs across the area should reach about 60 degrees, or slightly higher. With the warmer flow, expect lows tonight to only drop into the mid-50s in Houston, with cooler conditions further inland. There is a very slight chance of light rain after midnight.
Friday
This will be a warmer day, with highs in the upper 70s and mostly cloudy skies. We'll again see a slight chance, perhaps about 20 percent, of some light, misty showers. Winds will be light, generally out of the southeast. Lows Friday night will struggle to drop below 70 degrees in Houston, and with continued light winds fog is a definite possibility on Friday night going into Saturday morning.
Saturday and Sunday
The weekend will be the opposite of clear and cold. The forecast is complicated by the arrival of a weak front that may move into the Houston metro area on Saturday and then stall out. For inland areas, this may bring a bit of cooler and drier air on Saturday night. Anyway, my general expection is for a mostly cloudy day on Saturday, with highs in the upper 70s and perhaps a 30 percent chance of the aforementioned light, misty rainfall. Lows Saturday night will depend on how far you live from the coast, but I'd expect them to drop into the low- to mid-60s in Houston. Sunday will be similar to Saturday, with mostly cloudy skies and highs in the mid- to upper-70s. We can't entirely rule out a few scattered, light showers.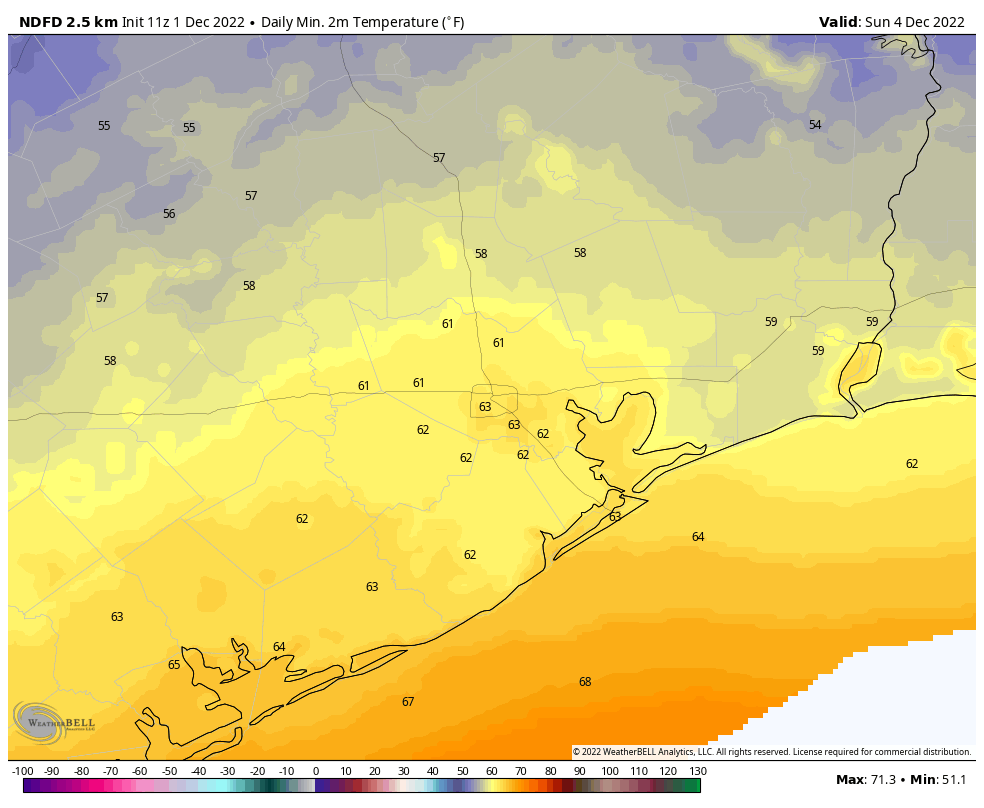 Next week
That weak front that stalled out over Houston on Saturday will move back inland as a warm front on Sunday, and that will set us up for a warm start to next week, with some partly sunny days and highs of around 80 degrees. The tea leaves become more difficult to read after this point, as it's not clear whether a mid-week front will make it all the way to the coast. If it does not—and this is the scenario I would lean toward at this moment—then the second half of next week likely remains warmish and humid, with highs in the upper 70s. We'll see. Although it's a long ways off, the models do seem pretty confident in much colder air moving into Houston by around December 10, and the overall atmospheric pattern supports such a scenario. But I'm not betting the mortgage on a 10-day forecast, and I recommend you not do so, either.