Good morning! A cold front made it through during the overnight hours, and now we're going to see two brisk, winter-like days. This won't last too long, however, as a warm front pushes back into the area by Thursday night, at which point we'll remain fairly warm into the early part of next week. And after that, well, there's not a whole lot of clarity.
Wednesday
The front has banished the soupy skies and thick humidity from Tuesday, and with northerly winds gusting to 25 or 30 mph there is plenty more dry air on the way. Temperatures today will probably remain in the upper 50s for the most part so, combined with the wind, you're going to want a sweater or a light jacket. With clear skies and lessening winds, temperatures will plunge tonight for what will probably be our coldest night in two weeks, and coldest for some time to come. Much of the Houston region will drop into the low 40s, with outlying areas seeing the upper 30s.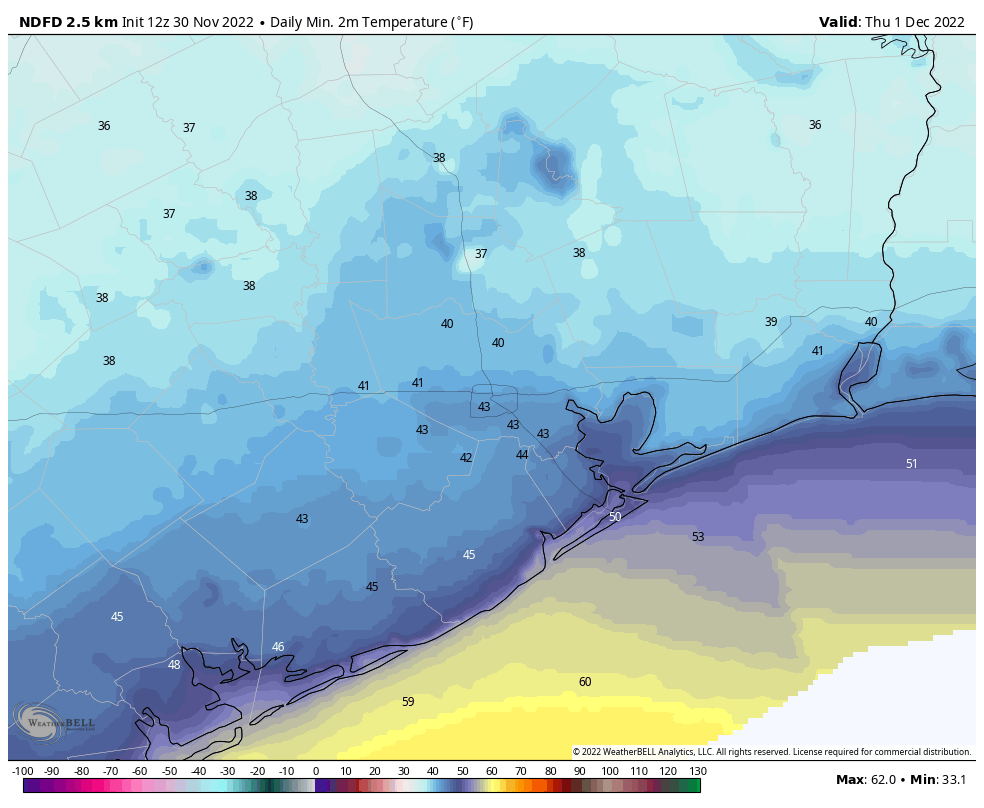 Thursday
By Thursday we'll start to see high pressure shifting to the east, and this will allow our winds to turn more easterly. The daytime should still bring mostly sunny skies, with highs of around 60 degrees. But as winds shift away from the north, we'll see a moderation in overnight temperatures, with lows only dropping into the mid-50s and increasing clouds.
Friday
Skies will be mostly cloudy as more moist air returns to the area, with highs in the upper 70s. There will be a chance of very light rain, but it's probably less than 20 percent. Friday night will be rather sticky for December, with lows dropping only to around 70 degrees.
Saturday and Sunday
The big question for this weekend is how far a weak cool front sags into the area. This is something that may stall out just north of the metro area, or along Interstate 10, so our temperature forecast remains in flux. My starting point is that we're going to see a warm, partly to mostly cloudy weekend. Highs on Saturday and Sunday should be in the upper 70s to about 80 degrees. Lows probably will be in the upper 60s, but the further inland you live, the greater chance you have of seeing some drier air later on Saturday and Sunday to cool the nights down a little bit. Rain chances—again, this would be light rain, generally—are 20 to 30 percent each day.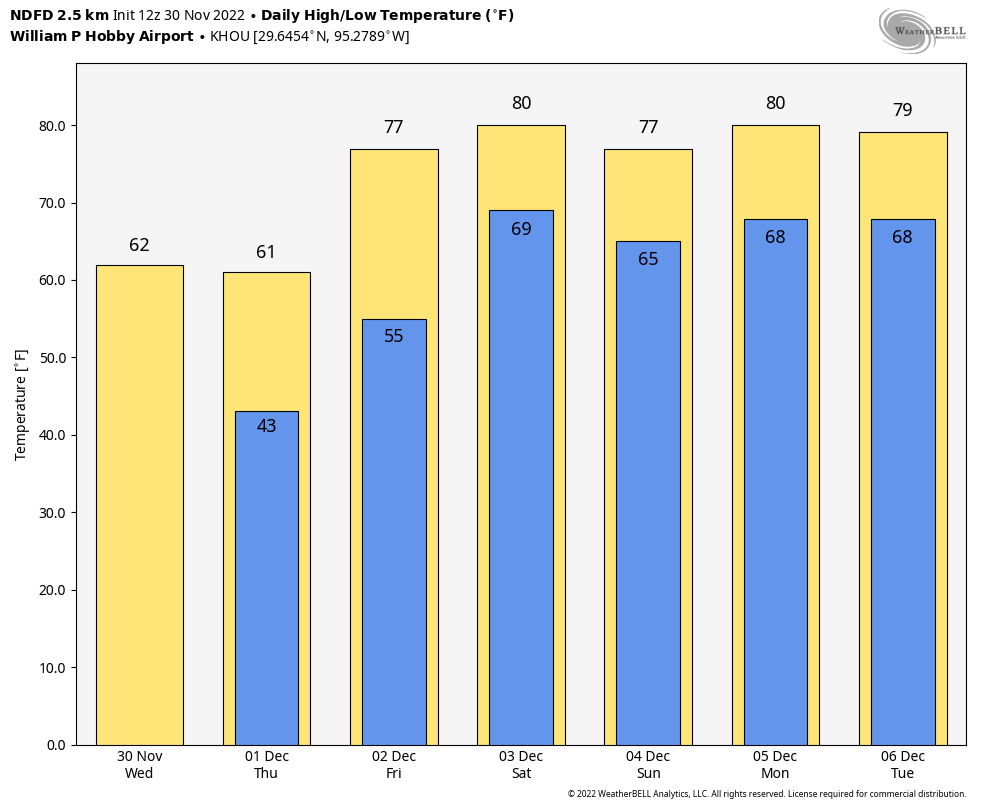 Next week
Monday and Tuesday look warm next week, with more days seeing highs of around 80 degrees. After that some sort of front is likely to push through. It may have some real oomph, or it may be fairly bland. If you're pining for some really seasonal, cold weather to get you into spirit for Christmas and other December holidays, it does look like there will be a more significant blast of colder air in the December 10 to 15 range. That's a long way off so it's not something we can count on, but the overall pattern would favor much cooler air moving into the United States at that time. We shall see.
Tropics
The 2022 Atlantic hurricane season officially ends today. It's been over for Texas since late September, but we're happy to celebrate the end again. Good riddance!