Houston faces a pretty straightforward forecast for this week, as high pressure builds in by Tuesday or Wednesday, and the heat goes up. Chances are good that inland areas, particularly north of Spring, and west of Katy, will see one or more 100-degree days this week, and this coming weekend. And after today and possibly Tuesday, rain chances will fall off a cliff. In short, August will feel like August.
Monday
However, before that happens we're going to see one more day with reasonably good rain chances—probably around 30 percent for areas north of Interstate 10, and 50 percent for areas closer to the coast. Conditions will be similar to Sunday, in which scattered to widespread storms popped up during the late morning and afternoon hours. Some of these storms can quickly drop an inch of rain (as happened Sunday near Waller), whereas most of the region will see a tenth of an inch of rain, or less.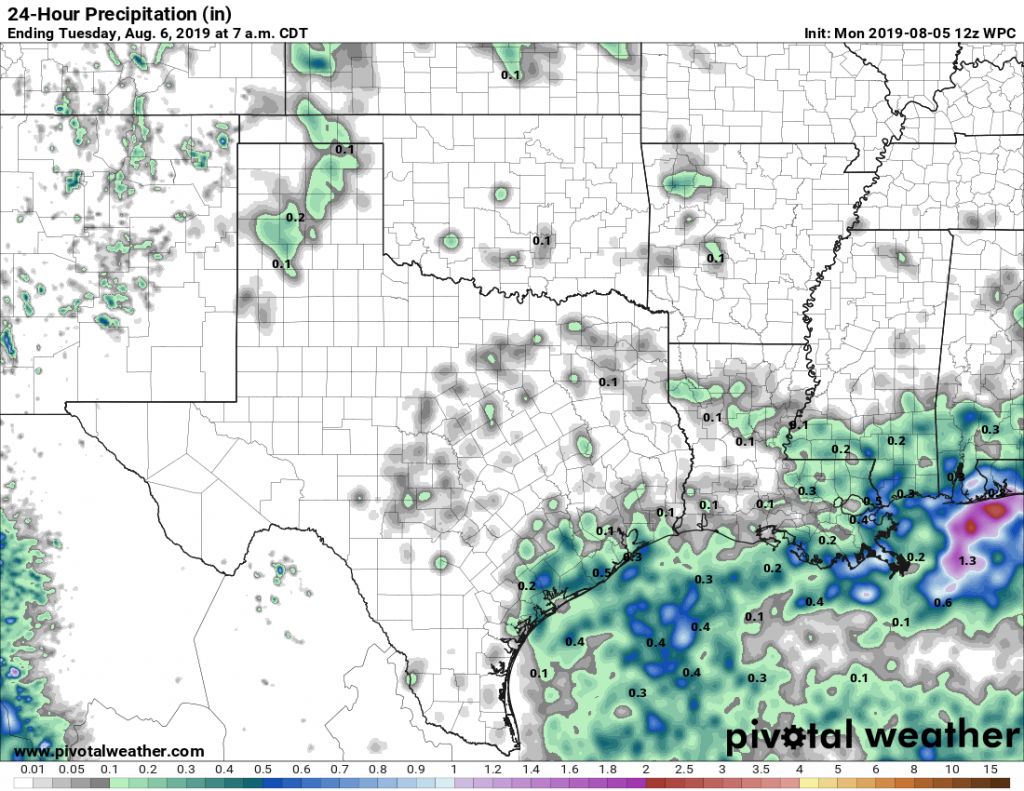 The rain chances, combined with partly cloudy skies, should hold highs to around the mid-90s for most of Houston. Monday night should be rain-free as storms end with the loss of daytime heating, and lows will probably fall into the upper 70s for inland parts of the region.

Tuesday and Wednesday
These will be transition days, as high pressure begins to build over most of Texas, including Houston. The atmosphere may still be able to squeeze out some rain showers during the afternoon, along the sea breeze. Still, with mostly sunny skies, expect highs in the mid- to upper-90s.
Thursday until ???
When the high pressure arrives, it's likely to stay awhile. We are looking at a sustained stretch of days in the mid-to-upper 90s, with areas more than about 20 miles away from the coast at risk of seeing highs of 100 degrees or higher. Nights will be pretty equally brutal, with lows only falling to around 80 for much of the metro area.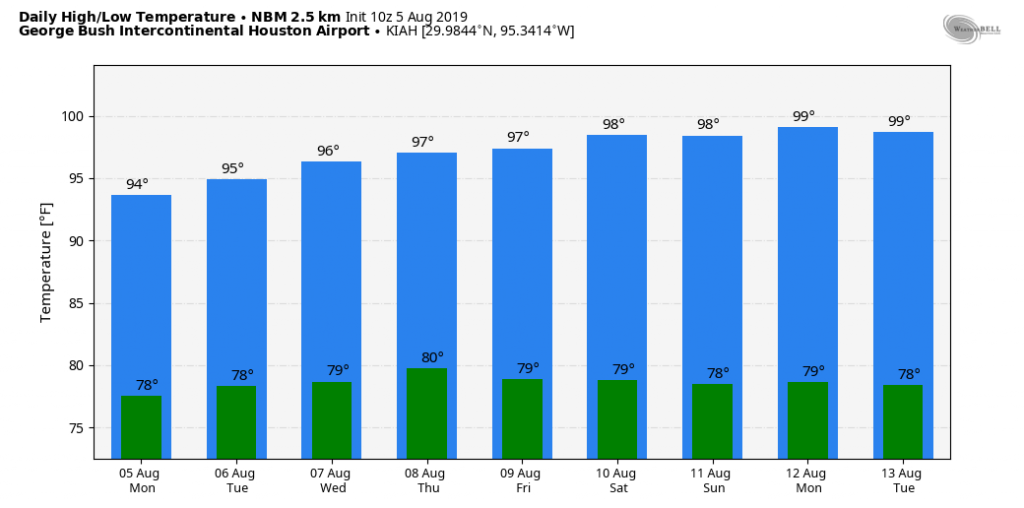 The weekend looks hot and sunny. Period.
This pattern may break by around the middle of next week, when highs back off some, and rain chances return to the forecast. We shall see.
The tropics
The Atlantic is likely to be as dead as a doornail for the next week—which for early August is something we can all celebrate.