Good morning. I want to thank you for all your lovely remembrances about Tropical Storm Allison in the comments here, and on Facebook yesterday. For me, too, it is difficult to believe it was 20 years ago. And after the floods, those were the worst mosquitoes I have ever seen in Houston, and that's saying something!
Houston's forecast is pretty straightforward from now through most of the weekend. We're going to experience a lot of sunshine, and our warmest weather of the year as temperatures stay in the mid-90s for much of the region away from the coast. Rain chances will remain near zero until later on Sunday, and most of the region probably will stay dry until the early or middle part of next week when the tropics may, or may not, intervene.
Thursday
The combination of high pressure expanding northward into the region, and a capped atmosphere, should prelude any shower activity today across Houston. Skies will see a mix of clouds and sunshine as highs push into the low- to mid-90s across the region with light southerly winds. Nighttime temperatures will probably drop into the upper 70s away from the coast.
Friday and Saturday
As high pressure expands across the region, these will be hot and sunny days, with highs in the mid-90s for almost everyone by the immediate coast. Lows will be warm, but at least not in the 80s for most, as can happen later in the summer.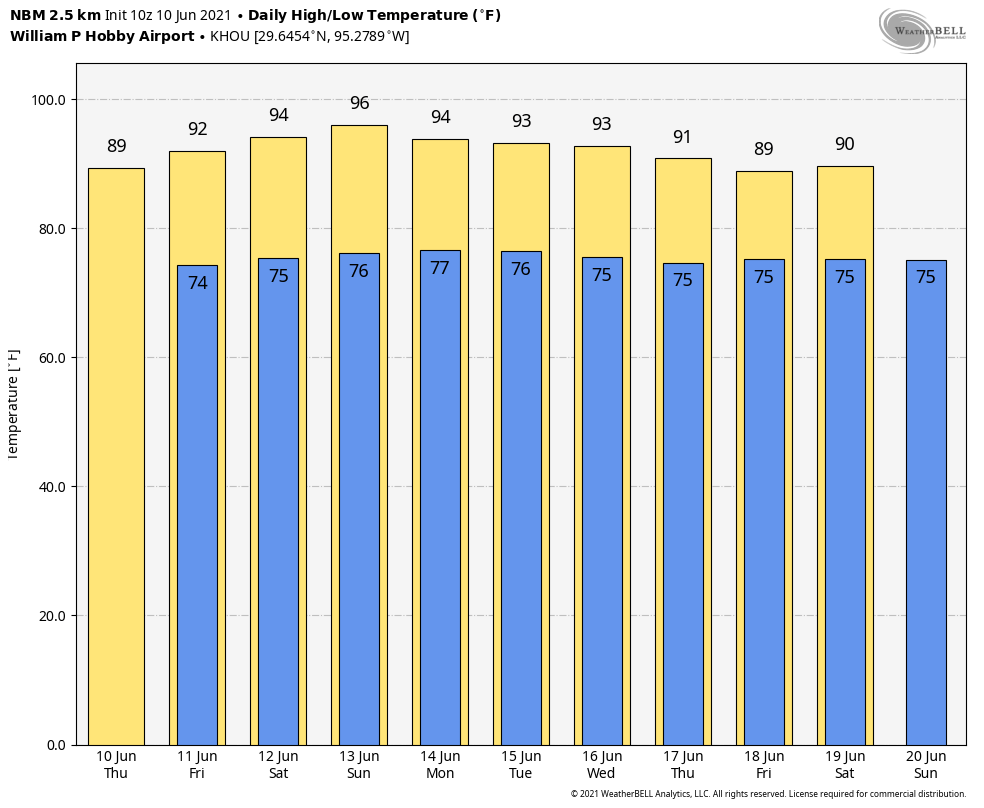 Sunday and Monday
High pressure may recede to the west, and this could open up shower chances for some areas on the eastern side of Houston. But any showers that develop will be short-lived, and frankly I expect most of the area will probably remain dry on these days, with mostly sunny skies and warm conditions in the mid-90s.
Next week
Some clouds will return later next week, and this should help to moderate temperatures slightly, and bring back a chance of sea breeze-driven showers during the afternoon hours. Whether these conditions persist for all of next week will depend on the evolution of a tropical system that may form in the southern Gulf of Mexico next week, as discussed below.
The tropics
If you were to only look at the operational runs of the European and GFS models this morning, you'd see a tropical depression of some sort forming in the Southern Gulf of Mexico late Thursday or early Friday of next week. Both of these models then bring a depression or tropical storm northward, toward Texas and Louisiana, about nine days from now. This would lead a keen observer to think that we may see some tropical weather, particularly in the form of higher rain chances, toward the end of next week. You might be concerned.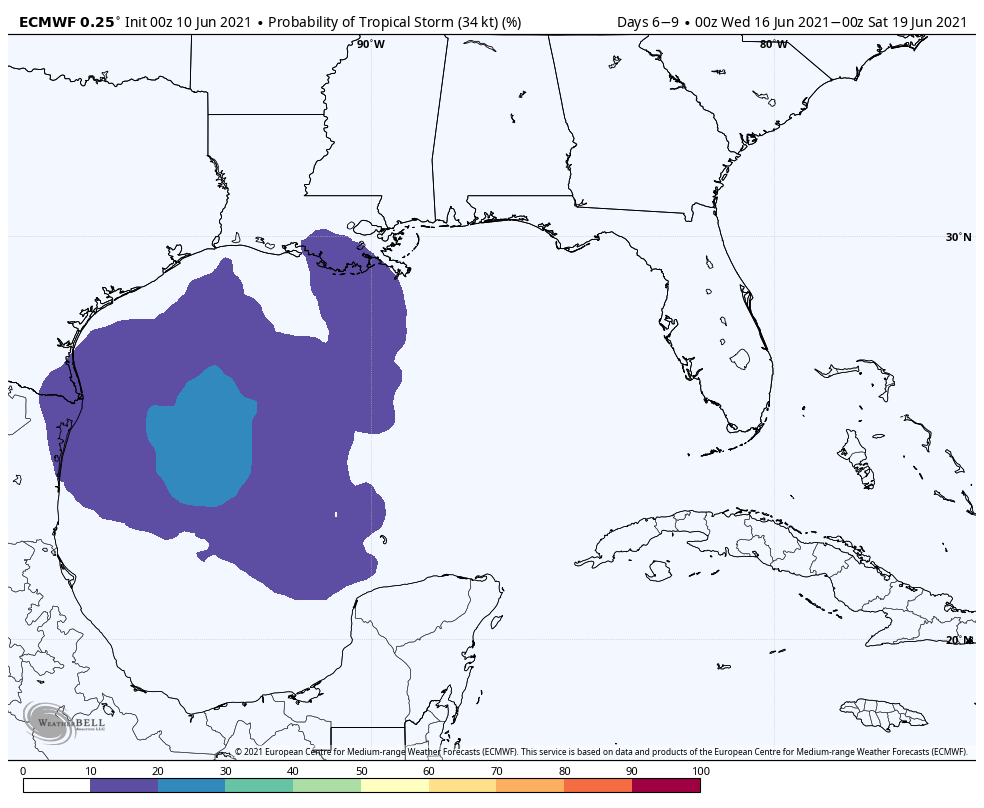 However, and I can't stress this enough, the global models have been waffling all over in their solutions for this system. Moreover, there is not all that much support for a tropical storm forming in the ensembles, or moving that far north—it seems just as likely that if a depression forms it will remain bottled up in the Southern Gulf of Mexico. And finally, we're talking about forecasting a system more than a week from now, when we would expect there to be large errors in the models. Given their inconsistency from run to run, we're filing this under "Something to watch, but not really be concerned about at this time." We will, of course, keep you updated as needed.