This week has been a good week to dry out a bit. And we have needed that badly. Today should be our fourth or fifth straight mostly dry day, something we haven't been able to string together since basically early May. As we go through the weekend, most of us will remain dry, but those typical summer rain chances will creep back into the forecast slowly.
Today & Saturday
The next two days will be partly to mostly sunny and hot as high pressure remains locked in control. Look for highs in the low to mid-90s and lows in the 70s. It will feel like 100° to 105° at times when you factor in the humidity, and a handful of spots could feel even a bit hotter.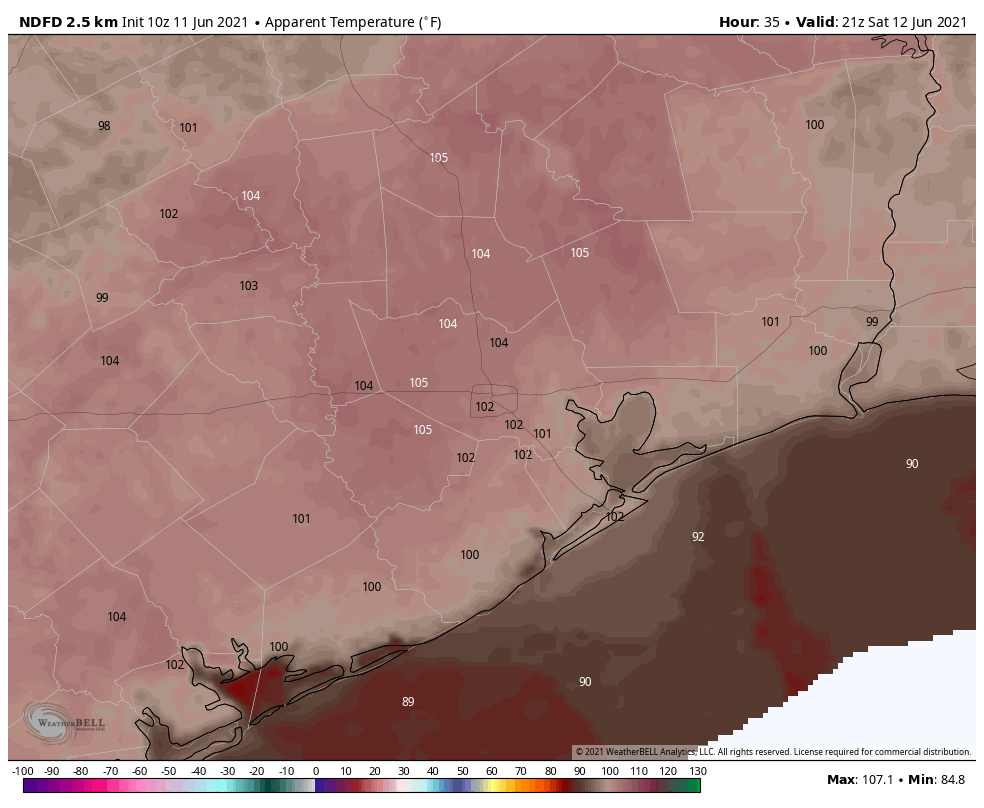 We like to say that we're used to heat here in Houston, but these first days of heat index values this hot can always tax you just a bit more than usual. Try to take it easy outdoors, drink plenty of water, and check on any elderly or vulnerable family, friends, and neighbors.
Sunday through Tuesday
While rain chances look to be nil through Saturday, we have to mention the chance on Sunday afternoon. As high pressure begins revving up in the Western U.S. (Phoenix expected to hit 115° or hotter next week), a boundary off to our north and east will slide back toward southwest Louisiana and East Texas. With our area sort of on the periphery of this high pressure, we could see the Gulf open back up a bit next week and the chance of showers and storms re-enter the picture. The GFS model forecast of the upper pattern on Monday evening is shown below.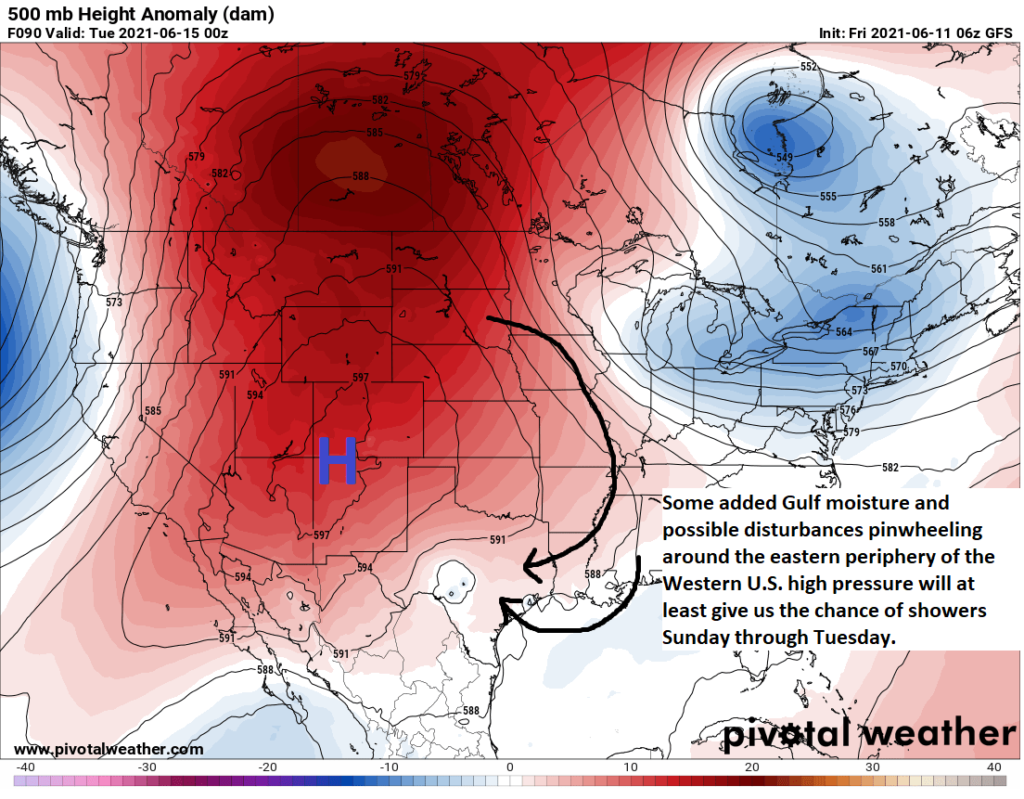 Rain chances will be highest north and east of Houston on Sunday and then anywhere in the area on Monday or Tuesday. Widespread heavy rain isn't expected, but isolated downpours could be locally heavy. Some areas will see nothing, while others could see an inch or two. Outside of the rain chances, it will be hot and humid with highs again in the 90s and lows in the 70s. Those nighttimes may feel just a little extra uncomfortable next week.
Late next week & tropics
The forecast heading into late next week will begin to see confidence drop off, as we introduce the potential for a tropical disturbance in the western Gulf of Mexico. I would expect to see the National Hurricane Center begin to include this area on their 5-day tropical outlook over the weekend. Modeling implies at least a 50 percent chance we get some kind of tropical low (call it an "invest" or depression-level type system), with about a 20 percent chance of a tropical storm and minimal chance of a hurricane.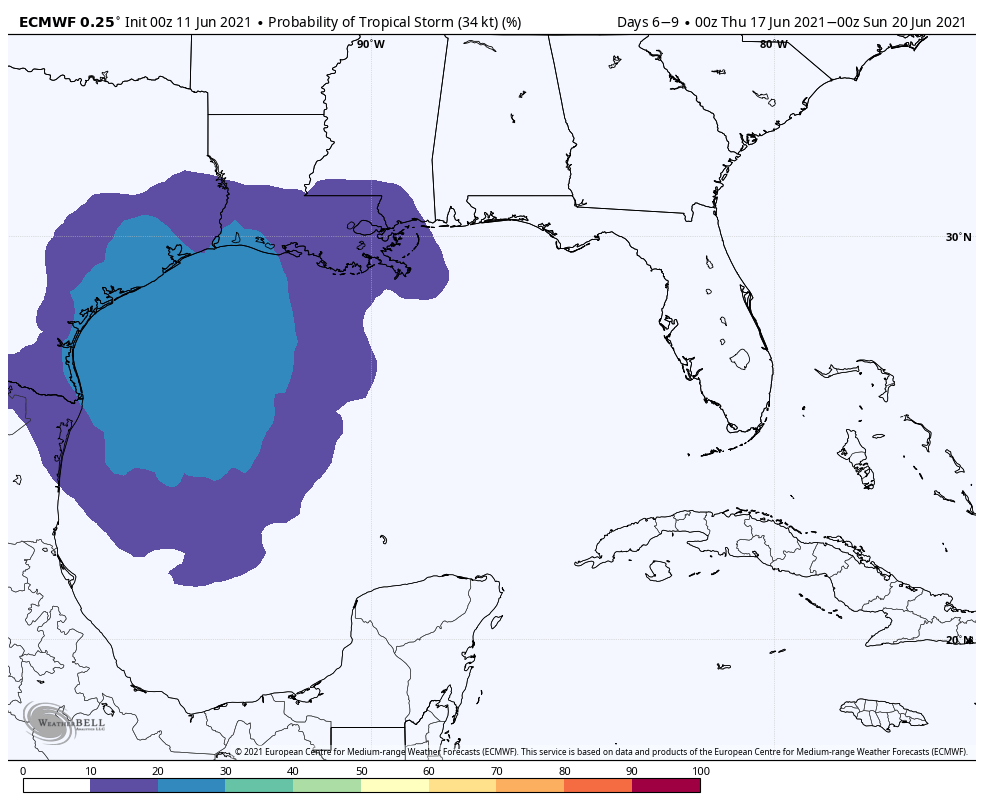 Nothing eye-popping here, but certainly some continued, if not growing support for a tropical system of some sort. Timing-wise, whatever does happen would probably approach Texas through Louisiana on Friday or Saturday of next week.
It may feel too soon to talk about a legitimate tropical system in the Gulf, but it is coming up on mid-June, and hurricane season is definitely underway. While there is certainly the potential for impacts, at this stage in the game, I don't see anything overly alarming about this system. As always, that could change, but for now this is something to be aware of, not worried about. Check back in with us this weekend, as I will have a more detailed post on everything we know about this specific system tomorrow or Sunday.
In the meantime, the expectation for later next week should be continued minor to moderate rain chances Wednesday, gradually escalating as we get toward the weekend. We could have marine and wind impacts if a tropical system does indeed develop, but it's far too soon to say anything specific about that.
Again, look for more about this system, probably Sunday morning. Meanwhile, keep cool!