Good morning. Houston will remain in a hot, late-summer pattern with the potential for afternoon thunderstorms. Rain chances will not go to zero, but they should remain quite low over the Labor Day weekend.
In response to yesterday's post about whether August or September had the worst weather in Houston, I conducted an informal poll on Twitter. About 70 percent of respondents chose August, compared to 26 percent who selected September. Four percent said some other month was worse.
Thursday
Temperatures this morning are quite muggy, with lows only in the low 80s for some locations. With high pressure building to the north of our region, showers will again be most likely today along and south of Interstate 10. These areas closer to the coast may have about a 50 percent chance of rain later today compared to 20 percent or so inland. Highs will generally get into the mid-90s this afternoon with mostly sunny skies. Winds will be light, out of the southeast at 5 to 10 mph.
Friday
A similar day to Thursday, with rain chances higher along the coast and lesser inland. Highs again should slot somewhere in the mid-90s.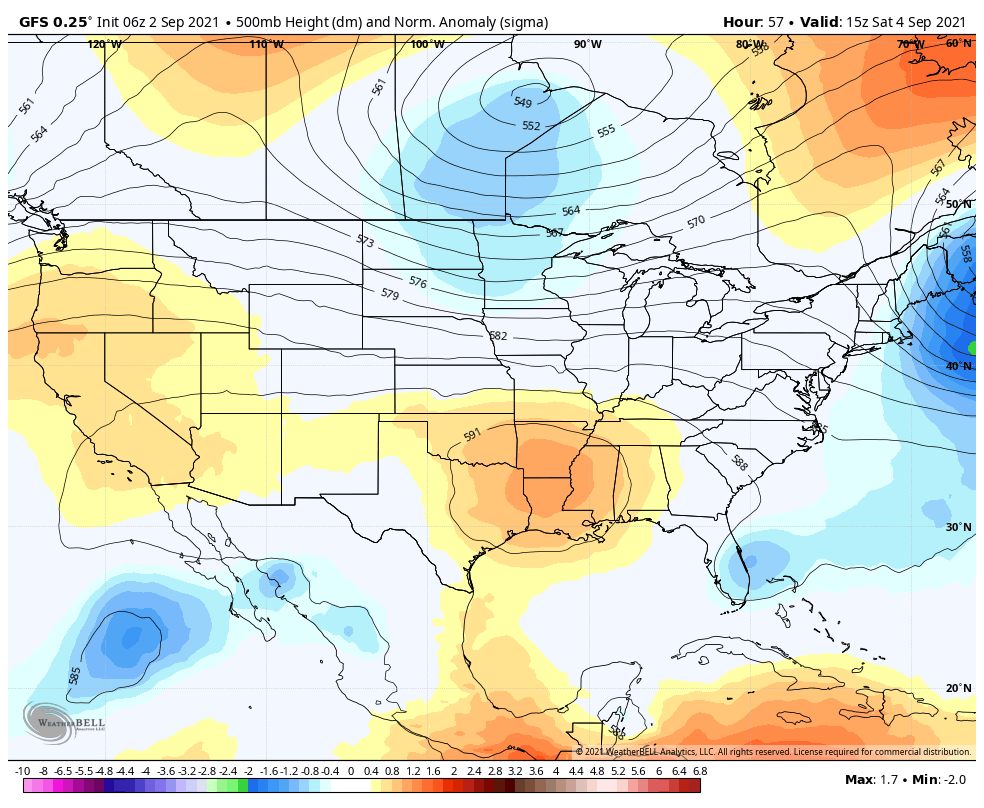 Saturday, Sunday, and Monday
Labor Day weekend looks mostly sunny and hot, with high temperatures in the mid- to upper-90s, and rain chances of 20 percent or less as high pressure more directly influences our weather.
Next week
By Tuesday or so of next week we should start to see pressures fall, which will lead to a few more clouds and should bump rain chances up into the 30 to 50 percent chance each day. This will also probably knock temperatures down into the low-90s. If you're wondering when fall's first real cold front might arrive, there's still no real sign of it in the global models. Typically it comes around the third or fourth week of September.
Tropics
The remnants of Ida absolutely drenched the northeastern United States on Wednesday and Wednesday night, spawning tornadoes and causing major flooding in New Jersey and New York. While 7 to 8 inches of rain may not seem like a lot to a Houston resident, those are historic rainfall amounts for areas not designed to drain quickly.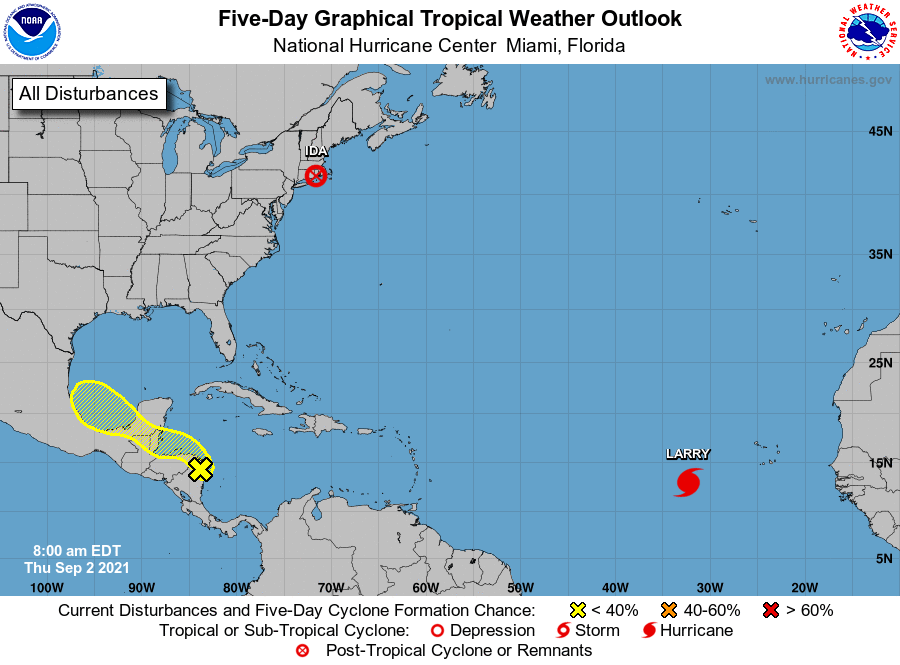 As for storms over water, Hurricane Larry is on its way to becoming a major hurricane, and may eventually affect Bermuda, or may turn north before doing so. The Caribbean system we've been talking about still has low chances of developing, but even if it does seems likely to remain well south of Texas. We're getting to the home stretch of the tropics for Texas in 2021, and Matt, Maria, and myself will be recording a video on Friday talking more about what the next three weeks may look like.