Be brave, my friends. After an exceptionally warm June—there is no question this month will smash Houston's previous record for hottest June ever—we are approaching the crescendo of this heat wave. The next four days will all bring the possibility of 100-degree temperatures for the metro area, with baking sunshine, before a possible reprieve early next week.
Also, we've been asked a lot whether the record heat this June is predictive of abnormally warm conditions for the remainder of the summer. Matt has done some research on this, and will write about it tomorrow. The answer is hopeful.
Thursday
As expected, our region saw some scattered showers on Wednesday, and that likely will be the case today, although coverage should be more isolated. The main reason for less coverage is that high pressure is building again over the region and that will impair some passing atmospheric disturbances from getting too much traction. Rain chances appear best this afternoon along, and north, of Interstate 10. Otherwise expect mostly sunny skies, with highs of around 100 degrees.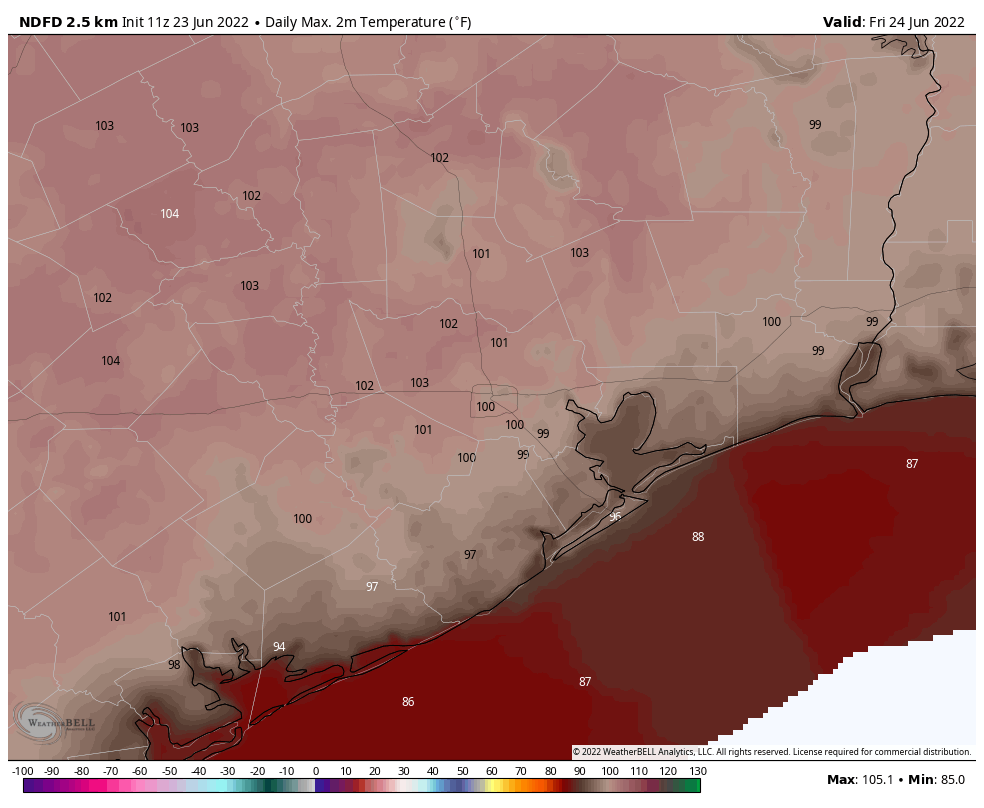 Friday, Saturday, and Sunday
These will be three baking hot days, with high temperatures of 100 degrees, or slightly higher, for nearly all of the metro area away from the coast. Skies will be sunny, and rain chances virtually non-existent. A more southwesterly flow, instead of winds directly off the Gulf of Mexico, should help with humidity levels a bit. Even so, there are a number of outdoor activities this weekend, including Pride celebrations in downtown Houston, during the middle of the day. We really urge you to take heat and sunshine precautions during the exceptionally hot weather this weekend.
Next week
We're not promising any miracles next week, but things should finally change. A front of sorts should push into the region on Monday, helping to open our atmosphere up to a few passing disturbances. By later Monday or Tuesday this should lead to the formation of a few more clouds, and push daily rain chances up to 30 or 40 percent. In addition, high temperatures probably will drop back into the mid-90s, if not even lower. The details on this are still fuzzy, but the end of June will probably, finally, feel like what most of June should have felt like.
Tropics awakening?
Typically, during this time of year, wind shear runs high in a central Atlantic Ocean area called the "main development region" for tropical storms and hurricanes. This is the place where low pressure systems that move off of Africa during the summer can regularly form into tropical storms during the months of August and September. I say August and September, because wind shear is usually hostile to storm formation before then. (This is also why hurricane activity peaks during August and September).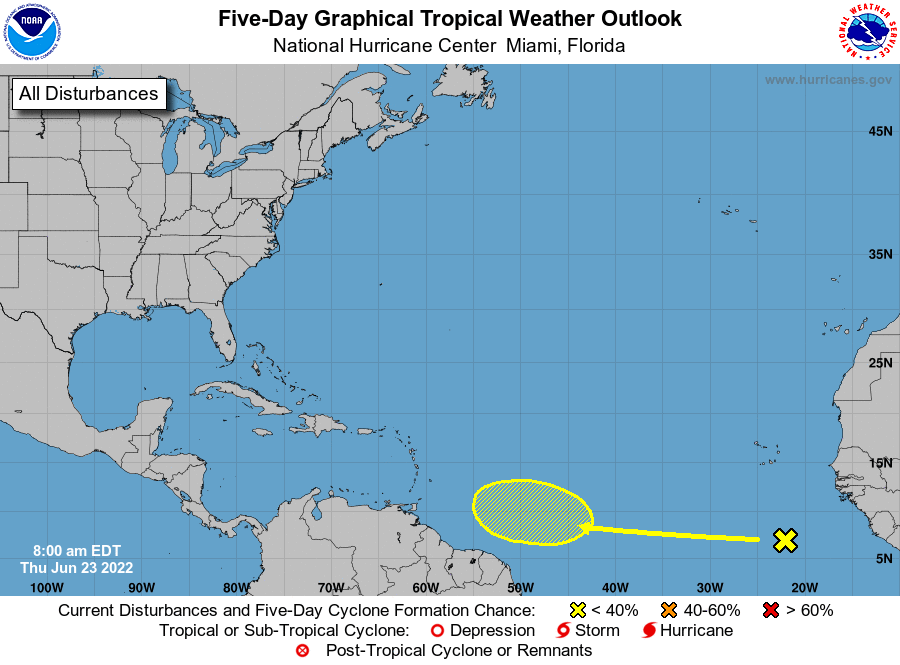 However, as we're seeing lower wind shear now in the main development region, it is possible we may start to see these "Cape Verde" storms coming off of Africa and developing earlier this year. To that end, the National Hurricane Center is watching development of a possible tropical wave there five to seven days from now. This is something to watch, but not worry about at this time.