Heavy rain fell during the overnight hours along a stalled front from Sugar Land through Bellaire, Houston and northeast through Atascocita. About 6 inches of rain fell for some locations along Brays Bayou, although waters thus far have remained within their banks. A flash flood warning remains in effect until 8:15am CT, although the worst of the storms have now lifted to the northeast, out of the area.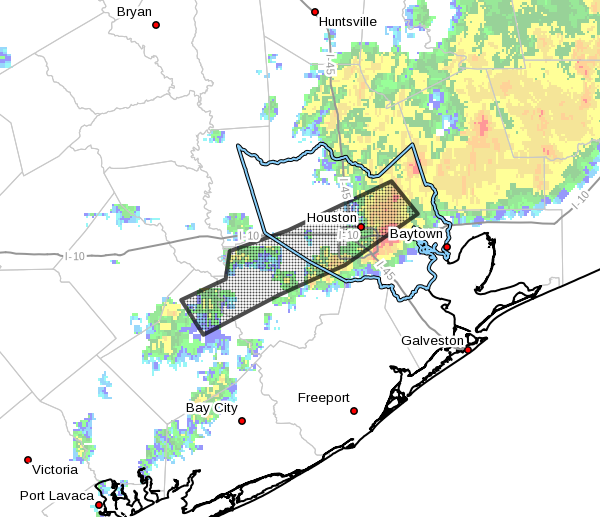 The storms have been driven by a nearly stationary cold front, which is providing lift for moist air at the surface, and very favorable conditions in the upper atmosphere that have allowed for the development of heavy showers. Temperatures this morning are in the low 70s to the southeast of this boundary, and 10 to 15 degrees cooler to the northwest of Houston. As of about 6:15am the heaviest rains have finally moved off to the northeast of downtown Houston.
The biggest concern for flooding is in southwest Houston. Although in the Meyerland area Brays Bayou is within its banks, Keegans Bayou has risen a few feet above its banks just to the north of Missouri City and Stafford. Keegans feeds into Brays Bayou, but it is a small amount of water compared to the total volume of Brays. Additional rains for either of these area later this morning would prove problematic, and unfortunately we can't rule that out. Already there is considerable street flooding, including some lanes of 288, so if you live down there consider your driving routes very carefully this morning.
Some forecast models suggest a slackening of rain later this morning, but an additional bout of showers this afternoon. It seems likely the rain will be a little bit north of where it was this morning—the cold front should move back inland a bit further—but we're going to have to watch this closely.
Posted at 6:40am CT by Eric on Wednesday