Most of the Houston area saw some light showers over night as a band of rain moved inland from the coast, with accumulations of 0.1 to 0.3 inches of rain. This pattern of gray days will continue through the middle of the week before colder weather finally arrives in about five days.
Today through Thursday
The combination of a large upper-level low pressure system across much of the United States and Gulf moisture will bring on-and-off rain showers to Houston for the next three days. Some areas may see about an inch today, but as moisture levels surge on Wednesday that's the day when heavier rain and thunderstorms will be most likely (however I don't think we'll see severe weather like on Monday morning, when strong winds and a tornado caused damage in parts of town, including an EF0 twister just north of Jersey Village ). Still looks like most of the area will see 2 to 4 inches of rainfall, with some areas maybe seeing a bit more. This should not be enough to cause significant flooding. Rain chances will end sometime on Thursday morning or early afternoon.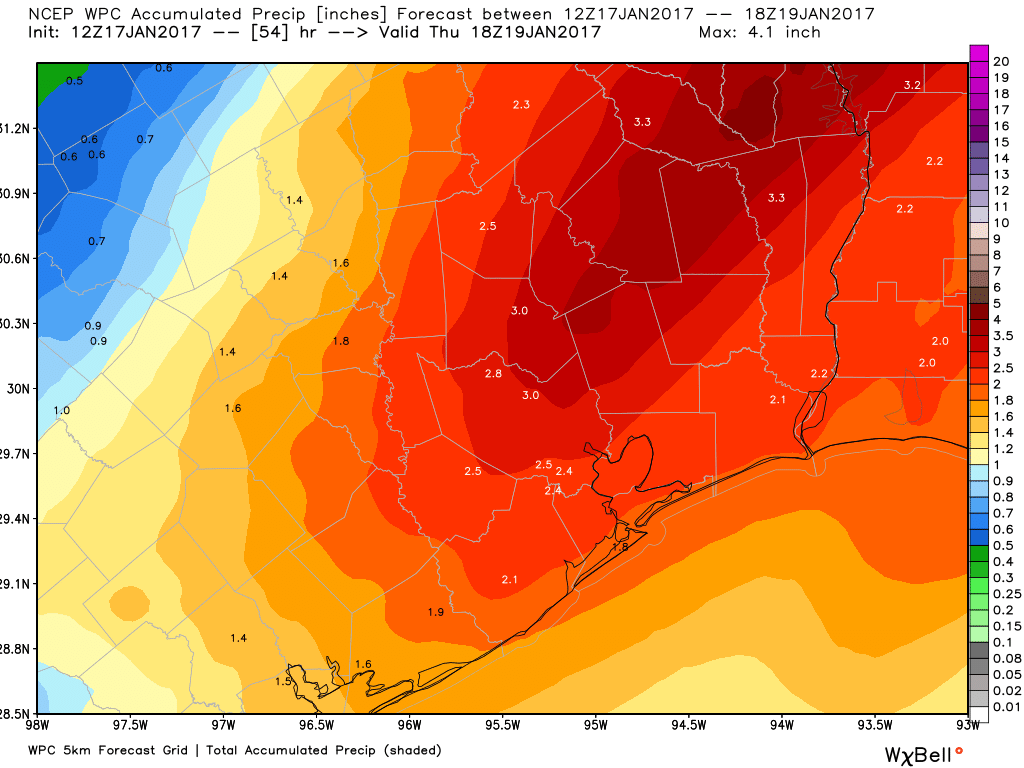 During this gray period temperatures will still remain fairly warm for January, with highs in the low- to mid-70s, and overnight lows falling to around 60 degrees, give or take.
(Space City Weather is sponsored by Westbury Christian School for this month)
Friday
We can look for a break from the rain on Friday, with partly sunny skies and highs in the mid-70s.
Saturday and Sunday
Rain chances will return for the weekend, but these should be of the scattered variety of showers, with nothing too heavy or too widespread. Saturday will probably see highs in the mid-70s, but our spell of very warm weather should finally come to an end this weekend, as colder air arrives sometime on Sunday. For the most part next week should see highs in the 60s and lows in the 40s, which will feel decidedly more like winter in Houston.
Posted at 6:50am CT on Tuesday by Eric