It was officially 80 degrees yesterday in Houston. We fell one degree shy of the record high at both Bush & Hobby on Thursday. Today will not be a repeat of that, not by a longshot.
Today
It's starting off in the 50s and upper-40s this morning, and honestly, temperatures may not go very far from these values today.
Today is going to be one of those chilly, raw, damp winter days here in Houston with off and on showers or light rain, a lot of clouds, and a bit of a breeze.
We could use a little rain, so hopefully we can snag a couple tenths of an inch here or there through the day. Look for showers to diminish tonight, with partial clearing and lows generally in the 40s, though a few spots up north could drop into the upper-30s.
Weekend
Tomorrow will start similarly kind of gray. We should hopefully see breaks in the clouds during the afternoon. And we'll see complete clearing once another cold front sweeps in Saturday afternoon or evening. Ahead of that front, look for highs in the 60s tomorrow. A chilly night is on tap for Saturday night with lows dropping into the 30s and 40s. Sunday looks spectacular. Expect a lot of sunshine, high temperatures in the 60s, and light to moderate winds.
Monday through Wednesday
Onshore flow will kick back in late Sunday, so Monday morning will not start off nearly as chilly as Sunday morning. Look for morning temps in the 50s, with a few upper-40s scattered about. Clouds will be with us on Monday as well. Despite the clouds, temperatures will surge to near 70 degrees.
The forecast begins to fall off the rails Tuesday with some changes since yesterday. A cold front is projected to get close to Houston by Tuesday afternoon. Models differ dramatically on the timing and orientation of the front through Wednesday and even Thursday, with the GFS model stalling it in our neighborhood and the European model suggesting it stalls well offshore. A map of forecast dewpoints for Wednesday shows this well.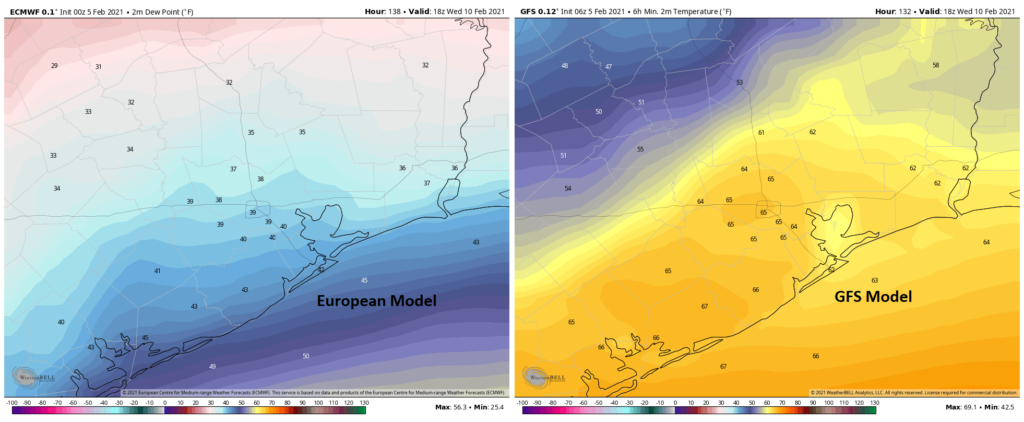 This obviously has implications on everything from temperatures to cloud cover to fog potential to shower chances for next Tuesday and Wednesday. If the front clears, expect highs in the 60s or 50s Tuesday and Wednesday, with lows in the 40s Wednesday. If the front does not clear, expect highs in the 70s, perhaps well into the 70s and lows in the 60s, along with fog at the coast or even into the city. Normally, I'd say the cooler outcome is probably correct, but the GFS model tends to have a bias where it's too fast with fronts pushing offshore so seeing it be opposite of that gives me a little pause. At the same time, models tend to struggle with the type of cold air masses we are expecting in our region by midweek next week, bringing them in too slowly. So the forecaster's conundrum is in place next week, and either outcome seems perfectly reasonable. We'll have a good bit more clarity on Monday.
Late next week
The forecast really goes off the rails later next week. All we can tell you at this point is to expect unsettled weather and potentially the coldest weather of winter. Models have taken a bit of a dramatic step colder since yesterday for next weekend, with most reliable model guidance indicating a freeze, if not a hard freeze will be possible focused on Saturday or Sunday. Whether or not that actually happens will depend on how the potential for rain or wintry precipitation exactly plays out next Friday and Saturday. I think Eric's 20 percent call on snow risk is still reasonable, though I think I might unfortunately call it "snow OR ice" right now. I wish we could be less vague, but this period has been in flux for several days. Either way, we believe you will want to continue to monitor the forecast for the end of next week and weekend in the coming days and be ready to implement your cold weather preparations later next week. It's been a minute since we last saw 20s in Houston in February, last occurring back in 2014. A reminder that, although rare in recent years, it can absolutely still get quite cold this late in our winter. Much more to come on this.