Good morning, and it is indeed a chilly one across the area. Temperatures this morning are mostly in the 30s and the precipitation is moving offshore. Any risk of icing has now passed for the majority of the area, and per drivetexas.org the only icy patches being reported right now are along 290 between Hockley and Waller. We can now settle in for a chilly start to the weekend, though a calm one at least.
Today
Some lingering rain or sleet may occur in the Matagorda Bay region until a little after sunrise, but everyone else should just be waking up to clouds.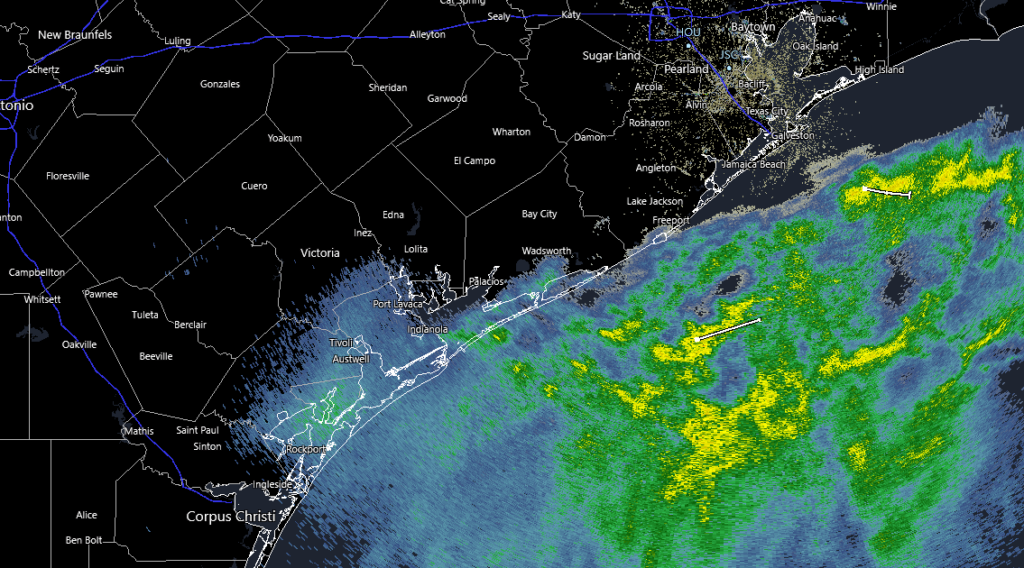 Those clouds will clear from northwest to southeast this morning and afternoon. I'd venture to say at least 90 percent of the area will see sunshine before the day is up, with the exceptions maybe being along the immediate Gulf coast. Despite developing sunshine, most places probably won't get out of the 40s today. Coupled with a light to moderate breeze, it will feel chilly.
Weekend
Tonight will be the coldest night of this cold snap. Skies should be clear and winds light, or what meteorologists refer to as "ideal radiational cooling." It means temperatures will fall steadily after sunset, and we should bottom out in the 20s and low-30s across the region tonight.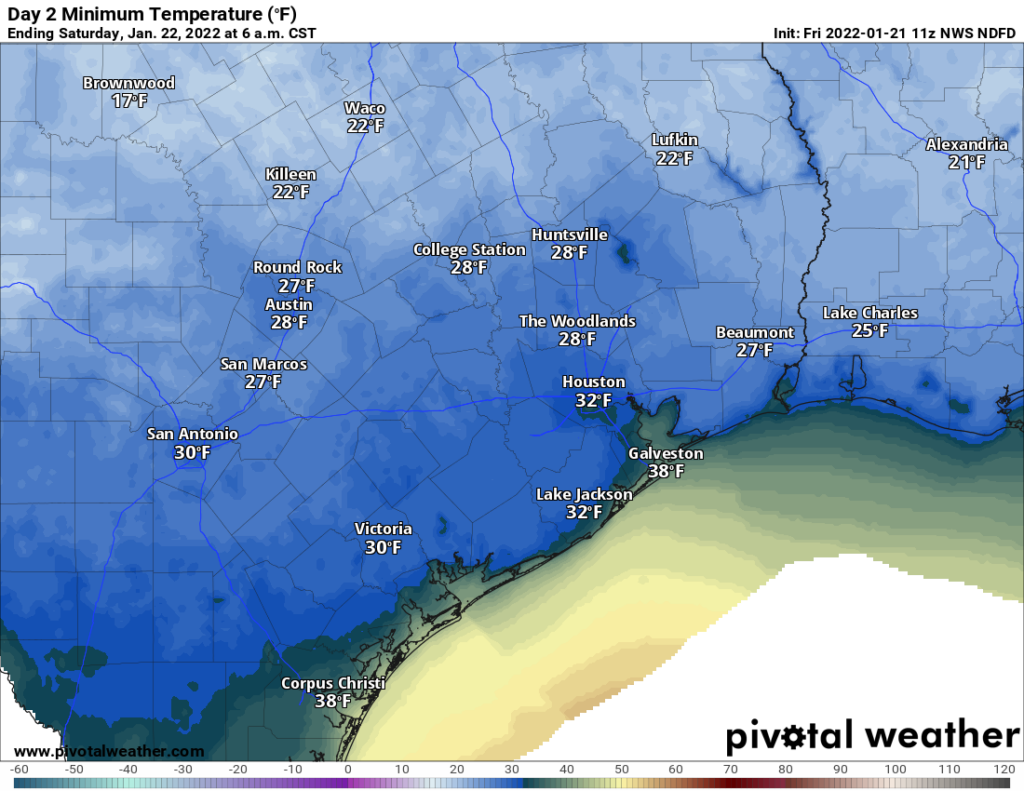 Look for a low right around freezing inside the Beltway, 29-31° outside of there to Grand Parkway, and generally upper 20s beyond that. As always, slightly higher or slightly lower temperatures are possible based on your location, but it should not get any worse than that. It's probably a good idea to protect any sensitive plants, particularly outside the Beltway, but we don't expect any serious problems. If you're looking for a benchmark, this freeze looks similar in a lot of ways to the ones we had earlier this month, just after New Years. Another freeze will be possible Sunday morning, but it would be most likely north and east of Houston and a degree or so warmer than tomorrow's.
The rest of the weekend looks splendid, with plenty of sunshine Saturday and some high clouds on Sunday. Expect highs in the lower half of the 50s Saturday and upper-50s on Sunday.
Monday
A quick moving, vigorous disturbance is going to pass by the region Monday afternoon and evening. Expect clouds to increase Sunday night into Monday morning. Rain will begin to develop and spread from southwest to northeast across the region later Monday morning into the afternoon. The heaviest rain looks to be around mid to late afternoon, and then it will taper off Monday evening. At this point, it looks like a good old fashioned soaking rain, something most of the area needs right now. There is some chance we'll get some thunderstorms embedded within the rain as well, and some stronger storms can't yet be entirely ruled out. But that is not the expectation right now. Check back with us Monday morning for the latest.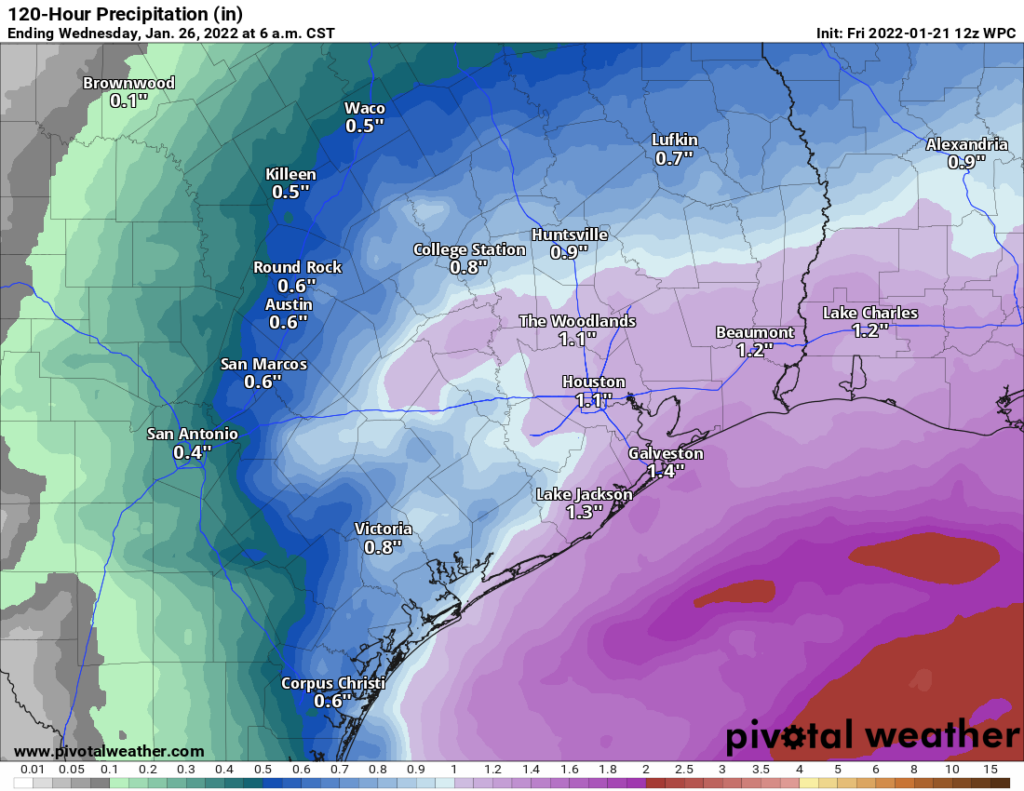 We should be able to muster a solid half-inch to inch of rain across most of the area, as long as the current forecast holds. The highest totals should be south and east of the city. Monday will warm from the 40s into the mid-50s.
Rest of next week
Look for a warm day with sunshine on Tuesday, as highs should get back into the 60s. A cold front should uneventfully pass through the region Tuesday night, yielding some more 30s for lows by Thursday morning and highs in the 50s Wednesday and Thursday. A freeze is not expected outside of perhaps typical colder spots like Conroe, Huntsville, Cleveland, or west of Katy. Skies should be partly to mostly sunny. A general warming trend will likely begin after that cold front, which could return us to more frequent above normal temperatures again by early February. Stay tuned!