Good morning. After Wednesday evening's storms, our focus now turns toward cold weather ahead and the potential for some sleet or freezing rain to fall across the area on Thursday night. The bottom line is that we don't think much freezing precipitation (if any) will fall across the Houston region, and it is unlikely to be impactful.
Thursday
Temperatures are generally in the low- to mid-40s this morning across Houston, but with a brisk northerly wind it feels colder than that. The mercury will not rise today, as temperatures remain in the 40s, due to overcast skies and the ongoing incursion of colder northerly air. Although the storms associated with Wednesday night's cold front have moved offshore, as an atmospheric disturbances moves overhead later today, some light rain will again become possible this afternoon and overnight.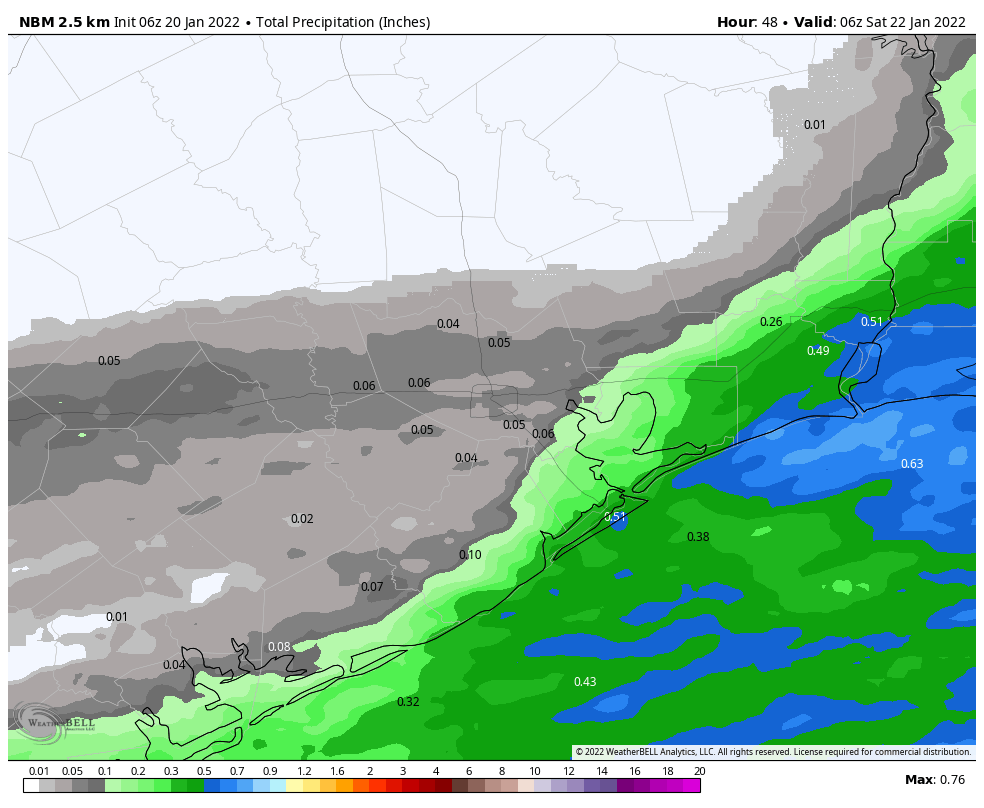 The atmosphere will have dried out enough that inland areas, north of Interstate 10, are unlikely to see much precipitation. However, areas along and south of Interstate 10 may see a few hundredths to tenths of an inch of rain. As temperatures fall tonight, some of this precipitation may take the form of sleet or freezing rain. However, it will be a race between falling temperatures and ending precipitation to see if we get any wintry precipitation in the Houston region. For now, the most likely answer is that the rains end before the atmosphere gets sufficiently cold to produce sleet or freezing rain (snow is very unlikely). The good news is that surface streets should remain above freezing so any wintry precipitation is unlikely to stick. If this forecast changes, we will of course update you later today.
The story may be different for other parts of Texas, particularly if you're headed southwest of the Houston metro area, beyond Fort Bend County. There is a better chance of more sticky freezing rain in these area. For example, there is a Winter Storm Warning for the Coastal Bend area tonight.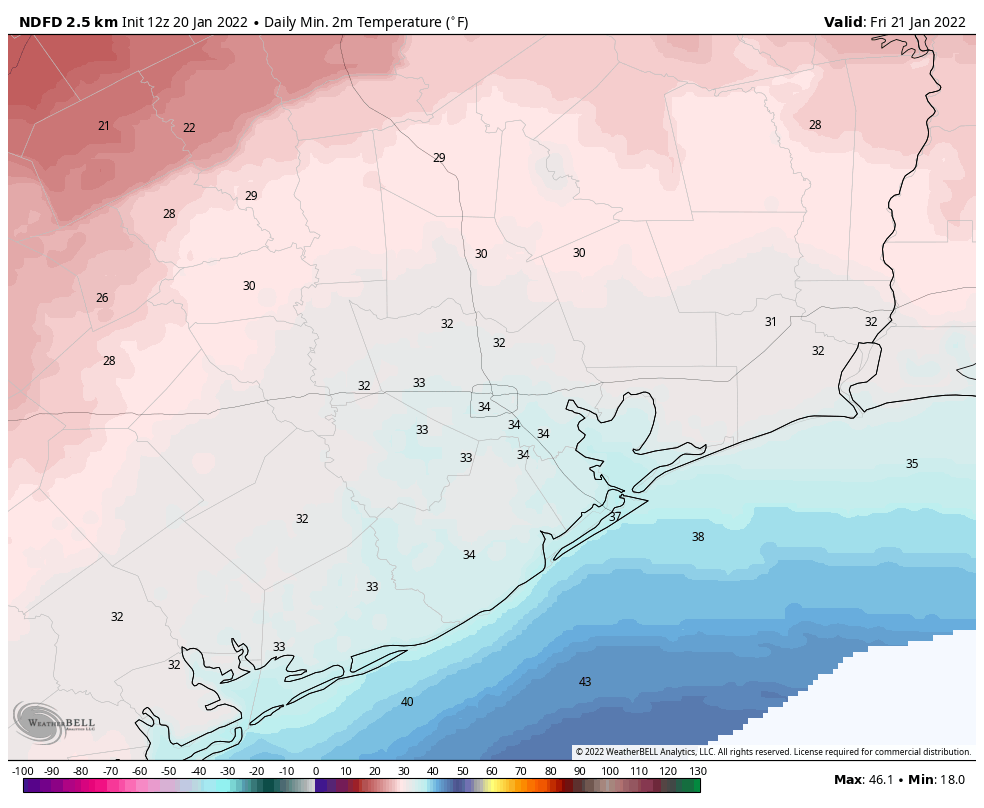 Friday
This will be another gray day to start out, with highs likely only peaking in the mid- to upper-40s. However, any lingering precipitation should wrap up around sunrise, and skies should begin to clear out during the afternoon hours. This will set the stage for a colder and drier night, with much of the Houston region likely seeing a light freeze.
Saturday and Sunday
The weekend looks clear and cold, with partly to mostly sunny skies and highs in the 50s, and overnight lows in the upper 30s to 40s.
Next week
Monday should see widespread rain showers as a low pressure system nears. Most likely accumulations will be 1 inch or less, but we're keeping tabs on the potential for higher totals due to available moisture. Otherwise expect highs in the 50s, possibly rising to the 60s by Tuesday. After this point another front arrives to push highs back into the 50s. Another freeze next week seems unlikely, although not impossible, as winter-like conditions hang around.