The Houston area has sort of settled into a happy (?) medium this weekend with moderate heat, a good bit of sunshine, but definitely at least a handful of showers each afternoon. Some locations in northern Harris County (Louetta, Champions, Klein) saw an inch to an inch and a half of rain on Sunday. A few other areas also saw wetting showers. Some saw nothing all weekend. As we go through this week, the expectation should be for fairly similar weather: Sun, heat, and at least a few showers each day. This may actually be our most "normal" week of summer so far.
Today
Today should bring us similar weather to the weekend, with at least a couple storms around this afternoon. Coverage today may be a bit underwhelming, so consider yourself fortunate if you see one. We will likely top out in the upper-90s, similar to perhaps a touch hotter than the weekend.
Tuesday
Tomorrow will see more of the same. Rain chances should be a little higher than they will be today, however, and they may be the peak of this week. Expect maybe a 20 to 30 percent chance that you'll win the rainfall lottery. Temperatures should be mainly in the mid-90s, but they'll be a bit hotter where it doesn't rain and cooler where it does.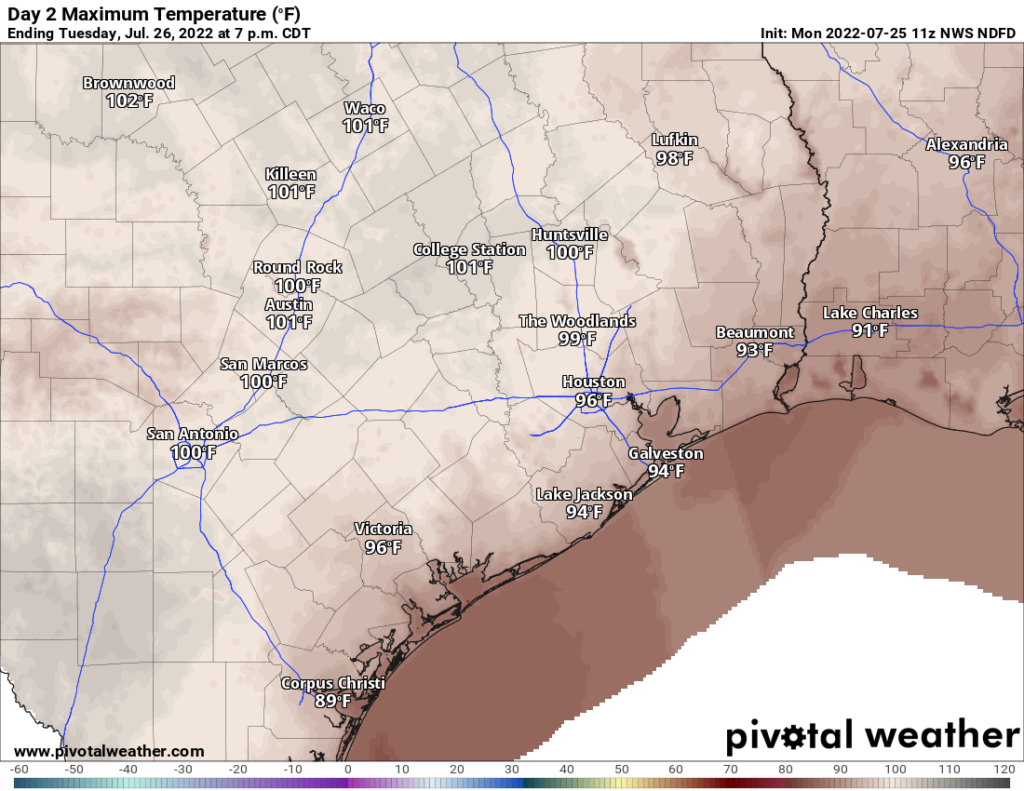 Wednesday & Thursday
The mid to late week period will also see elevated rain chances in that 20 to 30 percent range, but again each day will be like playing the rainfall lottery. Still, it's something. Highs will be in the mid to upper-90s.
Friday & weekend
The weekend forecast stays at least a little interesting from a rain chance perspective. A front should stall to the north of the region, allowing places like Arkansas, Missouri, Oklahoma, and Kansas to get some meaningful rain. For us, the overall pattern should kick up atmospheric moisture a bit up to about the 90th percentile or a bit higher. In simple language? There will be a little more "juice" to work with, especially Friday and possibly Saturday. Coverage of storms should increase a bit on those days before declining some on Sunday.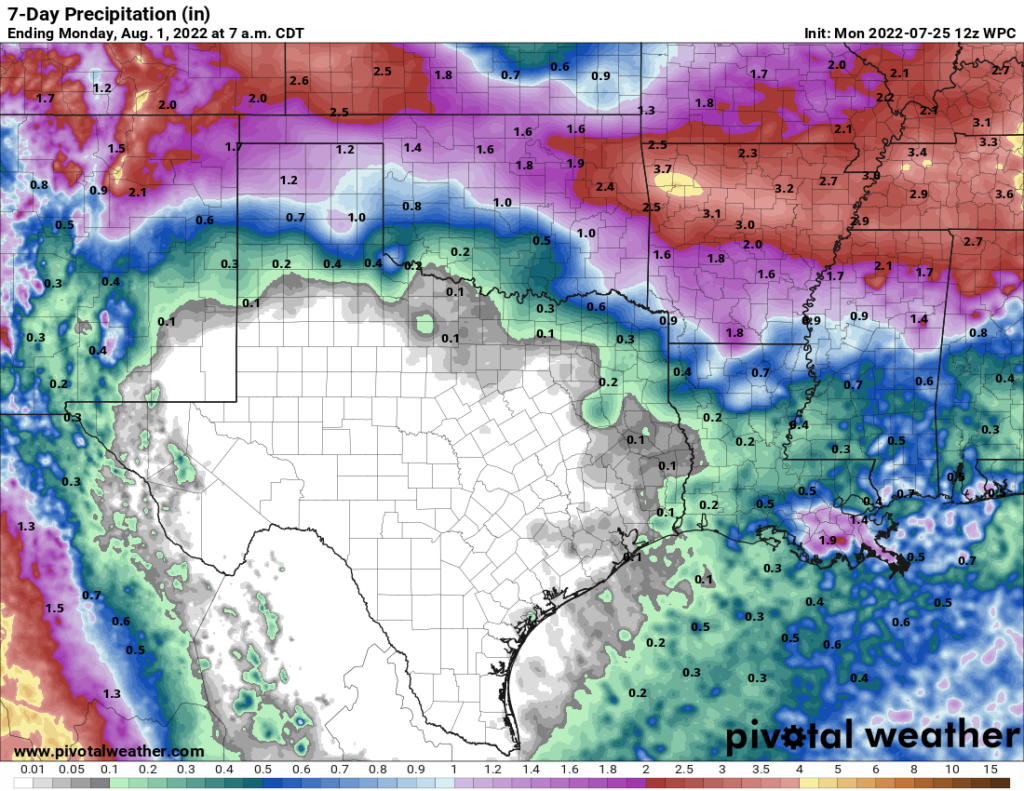 It would appear that hotter, low rain chance type weather may rebound next week. More on all that in the coming days.
Tropics
All in quiet. A tropical wave in the Atlantic looked as if it could develop later this week, but model support for that has plummeted in the last 36 hours. It's still a bit hostile out there. More in tomorrow's tropical update.
Just a quick note: Tomorrow's posts will likely be delayed, but we'll have something out to you by late morning. The tropics post will get pushed tomorrow later in the afternoon or evening. Thanks for your patience!