Temperatures once again topped out at 100° officially on Thursday at Bush Airport, our 5th straight day of triple digit heat and 18th day overall in 2022. Only 1902 (19), 1980 (32), 1998 (24), 2000 (20), and 2011 (46) had more 100 degree days for the entire year.
Drought continues to worsen around the Houston area.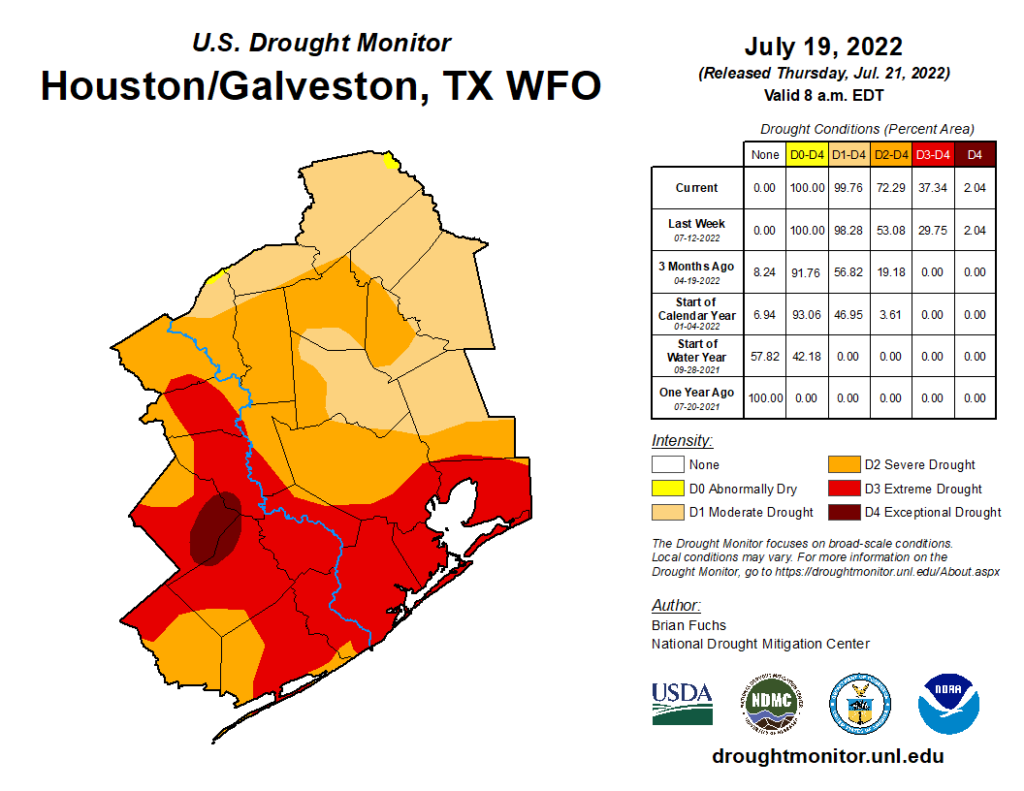 We saw level 3 (extreme) drought expand from 30 percent coverage to 37 percent coverage across the region through Tuesday. Most of the Houston metro area is in severe to extreme drought conditions now. We should see further degradation with next week's update as well.
But, we may have at least something to watch in the longer-term forecast that could change things up. Let's get into things.
Today & Saturday
We will see a brief respite in what has been a stifling upper level pattern this week. Texas will lie on the western periphery of a "weakness" between two ridges, one off the East Coast and one in the Southwest. This should allow for non-zero rain chances and at least slightly less hot weather both today and tomorrow.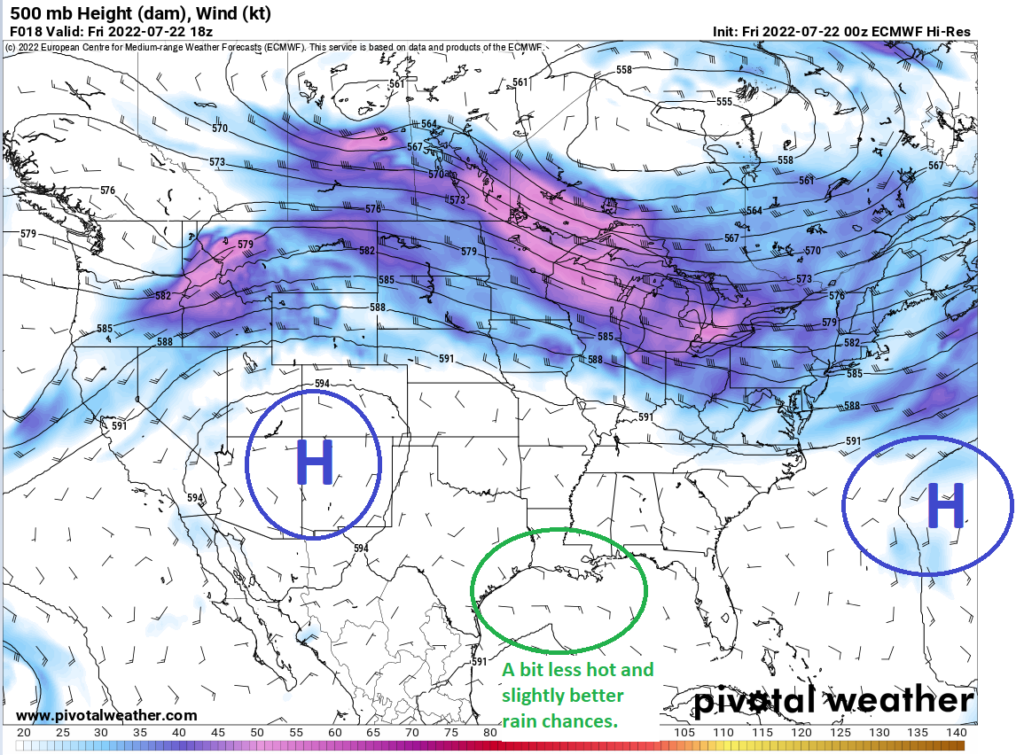 We'll call it about a 20 percent chance of showers or storms, probably a tinge higher tomorrow than today, with the best odds being south and east of Houston.
Outside of modest rain chances, we'll remain quite hot. A few places will likely try again for 100 today and tomorrow, but we should see more upper-90s in the area than we have the last few days. You'll see temperatures drop a good 10 to 15 degrees if you're fortunate enough to see a shower. Overnight lows will remain warm and muggy in the 70s.
Sunday & Monday
We sort of revert back to a more robust summer pattern Sunday into Monday, which should mean more 100s risk and lower rain chances.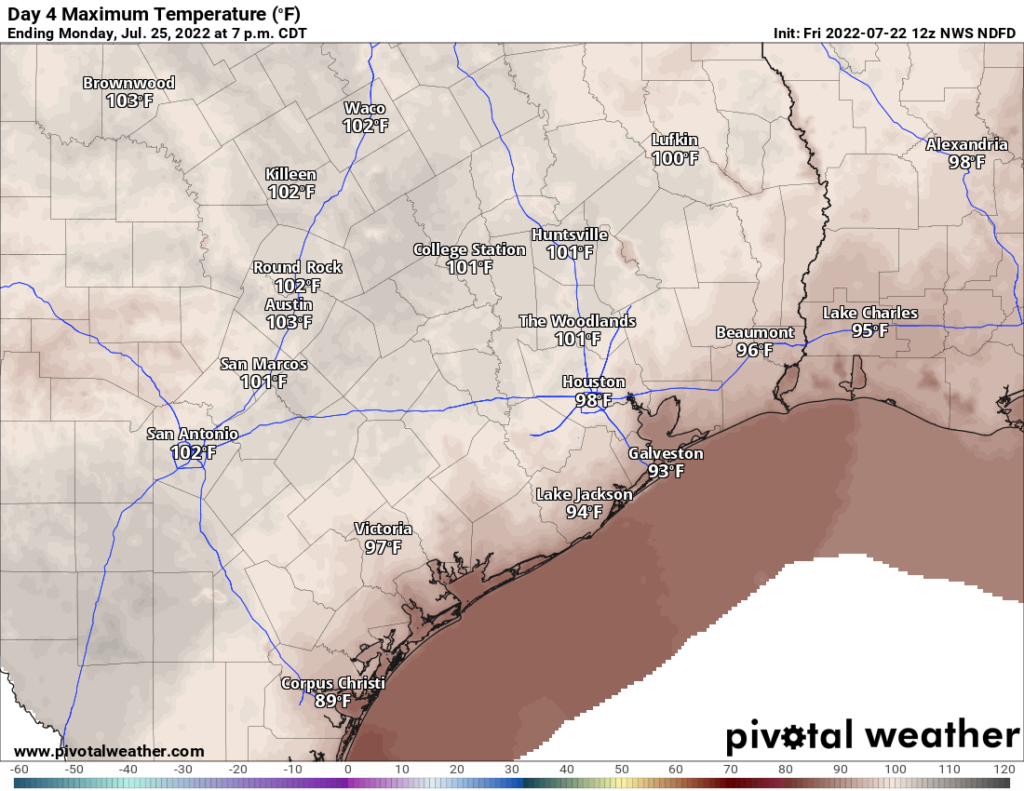 I still think we could see a pop up storm or two, but I would not be betting on it for either Sunday or Monday. Highs near 100, lows in the 70s.
Tuesday through late week
Tuesday should continue hot, but there may be a slightly better chance of afternoon showers or storms. Same goes for Wednesday. I would expect highs well into the 90s to near 100 on both days. There are signs of life for late next week. At least a temporary disruption of the stagnant summer pattern seems possible. This would mean more mid-90s by day instead of 100s. More importantly, it would mean a few days of average to slightly above average rain chances. I'm hesitant to get too worked up about this, but it does appear that the upper pattern will allow the Gulf door to open more than it has been most of this summer. At least for a few days. Fingers crossed. More on that for you Monday.
Tropics
Quiet. Nothing to speak of, but there are hints of at least a possible weak system wayyyy out in the Atlantic later next week perhaps. Nothing the Gulf needs to be concerned with right now. More on that in Tuesday's tropics post.
Speaking of next week: Just want to give you a heads up that both Eric and I are planning some time off next week to gear up for the marathon of peak hurricane season. We'll continue posting like normal, but just bear with us if the timing is a little off on a day here or there. Thanks for understanding!