Good morning. Today is likely to be the final, exceptionally hot day of 2023. I expect temperatures to reach 100 to 107 degrees across the metro area today underneath sunny skies. We also have a pretty good chance of peaking at 100 degrees on Saturday before temperatures dip just a bit by Sunday. That's interesting from a historical perspective in terms of 100-degree days. To date, we have recorded 44 such days this calendar year.

Back in 2011, which anyone who lived here probably hasn't forgotten, the city recorded 46 days with highs of at least 100 degrees. That broke a record previously set during 1980, 32 days. So with today a certainty to hit 100, and Saturday quite possibly, that would allow us to tie the record set in 2011. Will we break it? Certainly we will have some days in the mid- to upper 90s in the week ahead. But I'm not sure we get another 100-degree day. And to be honest, I'm OK with not breaking the record. Aren't you?
Friday
Today is going to be excessively hot, no way to get around that. We're going to see much of the area push into the 105-degree range and it's going to be miserable. The only good thing I can tell you is that this really is our last fling with ridiculously hot weather in 2023. We really are going to see a pattern change to cool things off (a bit) next week, and then we're into late September and this madness will be over. But no getting around that today is going to be brutally hot and you definitely need to take heat precautions.
One thing we're watching for is the possibility of late-afternoon and evening storms dropping down into the Houston region from the northeast today. It's possible as the capping inversion probably will be weak later today. In runs produced last night, some of the high-resolution models got really aggressive in developing these storms, but they have since backed off. NOAA's Storm Prediction Center has the northeastern part of the metro area under a "slight" chance for seeing severe weather, likely in the form of thunderstorms and damaging winds, later today. My sense is that any strong storms fizzle before reaching Houston, but there is a chance.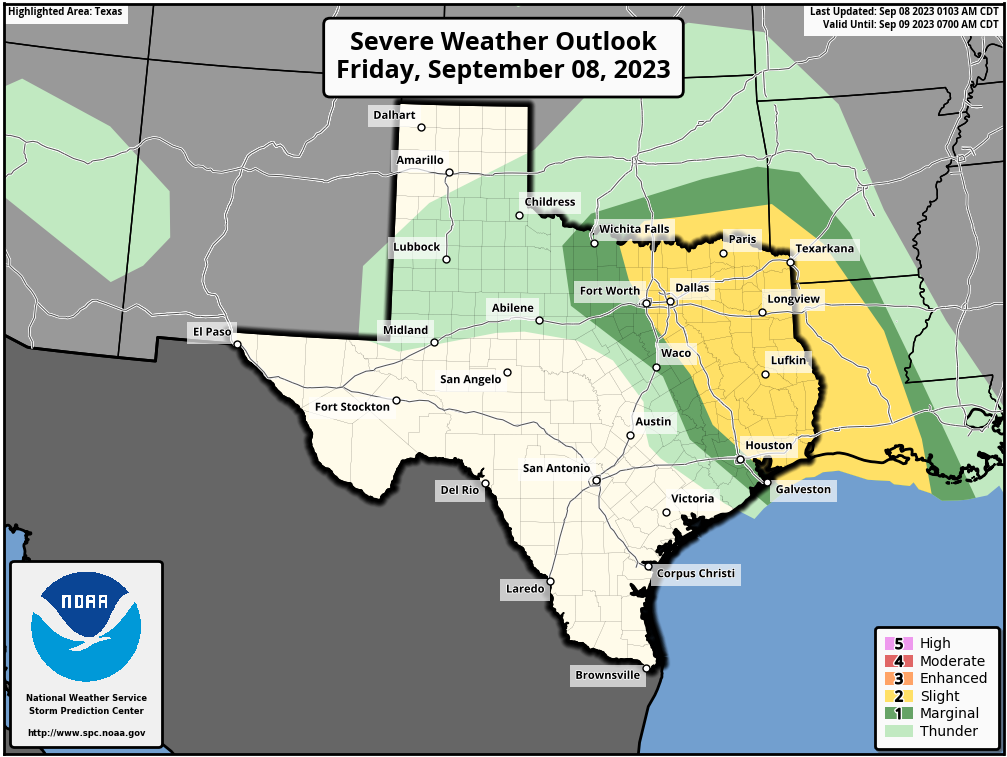 Saturday
Highs on Saturday will range from the upper 90s to 100 degrees, with perhaps a 40 to 50 percent chance of rain. Temperatures will depend on rainfall amounts and timing. For the most part these showers will bring only light accumulations of rain, but a few areas may get higher totals under stronger storms. For the most part, when it's not raining, skies will be mostly sunny.
Sunday
Look for mostly sunny skies with highs in the mid-90s as the high pressure ridge recedes westward. Rain chances will be on the order of 30 percent, with mostly sunny skies.
Next week
Temperatures will continue to trend downward next week, as a weak front drifts into the region and slightly lowers our humidity levels. Basically, we'll probably see highs in the low- to mid-90s for much of the week, with perhaps a 30 percent chance of rain each day. Who knows, a few areas may even see a high in the upper 80s on a day or two. Nighttime temperatures will drop into the 70s. It's not going to feel fall-like like, but it certainly will feel a lot more like late summer, which is how it is supposed to feel in mid-September.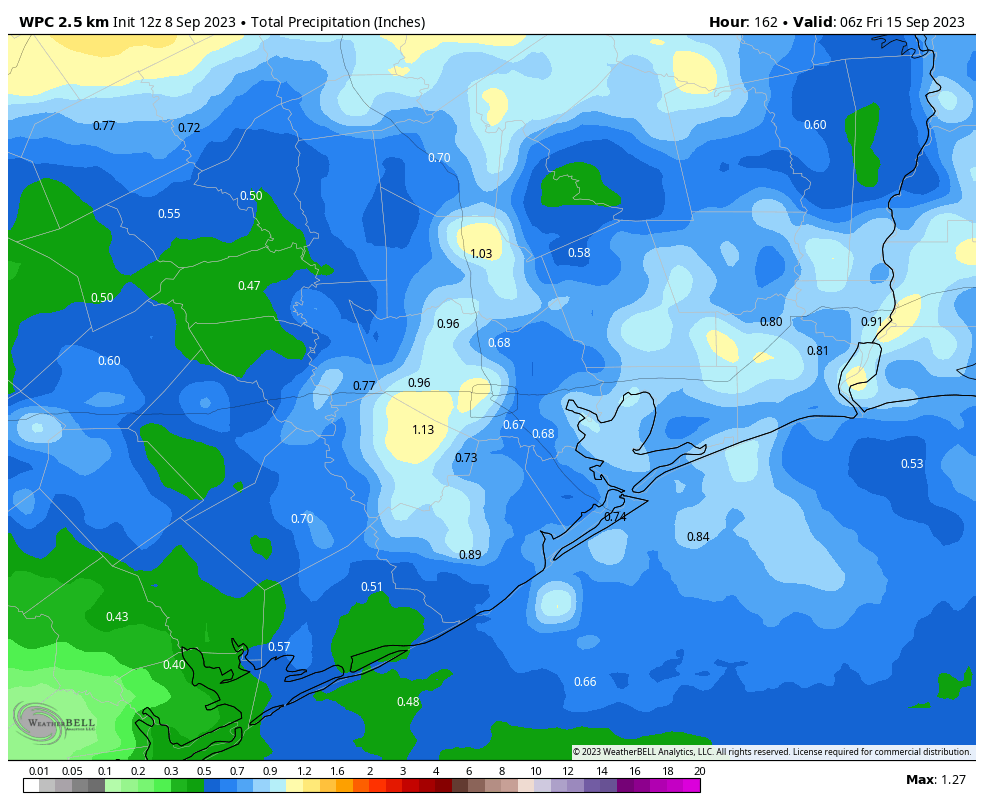 Unfortunately, while most of us will see rainfall, I don't see the kind of drenching rains we need to break the region's worsening drought. Still, 0.5 to 1 inch over the next week is much better than nothing, and far more than many of us received in July and August.