Thanks to a drier airmass this weekend, we've seen overnight low temperatures dropping from their extreme highs this summer. Lows this weekend at Bush Intercontinental Airport were 71 and 70 degrees on Saturday and Sunday mornings. This slightly drier air will start to mix out over the next couple of days, leading to a better chance of rain later this week.
Highs will be in the mid- to upper-90s to start the week, but should cool off a bit with the better rain chances toward the end of the week. And another weak front appears to be on the horizon by late weekend that may—just maybe—push daytime highs into the upper 80s for some locations. No promises!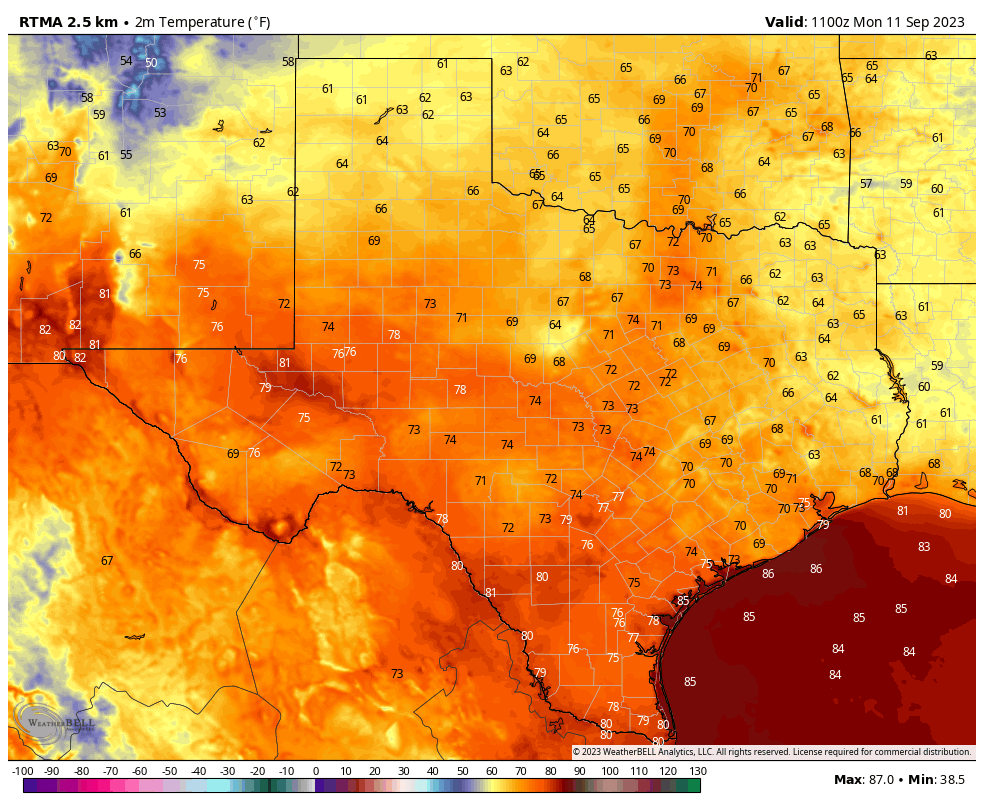 Monday
With light northeasterly winds today, we're going to see continued sunny skies and highs in the mid- to upper-90s. Due to the light winds, the Texas Commission on Environmental Quality has issued an Ozone Action Day, meaning that atmospheric conditions are expected to be favorable for producing high levels of ozone pollution today. People who are sensitive to this should take precautions such as limiting time outdoors. Low temperatures tonight will be a few degrees warmer, likely in the mid-70s for much of the area. This is still considerably cooler than we've experienced for most of the summer.
Tuesday
Another sunny day, a lot like Monday. However as winds become easterly and southeasterly we'll see a bit more humidity. Expect mostly sunny skies and highs generally in the mid- to upper-90s. Rain chances remain essentially zero.
Wednesday and Thursday
The atmosphere turns more perturbed by mid-week, and with slightly higher atmospheric moisture levels we should start to see better rain chances by Wednesday afternoon or evening. Daily rain chances will be on the order of 40 to 50 percent, probably. Showers most likely will not last super long, but some areas could receive a decent soaking of a few tenths of an inch of rainfall, or more. Daytime highs will depend on the extent of rain and cloud cover, but for the most part expect temperatures in the low- to mid-90s.
Friday
Our rain chances look to peak on Friday, with coverage of perhaps 60 or 70 percent of the area. Look for highs, again, to be in the low- to mid-90s. Accumulations for Saturday look higher for inland areas, perhaps an inch or more, and lesser closer to the coast.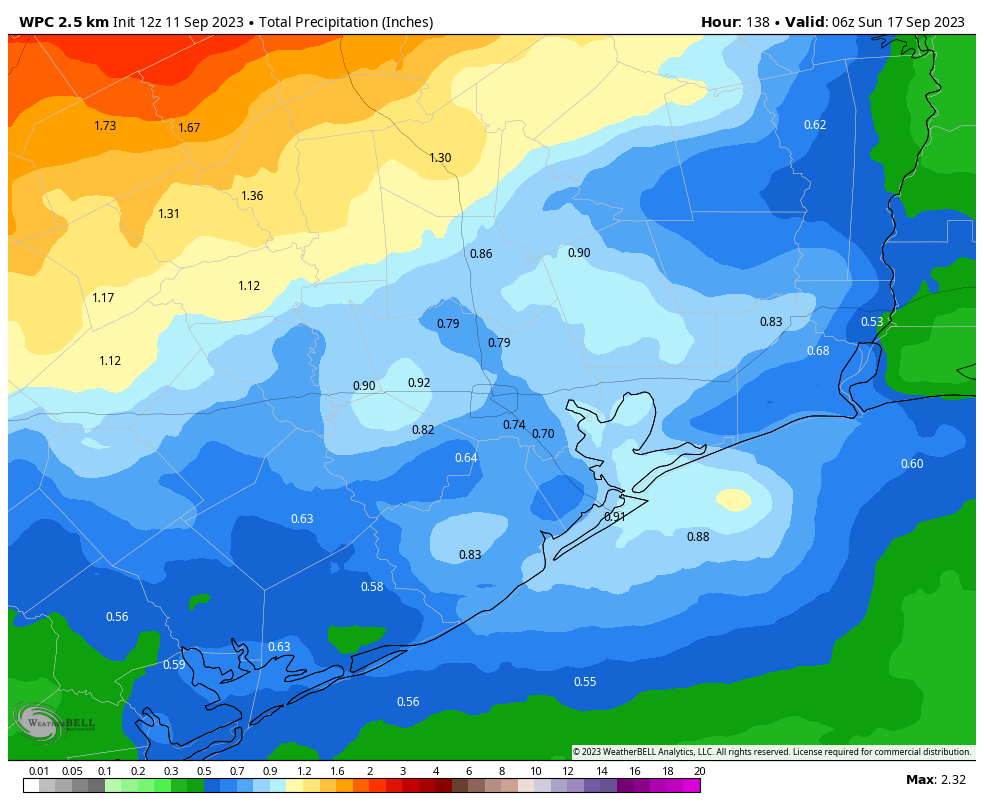 Saturday and Sunday
Some rain chances will linger into Saturday, but for the most part skies should be mostly sunny with highs in the low- to mid-90s. Rain chances should end definitively by Sunday, as another weak front appears likely to push into the area. The extent of this front's influence remains a bit unclear, but we should at least see some drier and slightly cooler air by Sunday or Monday night.
Next week
Most of next week should see sunny skies, with highs possibly in the upper 80s to start the week, before warming back into the low- to mid-90s.
I'm not ready to declare "Fall Day" yet, as that comes with the season's first decently strong front, which knocks air temperatures down to 65 degrees or below. And this definitely is not "fall-like" weather. But it is fairly typical for mid-September, and an improvement from a few weeks ago.