And so it begins … as of the early afternoon hours we're beginning to see scattered light to moderate rain showers moving into the southern and southeastern parts of the Houston metro area, primarily along the coast. This marks the beginning of about 72 hours in which we're going to see the region's wettest period since early this summer.
Matt covered the broad dynamics of the coming rains in a comprehensive post this morning, and at this point not much has changed. I've looked over the 12z model guidance and the range of solutions is still pretty broad—from widespread accumulations of 1-2 inches across much of Houston to upwards of 9 inches for wide swaths of the region.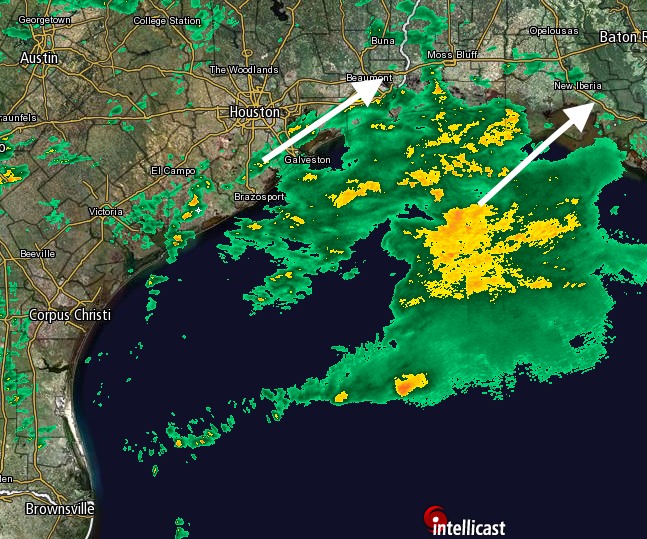 TIMING
It still looks as though most of the rainfall that develops today will be light to moderate, with the heavier rain waiting until later tonight or Saturday to really move in. From then on there will be the chance for on-and-off heavy rain showers and thunderstorms for the period of Saturday morning through Sunday night or even into Monday. This won't be continuous rain—there will be some breaks—but it will be a wet, cool and gray weekend.
Because some of the more aggressive forecast models are showing the potential for isolated areas to see 8 or 10 inches of rainfall, the biggest concern is flash flooding, and so that's what we'll be tracking for you. Unless bedlam erupts this evening, which we don't expect, look for a new update on Saturday morning.
COLD
Some of you have asked about that looming Arctic cold front we talked about earlier this week. Yes, it's still on track for Houston sometime next week, during the Wednesday or Thursday time frame. At this point I'd lay about 50-50 odds of a widespread freeze for the northern half of the Houston metro area on Friday morning. I'm not ruling out upper 20s, either.
Alas, the chance of snow is zero. Sorry. But the season's first real cold blast remains in the cards.
Posted at 2:50pm CT Saturday by Eric