Good morning. We have some potentially dynamic weather to talk about for the week ahead, with the potential for storms and heavy rain, so let's get right to it.
Today
Conditions will be fairly pleasant for Houston today, with partly to mostly sunny skies, and highs in the low 80s. The only blemish will come from gusty southerly winds, bringing moisture in from the Gulf of Mexico, and blowing up to about 20mph. Lows will again be very warm for March tonight, only falling to around 70 degrees for most of the region.
Wednesday
As we've been discussing, a potent upper-level storm system will sweep across the central and southern United States on Tuesday and Wednesday, generating enough lift and instability to produce some potentially severe weather. Timing remains a little unclear, but right now storm development in Houston seems most likely during the late morning or early afternoon, and running through the evening hours on Wednesday. NOAA's Storm Prediction Center favors the northern half of the metro area as most likely to see development.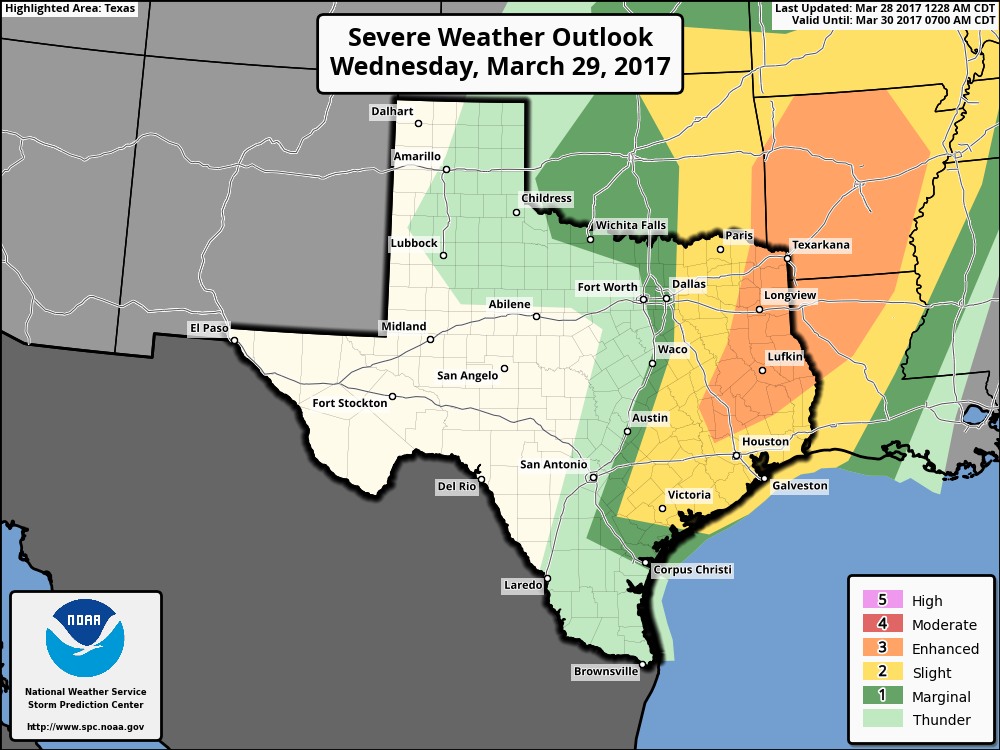 This is partly because a capping inversion could remain intact for southern areas of Houston. I'm not convinced that will happen, however, and I think there's a decent chance of heavy rain and thunderstorms, along with some isolated severe threat of high winds, hail, and perhaps even a few tornadoes for the entire region. Storms should be moving quickly enough from west to east that flooding shouldn't be too much of a threat, with most areas seeing 1 inch of rain or less.
Thursday
As a cold front moves through with the system, any lingering rain showers should end Thursday morning. The day should end up being a very nice one, with skies clearing and highs perhaps only reaching into the upper 70s. Nighttime temperatures will fall into the 50s for most of the region, except for along the coast. (This is what late March normally feels like for Houston).
Friday
A bit warmer, mostly sunny, and still pretty darn nice.
Saturday and Sunday
Saturday should start out pretty nice, with partly to mostly sunny skies and highs in the low 80s. Unfortunately we can't say the same thing for Saturday night and Sunday, as another upper-level storm system appears to threaten the area, bringing another chance of thunderstorms. I'm also concerned about the potential for low pressure to move up the Texas coast, as suggested by the European forecast model. This could bring an additional impetus for precipitation—perhaps as much as 2 to 3 inches on Sunday with locally higher amounts.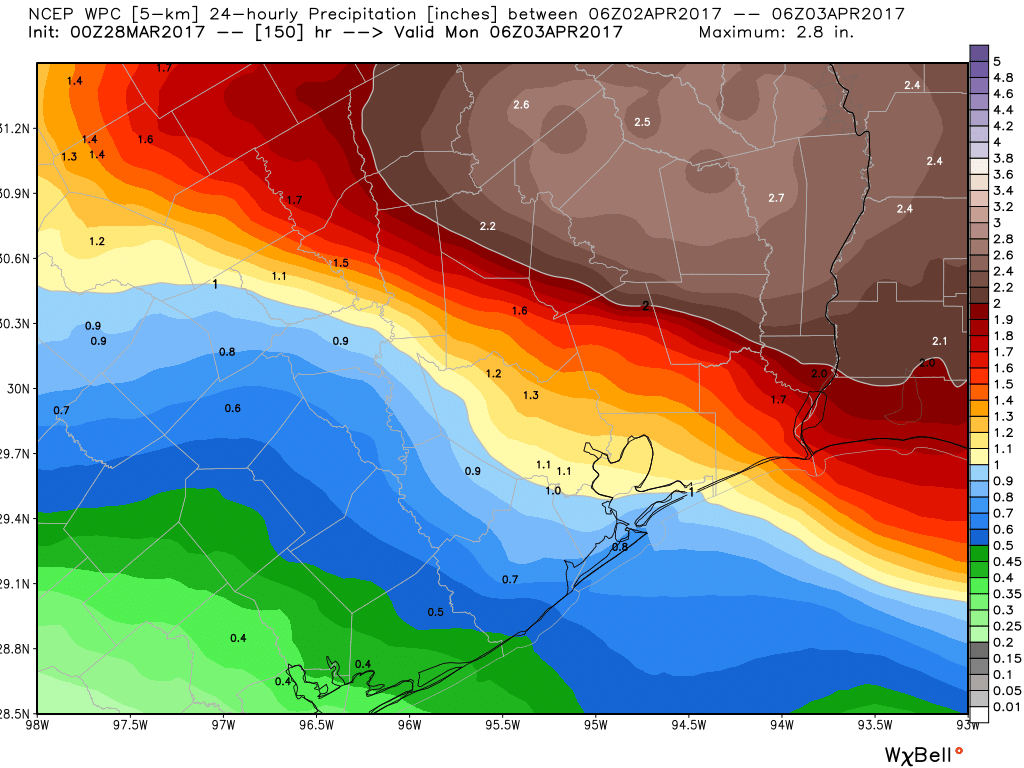 If you're planning on attending or watching the Shell Houston Open (which runs from Thursday through Sunday at the Gulf Club of Houston), I'd definitely be concerned about rain on Sunday. Right now, at minimum, expect clouds and scattered rain, and at worst I'd expect storms, heavy rains, and potential flooding. We'll keep watching conditions for you.
Posted at 6:40am CT on Tuesday by Eric