Good morning. A line of showers is moving through Houston this morning bringing some moderately heavy rainfall—but nothing too severe. The storms are moving at a good enough clip that they should not produce flooding issues. A front, with significantly drier air, is following just behind and will make for a lovely Thanksgiving.
Today
The storms should move through the area by around 10 am and be off the coast shortly thereafter. In their wake we should see a pleasant afternoon, with highs in the mid-70s and sunny skies. Temperatures will drop off fairly quickly this evening.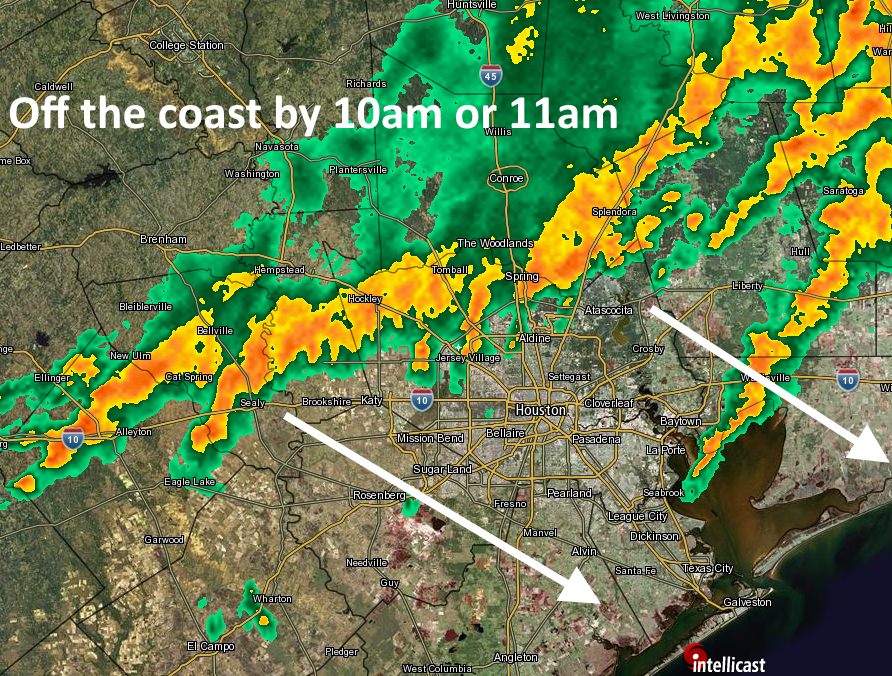 Thanksgiving
The holiday should be lovely. After lows in the 40s north of Houston, and low- to mid-50s closer to the coast, temperatures should rise into the mid-70s under mostly sunny skies, with dry air and moderate winds. By the evening hours we could see the return of some clouds as winds swing back around to the southeast, but lows should still fall into the mid- to upper-50s.
Friday and Saturday
An additional push of drier air from the northeast on Friday will keep fall-like conditions going through most of the weekend. Look for highs of 70 to 75 degrees on Friday and Saturday, with lows in the upper 40s north of the city, and the mid-50s closer to the coast.
Sunday and beyond
We're going to see a moderate warm-up on Sunday and Monday, with highs in the mid-70s and some returning humidity. However it's not going to last. Several more strong fronts appear to be lined up for Houston beginning on Tuesday—give or take—which should drive high temperatures next week down into the 60s, and lows into the 30s for some areas north of Houston. I'd expect the month of December to feel a lot like December.
Posted at 6:55am CT on Wednesday by Eric