Good morning. Storms are possible later today, but our best guess is that they'll probably skirt the metro Houston area and remain to the northwest. Thanksgiving looks quite pleasant in the wake of a moderate front.
Today
It's generally in the mid-60s across the Houston area today, quite warm for late November. Along with warmer mornings, we're going to see some other key differences today in weather that augur the potential for storms later. Winds will pick up out of the south later by this afternoon, possibly gusting up to about 20mph. We'll also see more cloud cover later today, an indication of rising moisture levels.
Meanwhile a strong disturbance over the southwestern United States will move east, toward Texas today. For our northwestern region, including the College Station area, the combination of daytime heating and the disturbance will create conditions favorable for some severe weather this afternoon through about midnight, or shortly before. There may be enough rotation to produce some isolated tornadoes and hail, but the primary threat is probably severe thunderstorms. (Fortunately daytime temperatures only in the mid-70s may limit some of the severity of storms). Here's where NOAA's Storm Prediction Center says the biggest threat will come later today: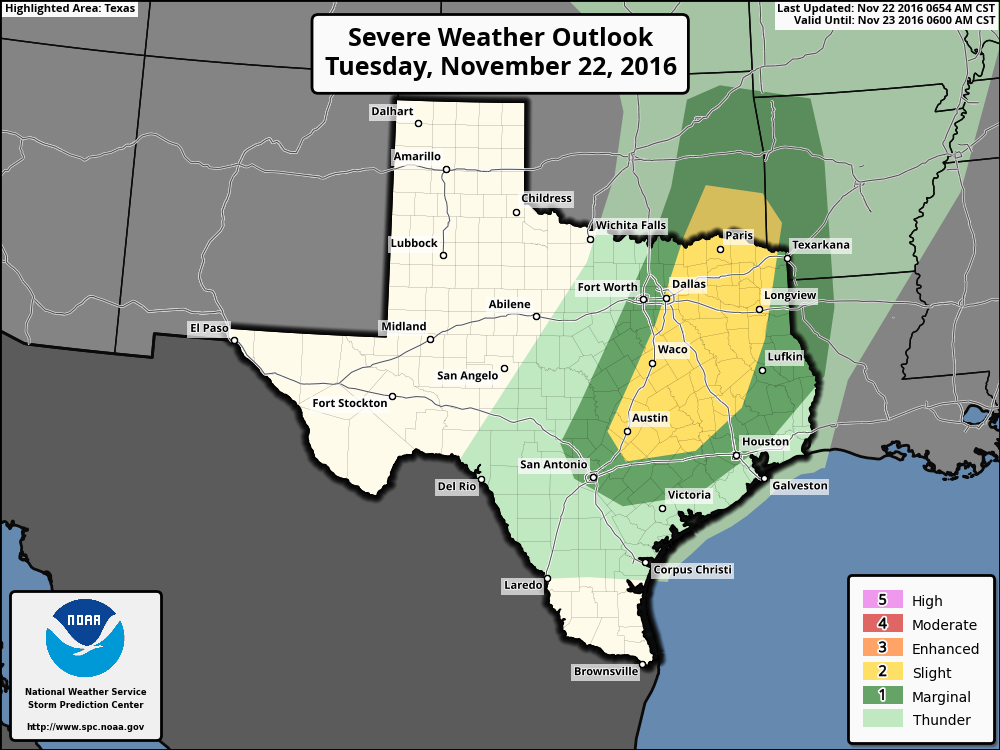 For Houston the storm dynamics are less favorable, and I expect the city won't see much in the way of stormy weather this evening. Rather the most likely scenario is a broken line of storms moving through ahead of a cool front, sometime shortly before or after sunrise on Wednesday morning. Probably the biggest threat is damaging winds.
Wednesday
Skies should clear out pretty quickly after the front moves off the coast, allowing for a mostly sunny afternoon, with highs in the mid-70s, and a clear night.
Thanksgiving Day
Look for lows to drop down into the upper 40s north of Houston on Thursday morning, and into the mid-50s closer to the coast. The holiday should see pleasant conditions, with partly sunny skies and highs in the mid-70s.
Black Friday
The short-lived cool front will wash out sometime on Thanksgiving, allowing for a return flow of moisture from the Gulf of Mexico. This will increase clouds on Friday, and allow for a slight chance of rain, mainly during the afternoon hours, with highs in the 70s. Another weak front should move into Houston on Friday—not at all strong like last week's.
The weekend
Saturday should be a pleasant enough day in the wake of the front, with highs of around 70 degrees and mostly sunny skies. But by Sunday and especially Monday increasing moisture levels could bring back clouds, and probably some rain, iknto the forecast. Are you looking for significantly colder weather as we get deeper into winter? Some long-range forecasts for December suggest that may just happen. I'll have more on that later.
Posted by Eric at 7:30am CT on Tuesday