Sunday was blazing hot as upper-level high pressure continued to bake Texas. Nearly all meteorological sites across the region broke daily high records, in some cases smashing them. The city's "official" measuring station, presently located at Bush Intercontinental Airport, reached 108°. This is one degree short of the city' all-time hottest temperature across nearly 150 years of records, 109 degrees. This mark was recorded on August 27, 2011. Here are some other results:
Houston-IAH: 108° (1 degree short of all-time high, reached four other times)
Houston-Hobby: 107° (broke daily record high of 101°, set in 1999)
Galveston: 97° (tied record daily high from 1995)
College Station: 112° (tied all-time record high, set Sept. 4, 2000)
Sugar Land: 107° (broke daily record high of 101°, set in 2018)
Tomball: 110° (broke daily record high of 101°, set in 1999)
Our eyes now turn to the Gulf, where a tropical disturbance has a decent chance of flaring into a tropical depression or storm today, before moving into South Texas early on Tuesday. I fear we will be looking longingly at the system, because its winds and waves won't be severe, but its rains definitely beneficial. The best accumulations will all be south of Corpus Christi, although the southern Houston area may see some stray showers today and tomorrow. See below for much more information about the Gulf disturbance.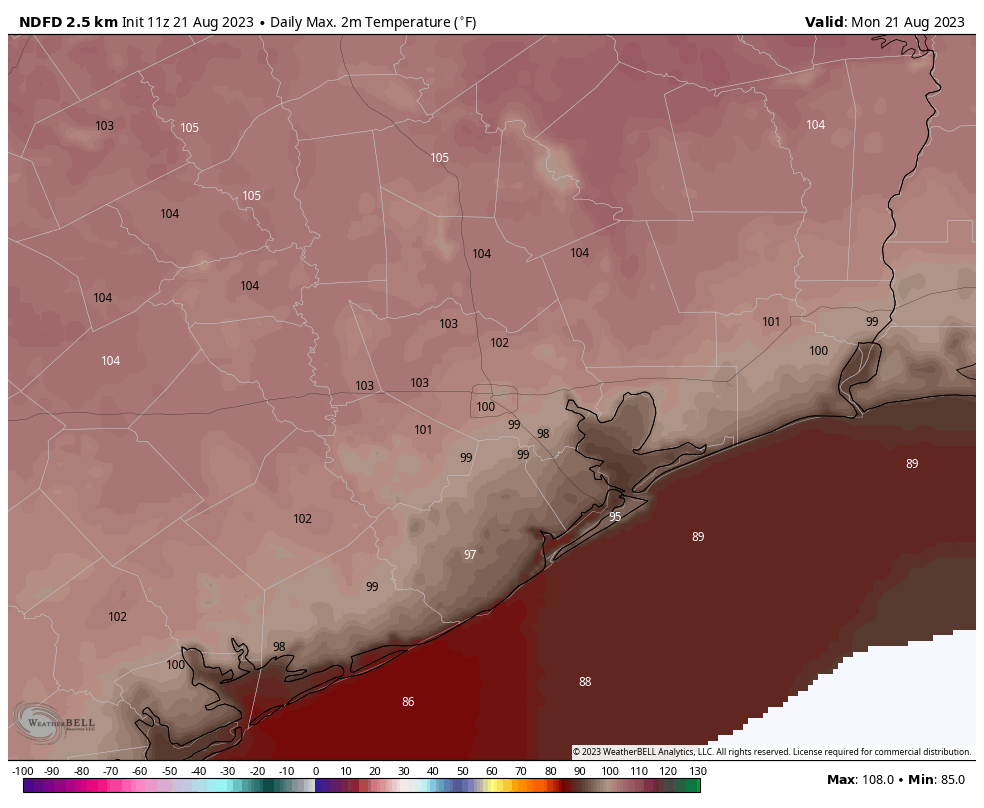 Monday
Today is going to be very hot again, although temperatures probably will be a few degrees lower than Sunday's exceptional highs. Skies will be mostly sunny this morning, but we may see some clouds developing today. In response to the tropical system, our winds will become more easterly, perhaps gusting to 20 mph later today. These winds will exacerbate fire conditions, and a red flag warning is in effect for the combination of strong winds and high temperatures.
Will it rain today? Probably not. Some isolated areas probably will see a decent soaking, but all of the organized shower activity should be far to the south of the Greater Houston region. Rain chances are probably on the order 20 percent today and tonight for coastal Houston, and closer to 0 percent north of Interstate 10.
Tuesday
Rain chances will peak on Tuesday, at perhaps to 30 or 40 percent south of Interstate 10, and maybe 20 percent north of the freeway. This day should also be slightly cooler, with highs in the 90s for areas closer to the coast. It's still going to be hot, though. Skies will be partly to mostly sunny.
Wednesday
A hot day, with highs in the low 100s for much of the region and mostly sunny skies. Rain chances? They're long gone.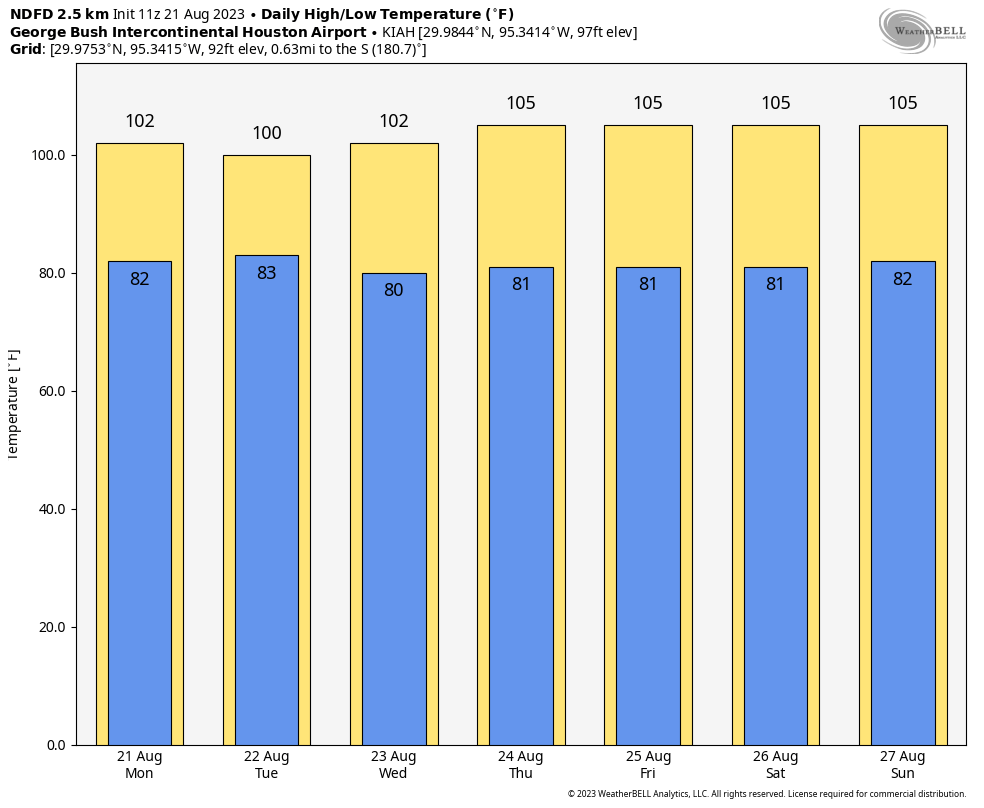 Thursday, Friday, Saturday, and Sunday
Unfortunately this period looks to be extremely hot, with high pressure building more directly over Texas. We're talking highs in the low- to mid-100s, so akin to what the region experienced this past weekend. Rain chances will be on the order of about 10 percent each day.
Is there any relief at all in sight?
If you're wondering about cool fronts and plentiful rainfall, alas, the answer is no. However at this point the ridge of high pressure does look to back off some next week, and that should take some of the top end off of the high temperatures. It should also allow rain chances to creep back up a little bit. We'll see. This summer has been brutal, and will continue to be for some time.
All about the Gulf disturbance
Now let's talk about the Gulf of Mexico. This portion of today's post comes via The Eyewall, our companion website where you can find comprehensive coverage of hurricanes. This morning, we have seen no real progress toward better organization overnight from the tropical wave, Invest 91L, in the eastern Gulf.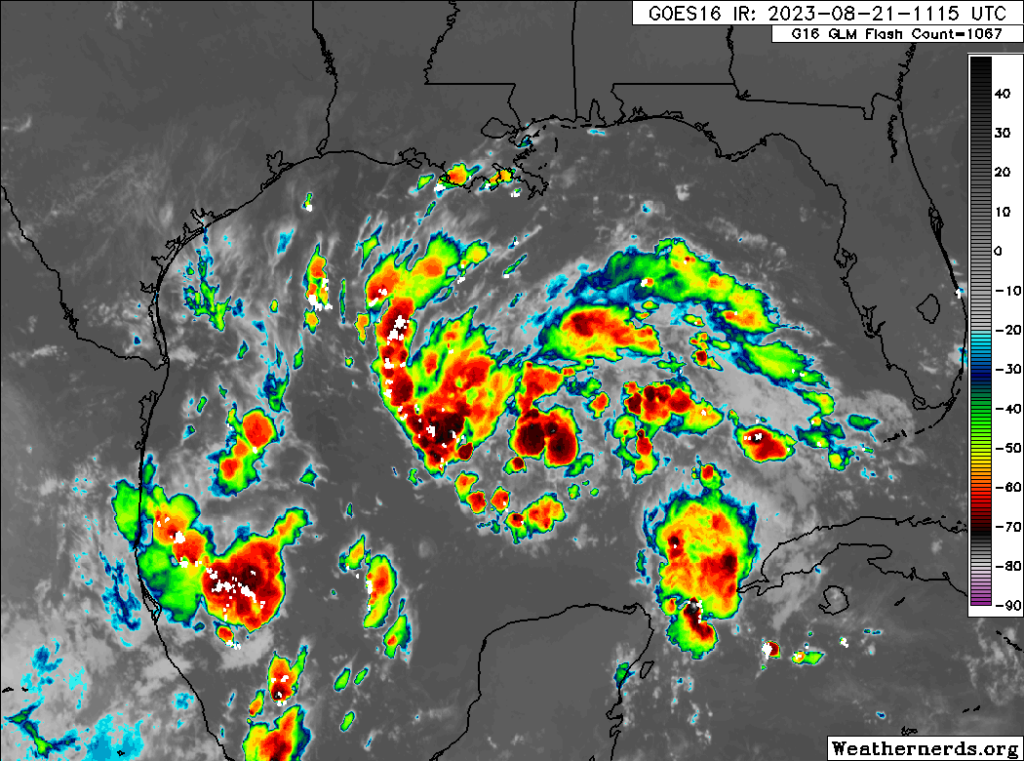 Just as a quick reminder: Invests are really just meteorological classifications given to tropical disturbances so extra data can be compiled about them; literally "an area of investigation." There's no strict definition, but they go from 90 to 99 and then recycle again. In the Atlantic we use "L" as an identifying abbreviation. The East Pacific is "E," West Pacific "W," etc.
Anyway, 91L has a broad circulation this morning but does not appear to be tightening up any as of yet. The good news is that this system only has about 24 hours left over water before it comes ashore in South Texas. The most likely outcome at this point is an approach just south of Corpus Christi or north of Brownsville.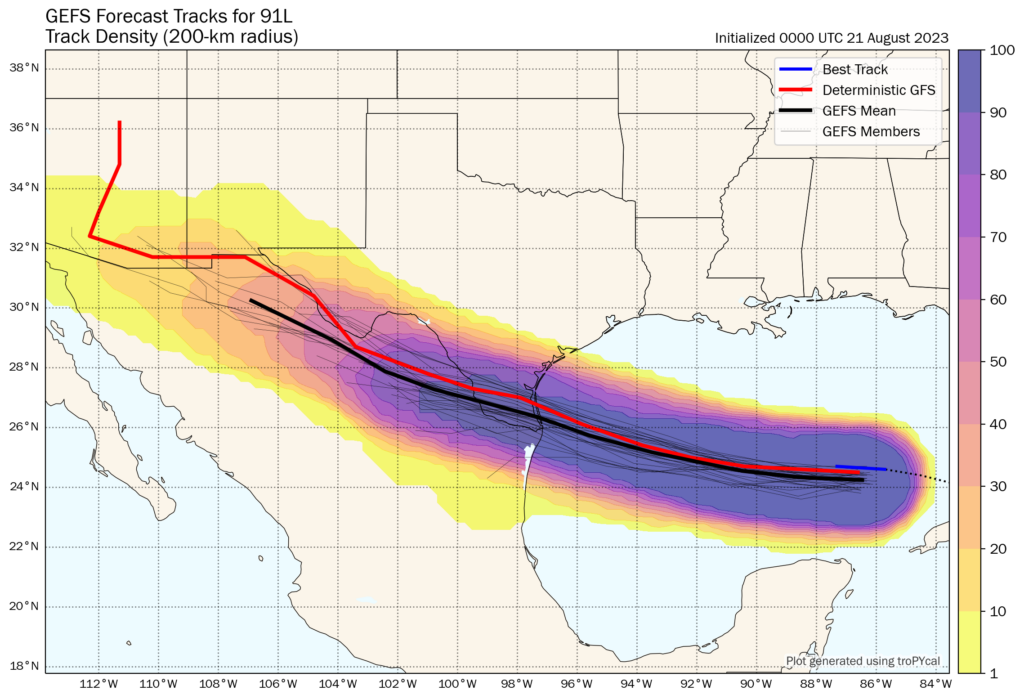 Given that we have 24 hours left and given how this thing looks on satellite, my hunch is that if we see this upgraded we may skip the formalities and go right to a tropical storm. The next name on the list would be Harold. At worst, this would probably become a low-end tropical storm (45 to 55 mph maximum sustained winds, mostly in heavier rain bands and over water).
More importantly, this will be a rainmaker for Texas. The entire state desperately needs rain.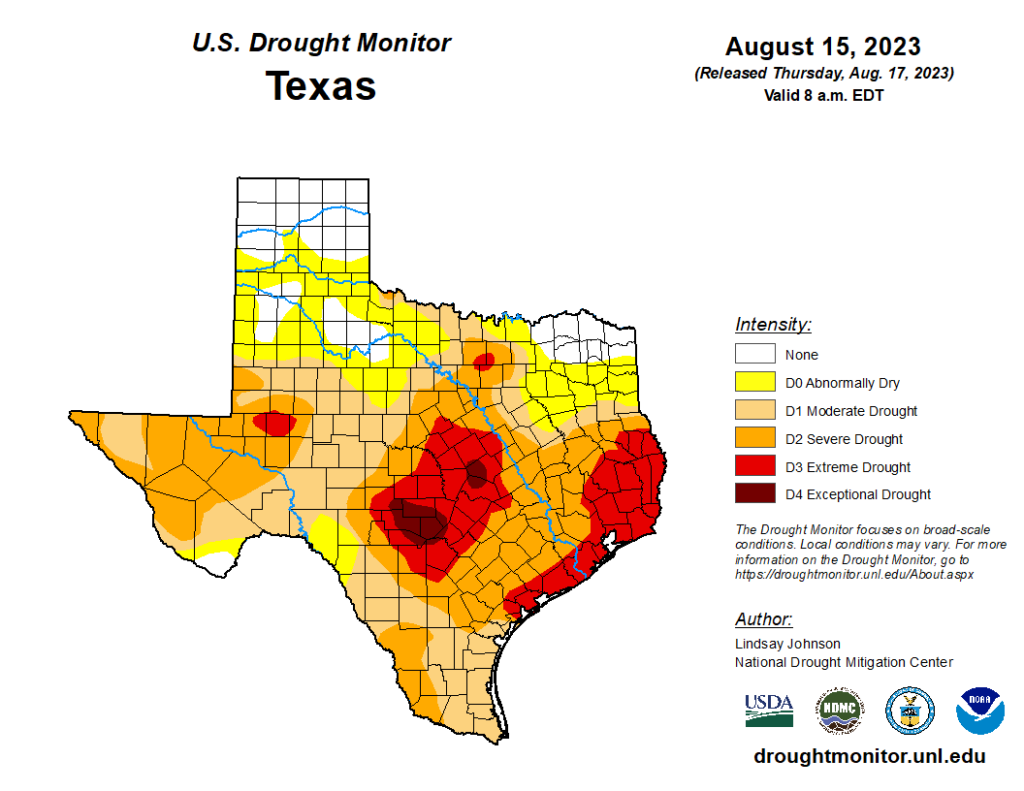 East Texas and the upper Texas coast are in extreme drought, with pockets of exceptional drought in Hill Country northwest of San Antonio. A quick moving tropical system would be virtually 100 percent positive in Texas right now. This will help. Rain totals of 1 to 3 inches with higher amounts are expected for South Texas, mainly south of Corpus Christi into the Rio Grande Valley and west toward Laredo. Northern Mexico will also receive healthy rains from this.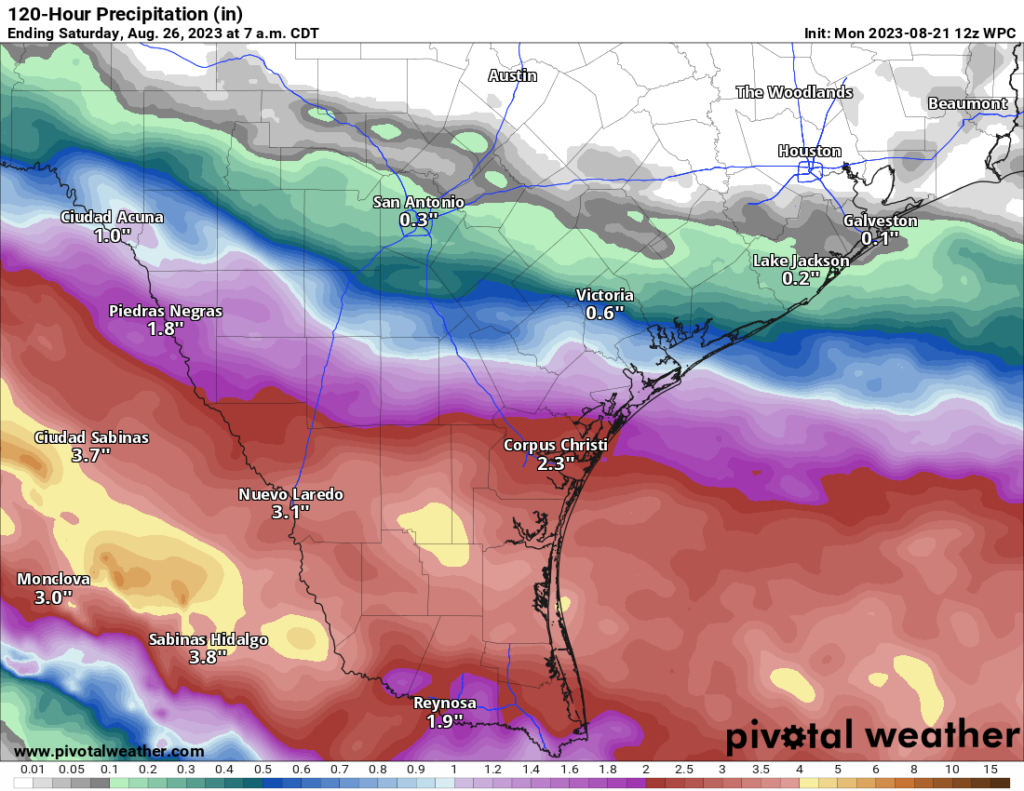 While this will not end drought for South Texas, it will greatly help. Unfortunately, the hardest hit parts of the state are expecting little to no rain this week, meaning drought and fire danger will worsen.