Yesterday, I talked about the merry-go-round nature of Houston's weather during the winter—the ebb and flow of cold fronts, then warm fronts, and then cold fronts—and that pattern will very much remain with us for the foreseeable future. So strap in to ride that winter roller coaster, y'all!
Thursday
Today will definitely be on the cooler side. Lows have generally fallen into the low 40s across most of the metro area, and we'll be slow to warm up with a persistent northeasterly flow. High temperatures for some locations may not even reach 60 degrees, despite partly to mostly sunny skies. Winds will shift to come from the east overnight, and this will allow for some clouds to form. Lows on Thursday night should be similar to those of Wednesday night.
Friday
As high pressure moves away, winds will start to blow from offshore. However, given the dry airmass in place, Friday should still be a sunny, relatively cool affair with highs in the mid-60s. The more moist flow from offshore will really make its presence felt by Friday night, with mostly cloudy skies, and lows only dropping into the upper 50s.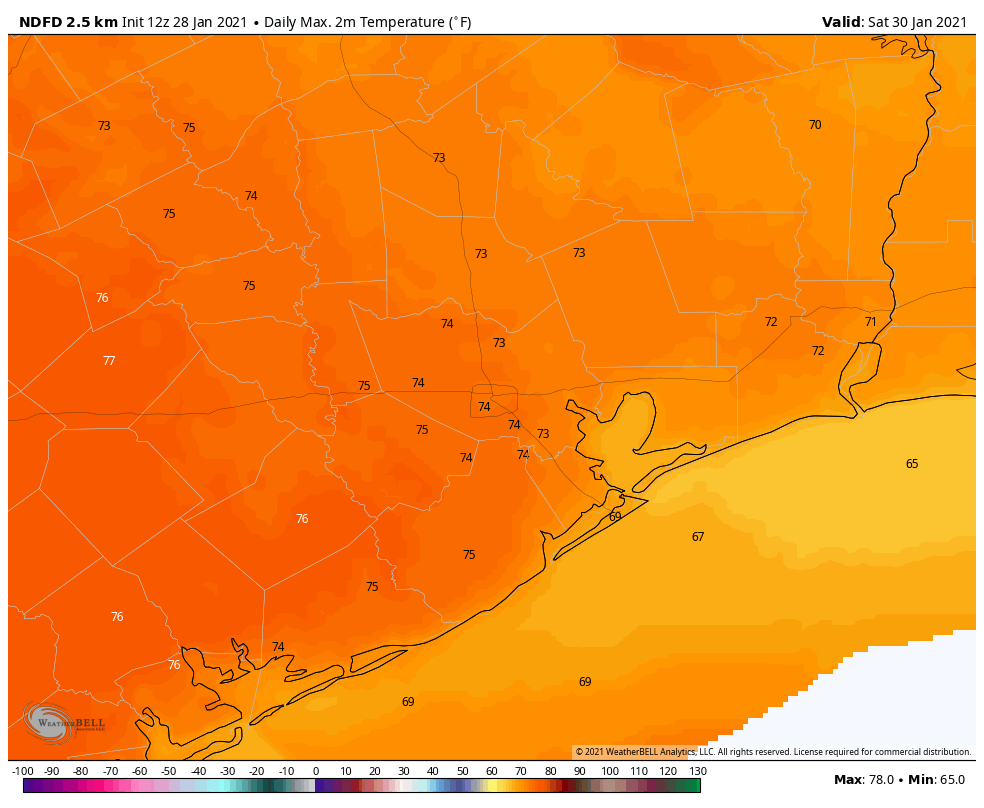 Saturday
After the warmer night, Saturday could start out with some fog, especially near the coast. This will be a warmer day, with highs nudging up into the mid-70s, despite mostly cloudy skies. Later in the day, or during the evening hours, very light rain may fall across parts of the city, but this should be more of a misting than an accumulating rainfall for most. Saturday night's low temperatures will depend on the timing of the front, which is likely to move through between midnight Saturday, and sunrise on Sunday, give or take. A broken line of showers may accompany the front's passage.
Sunday and Monday
This should be a sunny, breezy day, with highs in the upper 60s. Lows will drop into the 40s, and Monday should be clear and cool as well, with afternoon temperatures in the low- to mid-60s. After that temperatures will be back on the upswing!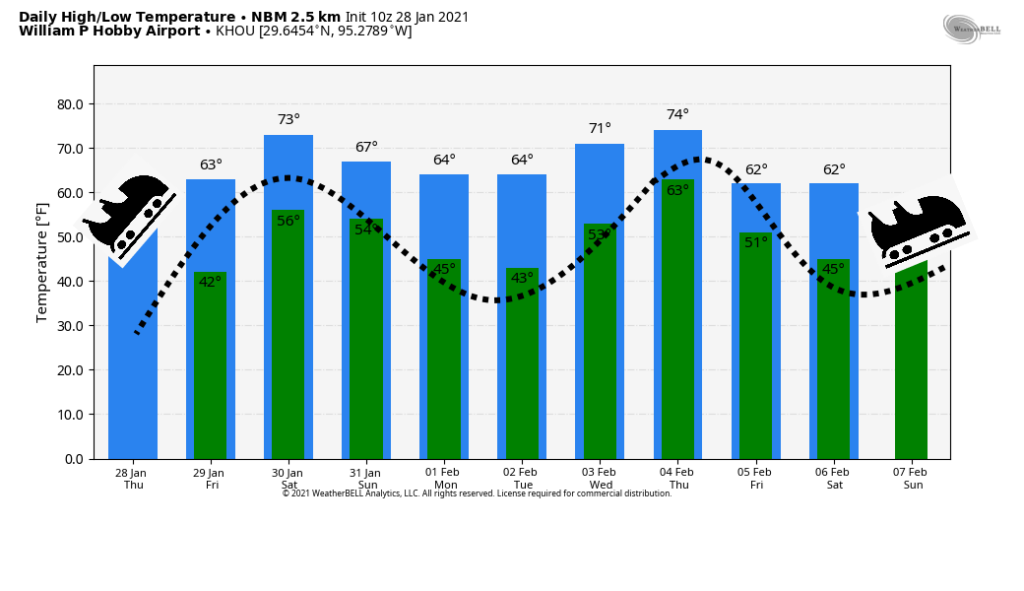 Next week
It sure looks like we'll see a warm-up during the second half of next week, before yet another cold front. This one may, or may not, be pretty strong. (How's that for helpful!) For now I'd bet on next weekend being fairly cool—but precisely how cold is impossible to say.