Good morning! A second, stronger cold front moved into Houston overnight and this will set the stage for more winter-like conditions through the end of the work week. Then temperatures will begin to rise again this weekend, before the arrival of yet another front. So it goes in Houston, during the winter.
Wednesday
Today will be breezy as the cooler, dry air bulls into Houston behind the front. Expect gusts as high as 20 mph at times, perhaps even a bit stronger right along the coast. Skies should gradually clear out, with highs working themselves into the mid-60s or so for most areas. Winds should gradually subside this evening, as lows drop into the low- to mid-40s in the city of Houston—colder inland, and warmer along the coast.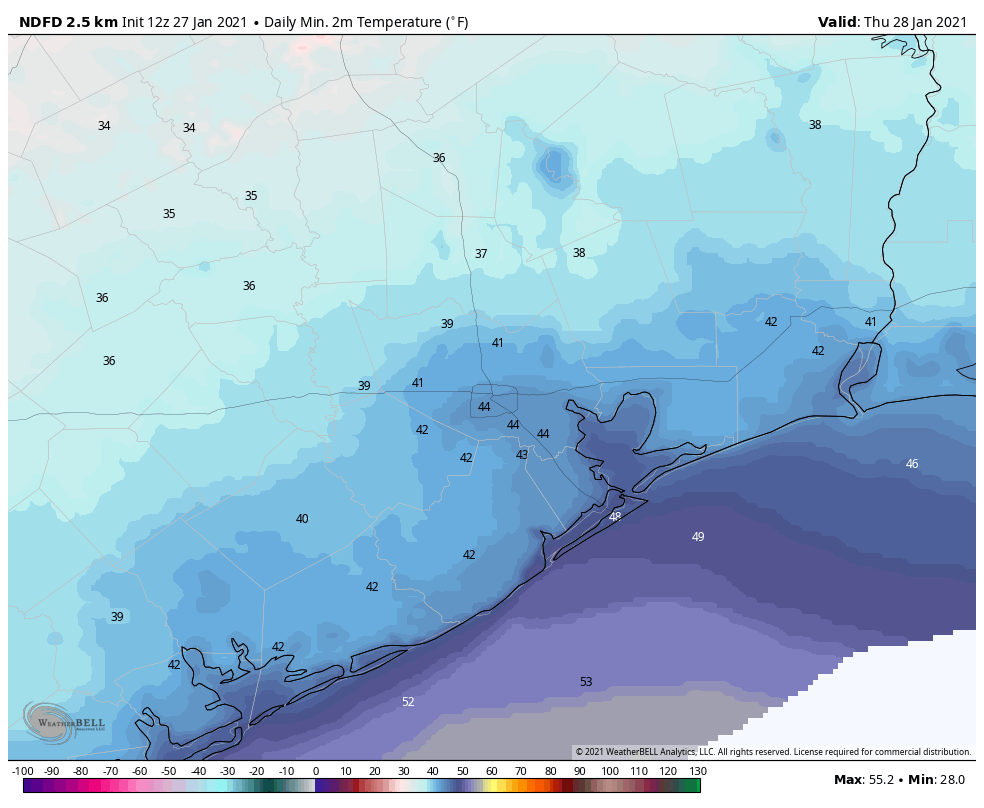 Thursday
This should be the coldest day of the week. Combined with the cold air, a few clouds may help to limit high temperatures to about 60 degrees. It should be another chilly night, with lows dropping into the mid-40s in Houston.
Friday
After dominating our weather for a few days, high pressure should begin to slide off to the east, and this will eventually induce a more southerly flow. However, I think Friday will still see mostly sunny skies, and with its cold start highs probably will only get into the mid-60s. Lows Friday night will be warmer, perhaps dropping into the mid- to upper-50s.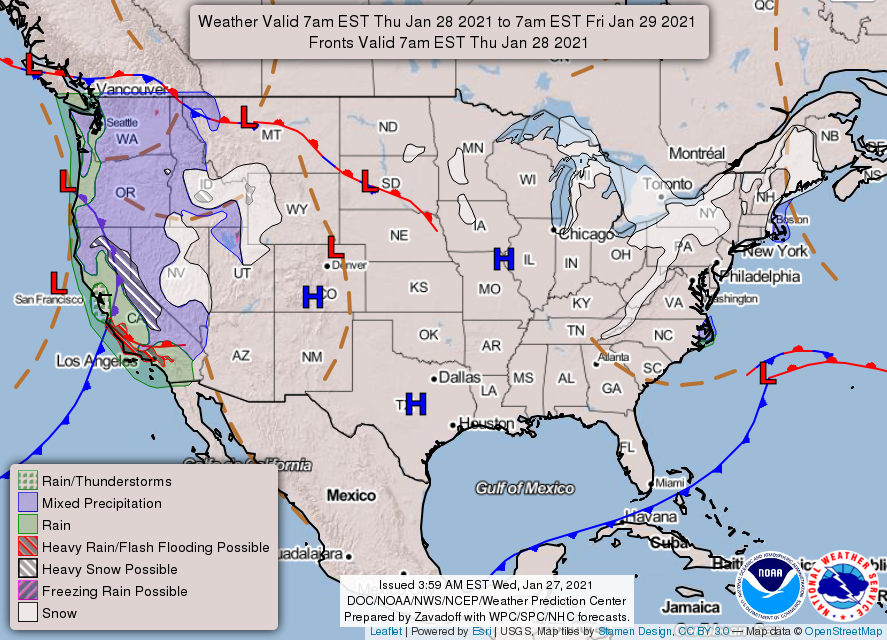 Saturday
The first half of the weekend will be warmer, with highs somewhere in the 70s, and mostly cloudy skies. As atmospheric moisture levels creep up, rain chances will rise during the afternoon and evening hours, perhaps to 40 or 50 percent. However, any rain that falls on Saturday evening or during the overnight hours will very probably be light, with overall accumulations for most areas likely around one-tenth of an inch. A cold front should push through during the overnight hours, although whether that happens around midnight, or later at sunrise on Sunday, is anyone's guess right now.
Sunday
This should be a pleasant, breezy, sunny day with highs of around 70 degrees in the wake of the front. Lows on Sunday night should drop into the 40s for most.
Next week
And so it goes during winter. High pressure should dominate through Tuesday, or so, with its attendant sunny skies. Then we'll be back into a warmer, more humid pattern until the next front arrives. It seems possible that this one—arriving around February 5 or 6—may have more oomph than the last few. Temperatures may flirt with freezing levels again in Houston, although that's just speculation for now.