Good morning. Before jumping in to the forecast, I wanted to briefly talk about the recent sharp cold snap Houston experienced, and its effects on mosquitoes. Unlike a regular freeze, widespread temperatures in the teens may have some significant effect on populations. A recent study found that temperatures below 20 degrees Fahrenheit significantly reduced the number of viable larvae, as only eggs laid in well insulated areas will survive.
This will not wipe out the population, but it should put a dent in their numbers this spring. For how long? Scientists say a wet and warm spring could bring populations back to near normal later this summer. As for conditions in Houston this spring, we'll have an outlook for you tomorrow.
Monday
A cold front is slogging through Houston this morning, and if you're inland of Interstate 69 you're already beginning to feel its effects. But if you live closer to the coast, its passage won't come for a few more hours as the front probably won't move offshore until shortly after noon. Behind the front, temperatures today will be in the 50s for inland areas, and after the front passes, in the low 60s for coastal areas.
The other notable feature today will be increasing rain chances from around noon through the evening hours. This will offer a reasonably good soaking for the area, with 0.25 to 1.0 inch for most of the Houston metro area—with higher isolated amounts—and the potential for 2.0 or more inches north of Highway 105. Rains will generally end tonight or by early Tuesday. Lows Monday night should drop into the upper 40s away from the coast.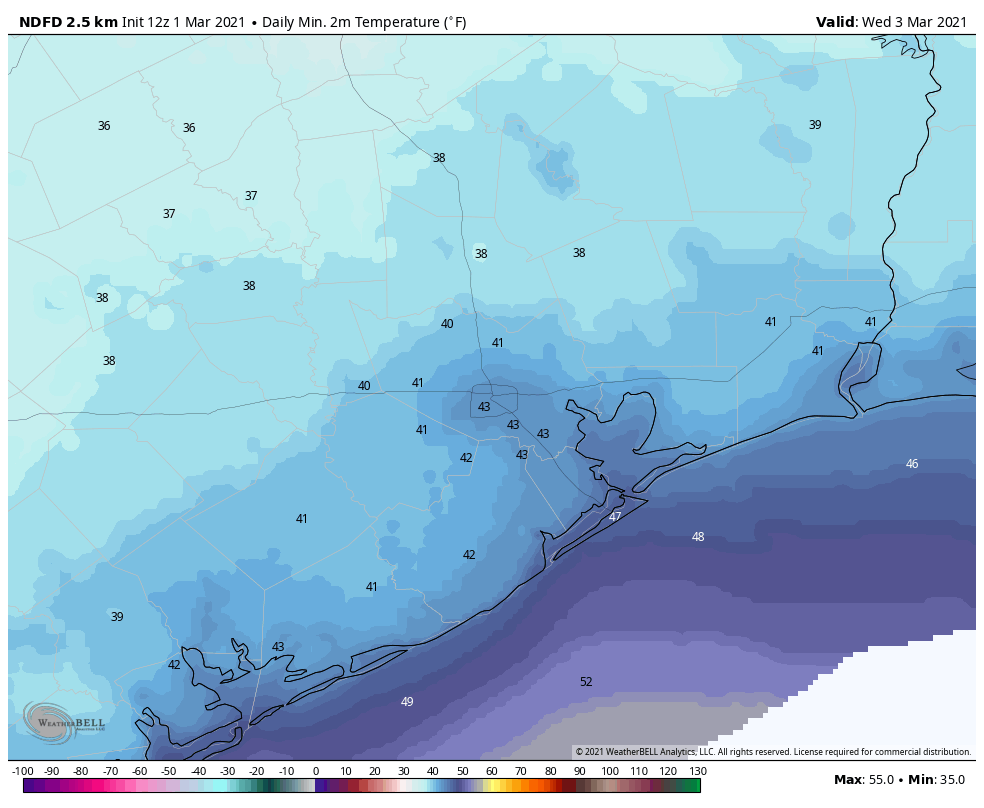 Tuesday
A colder day, with highs near 60. Winds will remain consistently out of the north at about 10 to 15 mph, but skies should begin to clear during the afternoon hours. With clearing skies, we can expect Tuesday night to be the coldest of the week, with lows dropping to around 40 degrees, give or take.
Wednesday and Thursday
The middle of this week looks pleasant, with highs in the 60s to 70 degrees and lots of sunshine. Lows by Thursday night probably will only drop into the 50s.
Friday
An atmospheric disturbance may lead to some increased rain chances as clouds return on Friday, but right now we're not expecting to get too wet. Highs on Friday should be around 70 degrees, with a front pushing through overnight.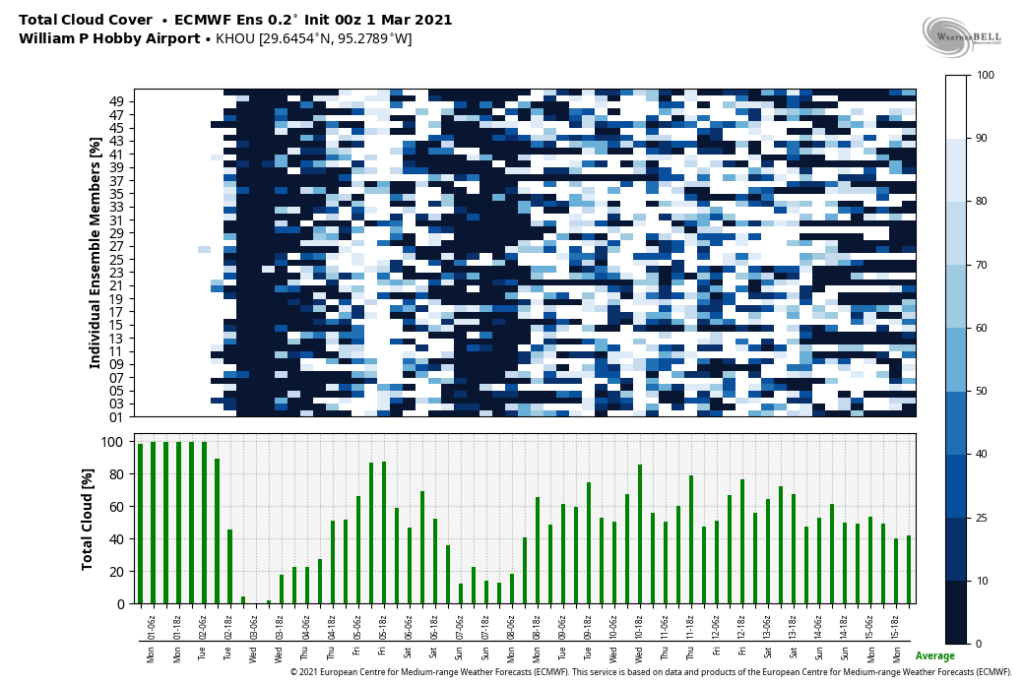 Saturday, Sunday, and beyond
Assuming the front makes it through as anticipated, this weekend should see mostly sunny conditions with highs in the 60s and lows in the 40s and 50s. At this point, the weekend does look rather grand for early spring so perhaps make some tentative outdoor plans now. We should see a warming trend heading into next week.