A quick note before we jump into the weather: My book on the origins of SpaceX, LIFTOFF, is available in bookstores everywhere today. It has received tremendous reviews so far, and I could not be more excited to share this remarkable story with the world. I must say, I put pretty much everything I had into reporting and writing this book. Ok, now on to the weather.
February was quite the month of weather for our region, with a fairly warm start, an extremely cold middle 10 days of the month, and a rather warm ending. Overall, February, 2021, will rank as about the 20th coldest February on record in the city of Houston over the last 140 years or so. The bar chart of daily temperatures, with record lows on February 15 and 16, is something else: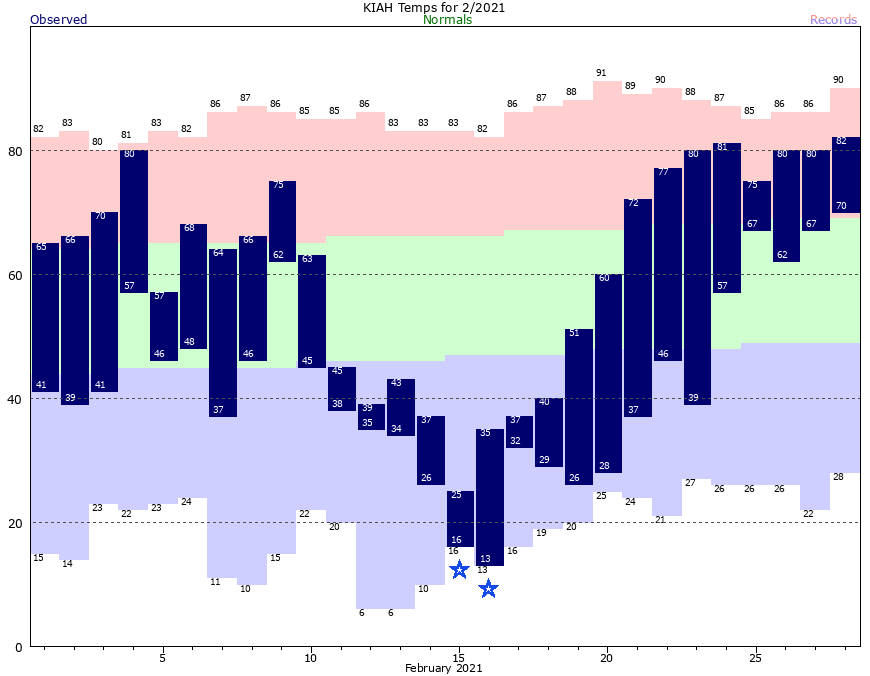 So what comes next? Although La Niña—a cooling of the tropical Pacific Ocean—peaked at the end of 2020, we do remain in a moderate pattern. Although La Niña is weakening, we likely will see its effect through much of the spring, and for Texas that generally should mean warmer and drier conditions. I've looked at the various global and seasonal model forecasts for March, April, and May, and pretty much all of them align with this idea. So, too, does NOAA's seasonal forecast for spring, which shows nearly all of the Lower 48 states seeing warmer than normal conditions.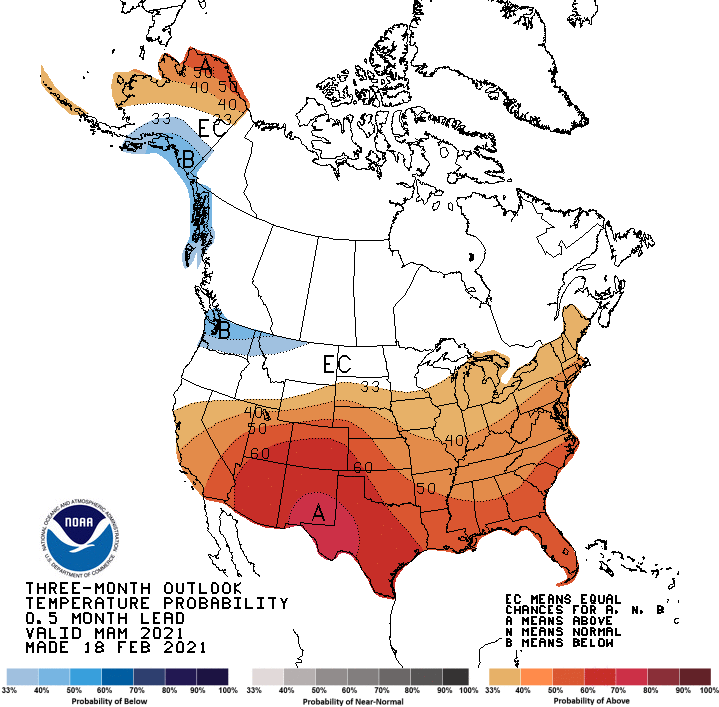 What this all means is that spring is upon us, and pretty soon we are likely to see highs in the 70s and 80s with some regularity. The chances of a freeze for anywhere in Houston, and surrounding areas, is rapidly diminishing to near zero. A week ago, lows were in the 20s. Soon, our nights in the 40s will become increasingly rare.
Tuesday
After much of the Houston region picked up 0.5 to 1.0 inch of rain overnight, the bulk of the precipitation has shifted eastward. Drier, and at-times gusty northerly winds will clear clouds out of the area later today, and temperatures should rise from the upper 40s to around 60 degrees. Temperatures tonight will drop to around 40 degrees, and this will be the coldest night of the week as clear skies prevail.
Wednesday and Thursday
These will be a pair of splendid, mostly sunny days. Highs will likely get into the mid- or upper-60s on both days. Winds will shift to come from offshore later on Wednesday or Wednesday night, so lows will nudge into the mid-40s on Wednesday night, and likely won't drop below the 50s on Thursday night.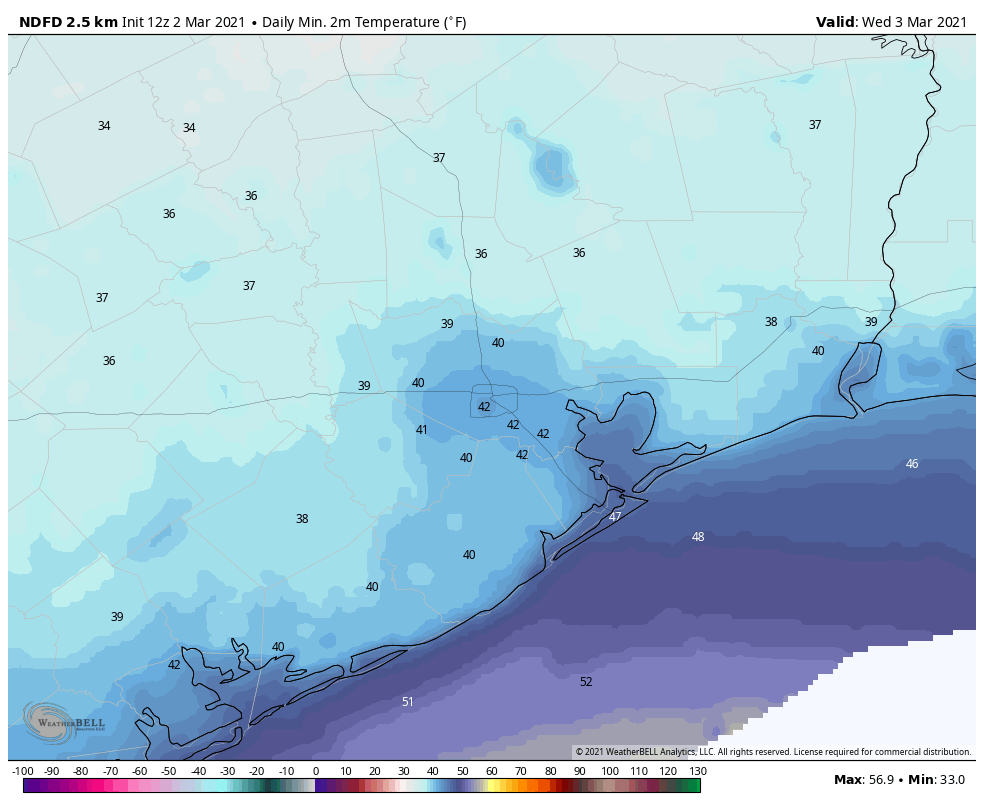 Friday
Friday will be warmer and a bit muggier, with temperatures likely to reach about 70 degrees. A frontal passage later on Friday, during the afternoon or evening most likely, may generate some rain showers although there won't be that much moisture in the atmosphere to work with. Temperatures on Friday night should drop into the 50s.
Saturday, Sunday, and beyond
The weekend still looks pretty tremendous. We expect to see partly to mostly sunny skies, dry air, and highs somewhere in the mid- to upper-60s for the most part. Lows will likely drop down into the 50s—perhaps upper 40s for inland areas. Really, this should be just a great, great spring weekend for doing whatever you need to do around the area.
Most of next week should be warmer and more humid, with highs generally in the 70s, and lows likely around 60 degrees. Days should bring a mix of sunshine and clouds, with some better rain chances returning by Wednesday or Thursday, give or take. As we said, spring is descending upon Houston and looks to stay for awhile.