Good morning. Houston has one more week of exceptionally hot September weather before the pattern should change, with an increasing likelihood of a decent front pushing into the region. In this post we'll also discuss the potential for a tropical system to move into the Gulf of Mexico next week.
Tuesday
Temperatures maxed out in the low- to mid-90s across Houston on Monday, and conditions will be similar today under mostly sunny skies. But whereas about 20 percent of the region saw a passing shower or thunderstorm, that number is probably 10 percent today. And if you think that is low, wait until you see the precipitation forecast for the remainder of the week. Winds will be light, out of the east at about 5 mph. Lows tonight should drop into the low 70s.
Wednesday
Look for sunny conditions, and highs in the mid-90s. Rain chances will be near zero.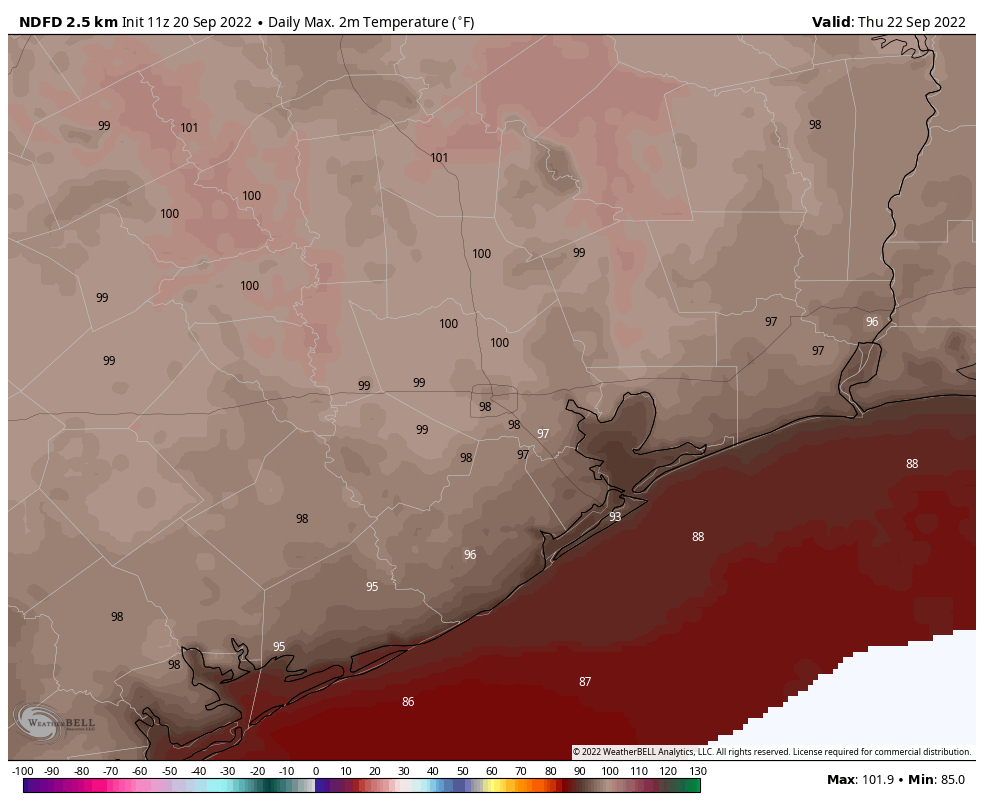 Thursday and Friday
A ridge of high pressure will reach its peak toward the end of this week, and it's going to push high temperatures to the upper 90s, and for some inland locations, possibly 100 degrees. This is very late in the year for such hot days. In nearly 150 years of records, the latest 100-degree day ever recorded during the calendar came on September 27, 2005. (Friday is September 23). Rain chances are zero each day, with sunny skies.
Saturday and Sunday
As the aforementioned ridge starts to retreat a bit, we'll see high temperatures back off slightly. But I'd still anticipate highs in the mid-90s, with sunny skies, on Saturday and Sunday. A few scattered showers and thunderstorms are possible by Sunday, but at this point I'd peg chances at 20 percent or less.
Next week
While the pattern is not yet set in stone, it now appears likely that a cold front will push through on Monday or so of next week, and this should bring some notably drier and cooler air. Don't expect miracles from the first front of the year, but we should see nighttime temperatures drop into the 60s for inland areas, with dewpoints comfortably in the 50s.
Tropics
Fiona is now a major hurricane pulling northward of the Dominican Republic, and it will affect Turks and Caicos and the southeastern Bahamas today. In a few days, the storm could threaten Bermuda.
Of more interest to the continental United States is a tropical wave in the Atlantic Ocean, a day or two away from entering the Caribbean Sea. Global models have become more bullish on the development of this system during the last 24 hours, and it has a plausible path to reach the Gulf of Mexico in a week or ten days from now. Here's a map of the European ensembles for this system, one week from today: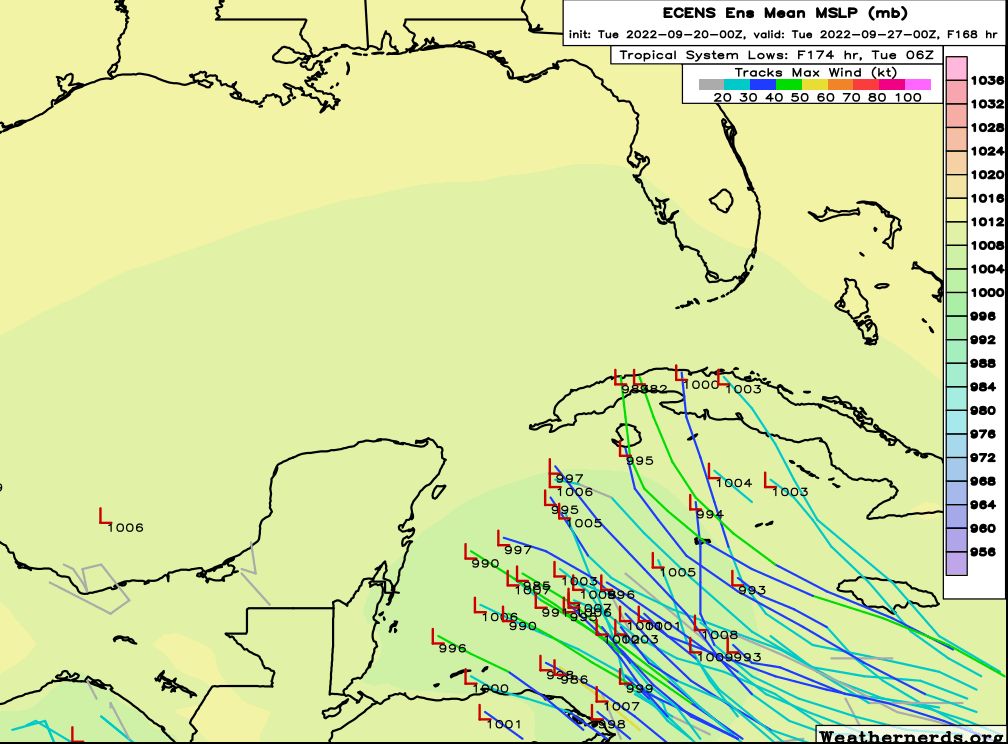 There is good agreement here about a tropical system reaching the western Caribbean Sea early next week. Importantly, this is about as far as we can reasonably rely on model guidance. After five to seven days, the accuracy of such models breaks down. And indeed, when we run the forecast forward just two days, to Thursday September 29, there is an extremely wide variance of outcomes. Some of the models start to turn the storm northward toward Florida, and others continue to push it westward toward the Gulf of Mexico, where it could wind up anywhere from Mexico to the Florida peninsula.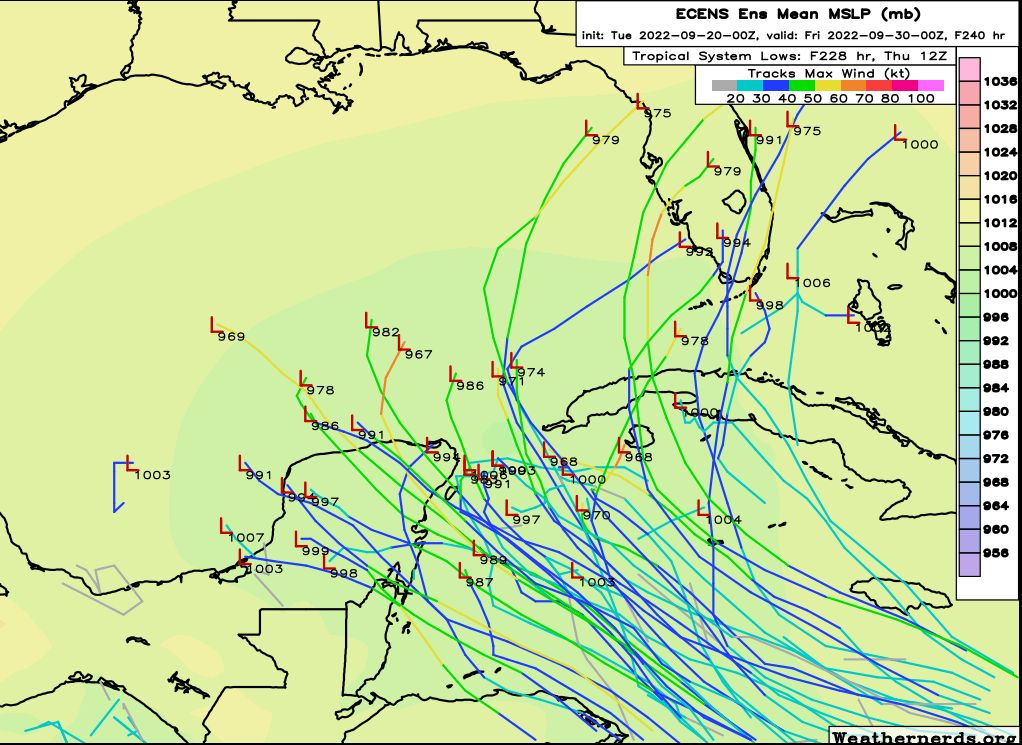 So what does all this mean for Texas? We are fast reaching the time of year when it is less likely for storms to track into Texas, but that does not mean it's impossible. In this case, the models are sending a strong signal that this system will develop in the Caribbean Sea, and become a tropical storm or a hurricane. After that time it may very well move into the Gulf of Mexico, but there are just too many variables to sort out before we can have any confidence in where it will go. Our best forecasting tools are just not up to the task of delineating a clear track for a tropical system that has not yet formed, nine or ten days from now.
Bottom line: If you're living near the Texas coast, this is not something I would lose too much sleep over. But it's definitely worth watching, and we'll be doing just that.