Lots to get to today, including Monday's eclipse and the tropics. But first, we have some breaking news: August in Houston is brutal. It continues in 2017 like almost every other August. Our last 5 days have seen high temperatures of 97°, 96°, 97°, 96°, and 97°. By that metric, today should see a high temperature of 96°, right? Potentially. These temperatures, while blistering hot, aren't a whole lot hotter than normal. But when combined with the humidity, it's felt pretty terrible. This will mostly continue.
Today & Weekend
Lather, rinse, repeat. This forecast should be pretty straightforward. Expect sunshine and hot, humid weather. High temperatures will top off in the mid or upper 90s. We're running just a little cooler this morning than we have seen lately, so perhaps we can avoid more Heat Advisories today or tomorrow. Regardless of whether we do or not, take it easy outdoors. An isolated downpour is entirely possible on any given afternoon in one or two spots. The best chance for this would probably be on Sunday.
Monday & Eclipse
The more I watch Monday's forecast the more I get a little uneasy. Now, I still think the vast majority of the region will have a fine opportunity to view our partial eclipse. But I'm watching a tropical wave and upper level low moving across the Gulf early next week. The timing of the arrival of the leading edge of this disturbance is Monday afternoon. Models insist the best available moisture for the most clouds will remain out over the Gulf to our east. That's encouraging. So for now, we're going to continue to spin the forecast optimistically. Yes, a chance of a downpour or thunderstorm will exist in the area, especially south and east of Houston by eclipse time. But I suspect we aren't going to see too many serious clouds. So, I feel optimistic, but we'll be watching the evolution of this forecast closely through the weekend.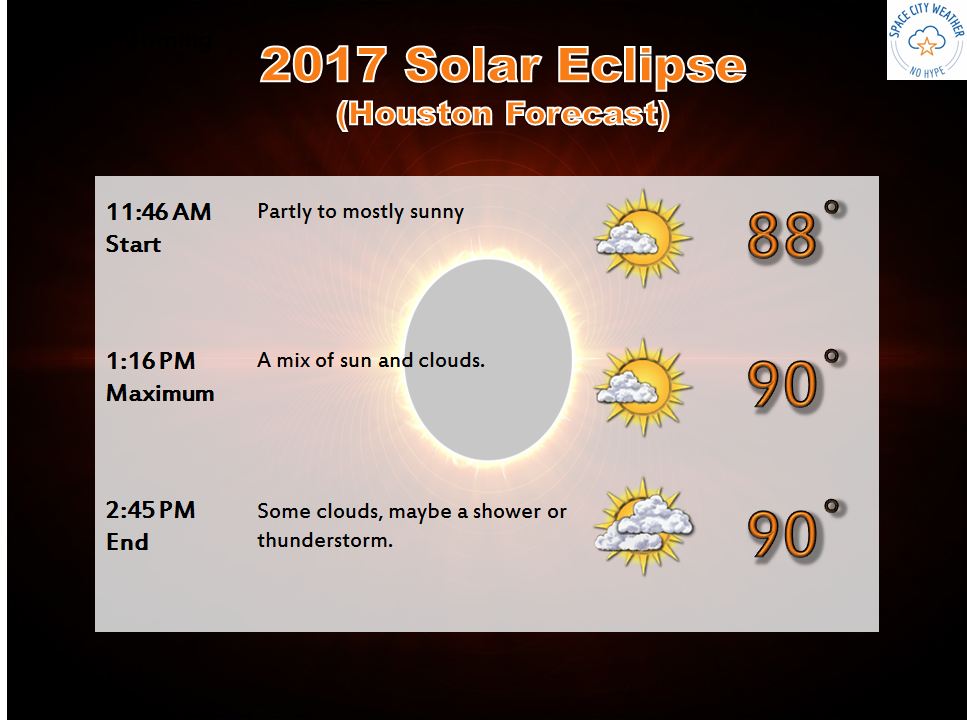 Elsewhere across East Texas, other than passing cumulus clouds, it looks pretty good. For those of you traveling to another state, here's an update: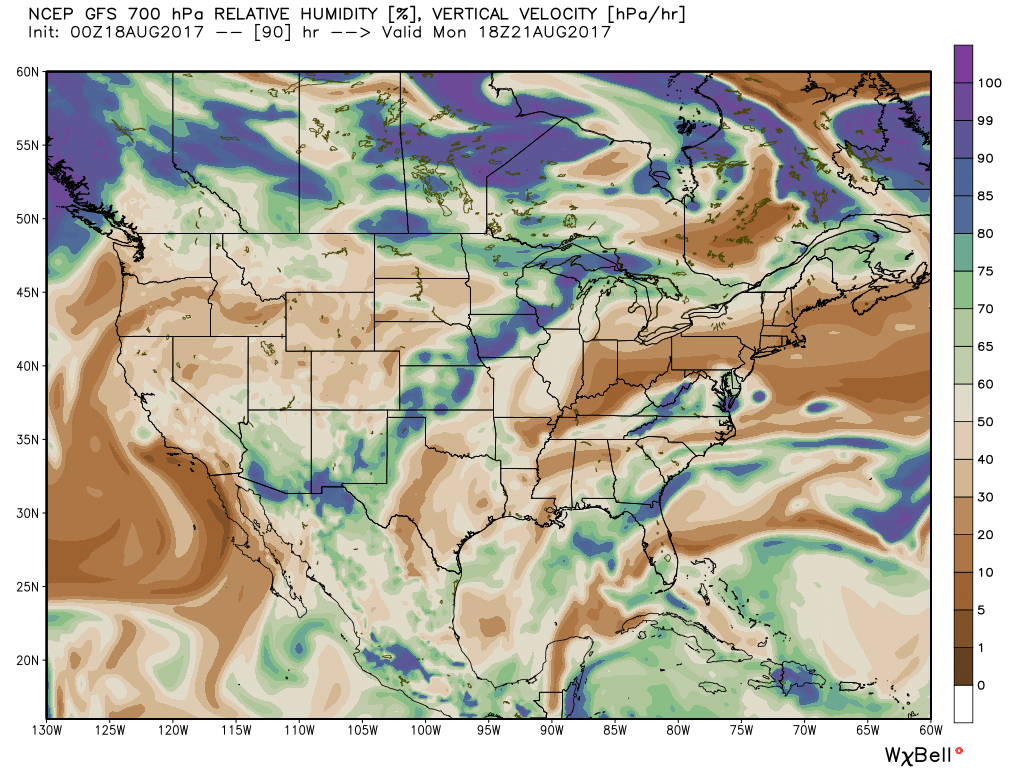 Washington, Oregon, and Idaho may see some low clouds or haze issues in spots, but Wyoming and western Nebraska look good. Eastern Nebraska into northwest Missouri has the best shot at cloud cover it appears. Conditions should improve near the peak eclipse spots of southern Illinois and Kentucky. A few showers may be possible in the Southeast, but I suspect they'll be hit or miss.

Back locally, after Monday, somewhat unsettled weather will continue next week, but it should remain fairly hot and humid in Southeast Texas.
Tropics
Here's a quick update on the tropics. A satellite picture tells the story.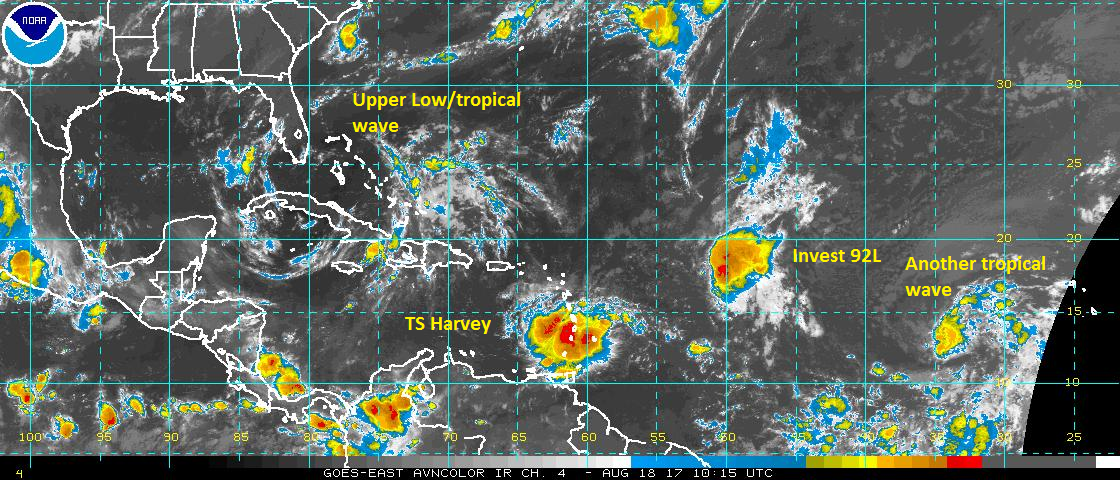 Tropical Storm Harvey formed yesterday, and this morning it is moving into the Caribbean islands with 40 mph winds. Over the next five days, Harvey should continue to slowly work across the Caribbean. It's unlikely to strengthen much initially, but once in the Western Caribbean, it may have an opportunity to gather some intensity before it heads toward Honduras, Belize, or the Yucatan. A couple models show it gaining a little latitude late, but those are in the minority right now. So while a southerly track, away from Texas is favored here, we should still keep an eye on things as Harvey progresses westward.
Behind Harvey, Invest 92L will struggle as it works west also. This will take a more northerly course than Harvey and may approach the Bahamas early to middle next week as a weak system. While this isn't expected to make it deep into the Gulf right now, it too is worth keeping an eye on.
That upper low/tropical wave in the Bahamas now is what I wrote about for Monday above. We call this a tropical upper tropospheric trough, or TUTT low. It's a common feature in the tropics, and would be extremely unlikely to ever develop at the surface. This probably means a wet weekend ahead in Florida, but other than a few extra afternoon storms in Texas next Tuesday, not much impact here.
Anyway, the tropics continue with a lot of noise, but again, no specific threats to Southeast Texas. We just have a lot of things to babysit over the next week or so, but nothing to specifically worry about right now. We'll let you know if that changes.
Posted at 6:30 AM Friday by Matt