Over the last couple weeks, I've turned into a statistics machine, focused on one value: Dewpoints. Not gonna lie, it's been fun. Anyway, here's another one for you today: As of yesterday evening, we had amassed 132 hours of dewpoint values at or below 65°F this month. Since 1990, the most hours in the month of June that comfortable was 197 hours in 2006. So, yeah, it's been kind of great this month, as Junes go. Of course, as Eric alluded to yesterday, we really do need some rain. And we are going to get both the return of humidity and higher end rain chances as we go through the weekend and into next week.
Today
Yesterday was the 5th consecutive day with a high of 94° in Houston. Today could well be the 6th in a row. Expect a day much like yesterday with sunshine and some passing clouds. Rain chances aren't zero, but they're minimal for most of us. Areas south and west of Houston stand the best chance for some slow moving downpours this afternoon.
Saturday & Sunday
Whatever is left of our dry air will work its way off to the east by tomorrow, and we should be hot and humid. Rain chances will inch up with that change, as atmospheric moisture cranks back up closer to what is normal for this time of year.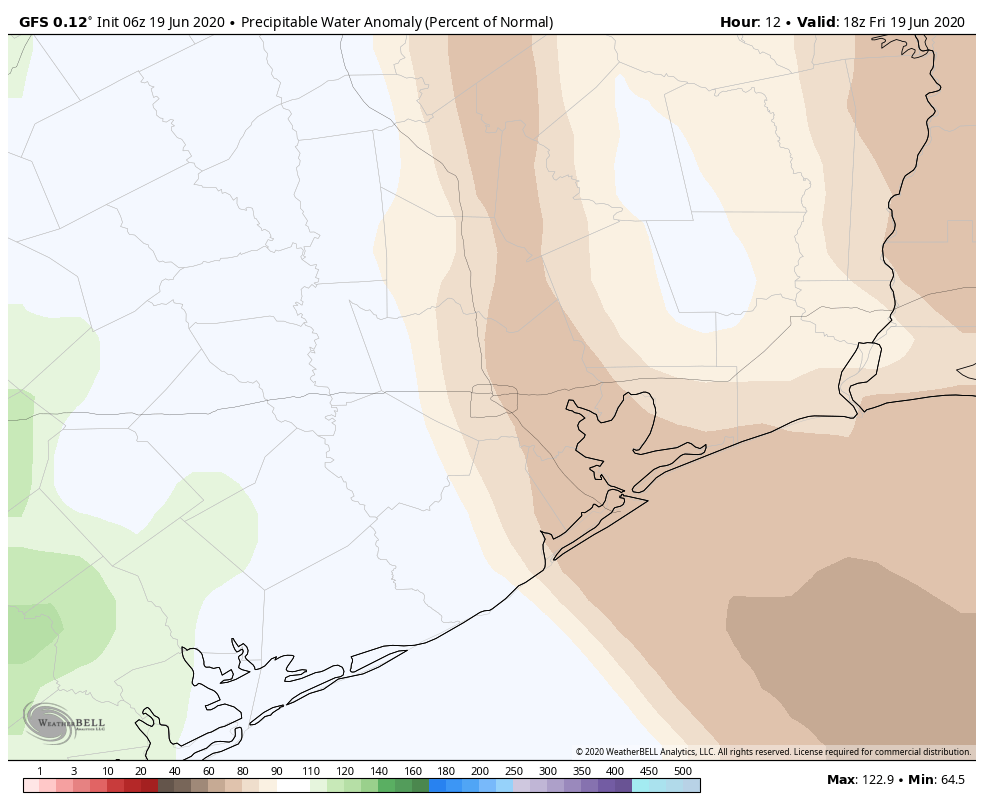 If Friday carries a 20 percent chance of a shower, Saturday and Sunday would probably carry about a 30 percent chance or even a bit higher. Any showers could be locally heavy this weekend. Look for morning lows in the 70s and afternoon highs in the low- to mid-90s on both days. With higher humidity, expect it to feel more like typical Houston summer, with heat index values back up at or above 100° each afternoon.
Monday through Wednesday
The atmosphere will pick up even more available moisture early next week, which should be enough to allow for numerous showers and thunderstorms each day. For any given location early next week, rain chances probably "only" reach 40 or 50 percent each day, but there will be a pretty good chance that most of us see at least some rain in that timeframe. Any rain could be heavy at times. It will be warm and humid with highs around 90°, give or take a couple degrees and lows in the mid- to upper-70s inland (80° or so at the coast).

Late next week
We've got a couple interesting things to watch for later next week. First and foremost is Saharan dust. One of the more significant dust plumes of the last few years has emerged off Africa this week.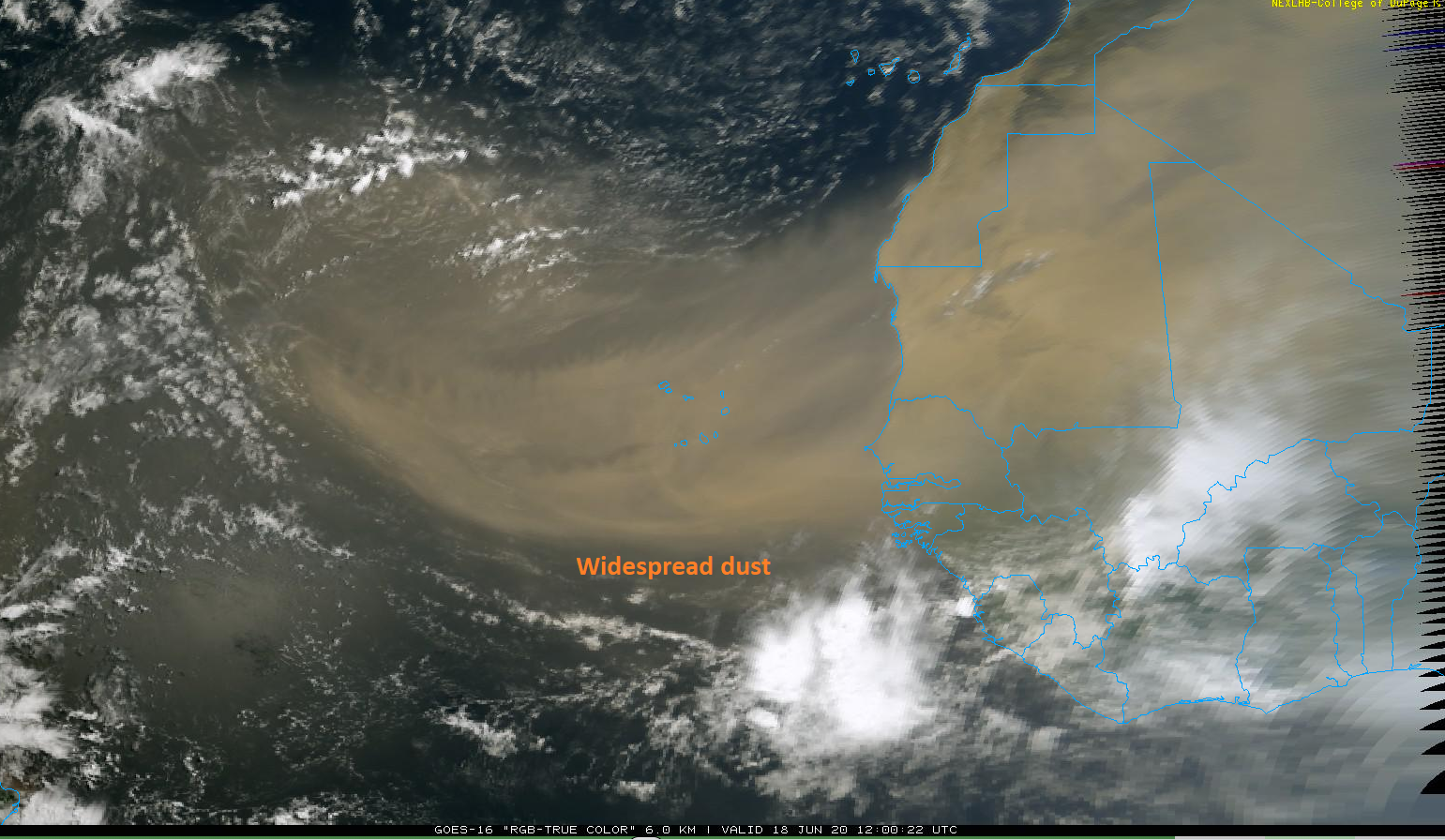 Models that we use to track aerosols strongly suggest that this plume will transit the Atlantic Ocean through early next week and arrive in the Gulf by Wednesday, Thursday, or Friday. From there, the question will become about where it goes.
As all this happens, it appears some kind of loosely organized upper level system is going to emerge over Texas. The orientation of this system will be difficult to forecast this far in advance, especially given how spread out and disorganized it looks. But its position will be key to what happens later next week. There are a couple reasons why this matters: First, it will determine where this Saharan dust initially goes, be it into Louisiana and the Southeast or into Texas. This is dust season, and if we were to see a dust event here, you would expect very milky, if not gray skies, weird sunsets (sorry to disappoint, but these probably would not be glorious, colorful ones), and lots of irritation for allergy sufferers and asthmatics. At least we should all be wearing masks, right? Those of you that fall into sensitive groups during days with poor air quality will want follow the forecast closely into next week. We could still see showers and storms, but they may diminish heading into the weekend.
Secondly, if that upper system does end up over our part of Texas, it will just be another trigger for daily showers and storms, and in that case, we will need to keep tabs on things to make sure certain areas don't see too much rain.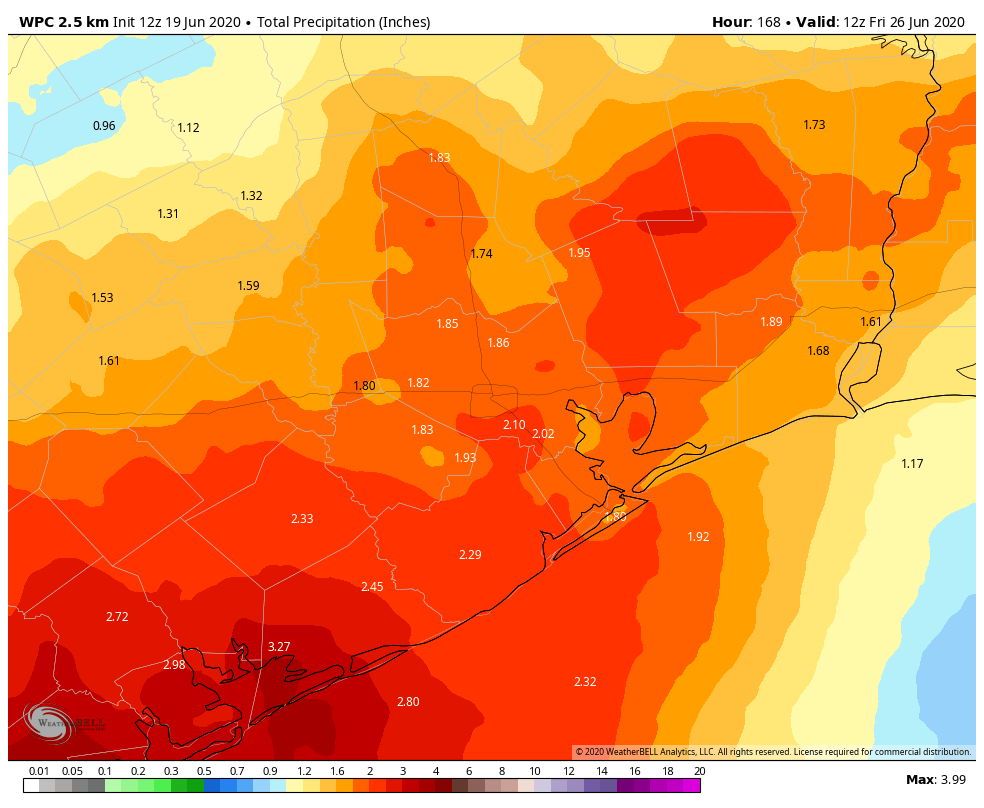 It's possible that we see enhanced rain chances next Thursday and Friday, with building dust by the weekend. Suffice to say, we aren't entirely sure specifically how late next week will play out. But the bottom line? Rain is coming. Dust may be coming. We'll keep you posted next week on both possibilities.