Good morning. After rather boring weather last week, there are two significant weather issues to track this week. First up, as experienced by some parts of the city of Saturday and Sunday, is the potential for moderate to heavy rainfall due to moist air moving in from the Gulf of Mexico. Those rain chances should decline significantly by this weekend as Saharan dust—likely more intense than previous events of this nature—moves into the region.
Monday
The absence of high pressure and influx of moist Gulf of Mexico air will continue today. Like on Sunday, we should see the development of showers near the coast this morning. During the afternoon, these showers and thunderstorms will move inland and should spread out over much of the Houston area.
Most parts of the region that see rain will likely pick up less than one-half inch, but as we saw on Sunday, these storms have the potential to put down 2 to 3 inches of rain pretty quickly over small areas. Storms should weaken, if not go away entirely, as the sun sets. Clouds should help limit temperatures to around 90 degrees. Winds will be about 10 mph from the south, except inside storms when gusts could be substantially stronger.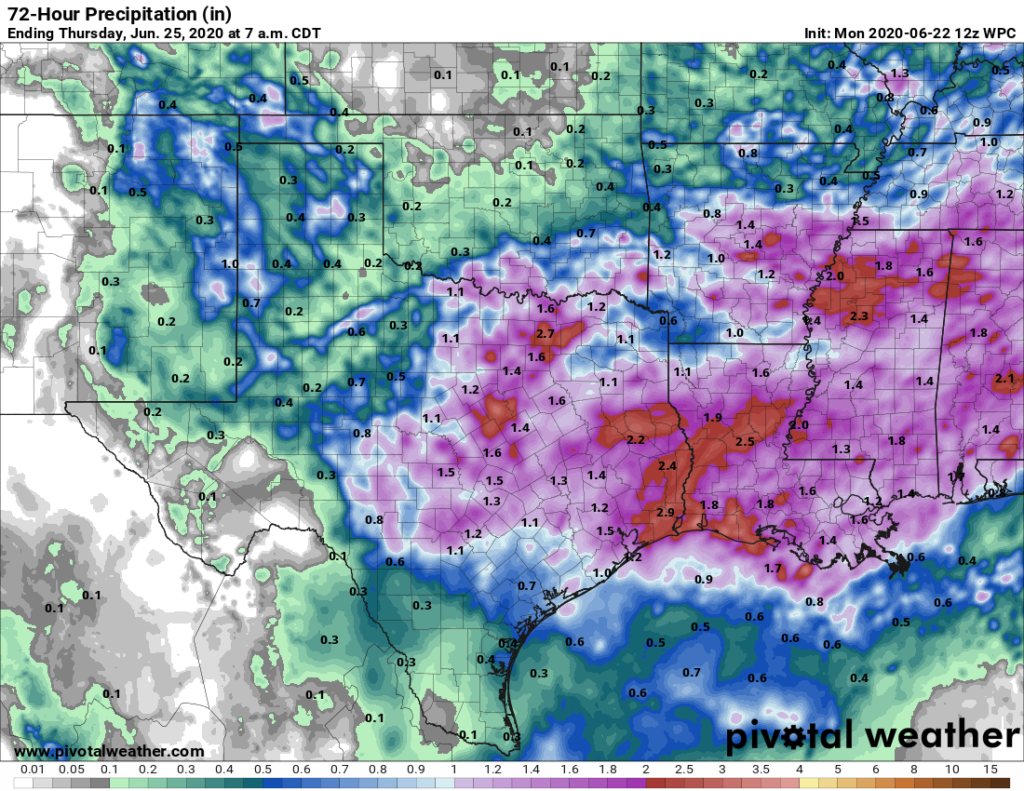 Tuesday and Wednesday
Our wet and gray weather continues. This time, as moist air continues to stream inland, a storm system will move into Houston from west to east, likely reaching Houston during the afternoon or evening hours. This should enhance storm coverage, and we can expect around a 70 percent chance of rain on Tuesday and Wednesday as a result. On average, the city of Houston will likely receive 1 to 2 inches of rain, in total, through Wednesday. But again, we're more concerned about isolated, higher totals due to the moisture available. Highs may struggle to reach 90 degrees given the cloud cover.

Thursday
Showers and heavy rainfall may be a little less widespread on Thursday, but due to the abundant moisture this should still be a wet, gray day. Look for highs in the upper 80s.
Friday, Saturday, and Sunday
Our weather for this weekend will be driven partly by a rich plume of Saharan dust. This dust, which originated in the Saharan desert and has spread across the Atlantic Ocean over the past week, is normal in the sense that we periodically see dust transported in this way. But what is abnormal is the extent the dust, which some scientists estimate may be the most intense in 50 years. Check out its effect on the Caribbean Island of St. Barts this weekend.
Ok, last dust pic for today and this one is perhaps the most incredible yet. The comparison photos were sent to me from Mirco Ferro who lives in St. Barthelemy. Check the dates in the photos (top is from March) – both are unfiltered or altered in any way. #SAL #DUST pic.twitter.com/FBwOG5ly1E

— Mark Sudduth (@hurricanetrack) June 21, 2020
This plume may weaken some as it crosses the Gulf of Mexico toward Texas, but chances are this is still going to be unlike anything that most of us have seen in Texas. The model below suggests the first dust should reach Texas by around Wednesday, but the main area of the plume should not arrive until Friday or so. It will be thick throughout the weekend.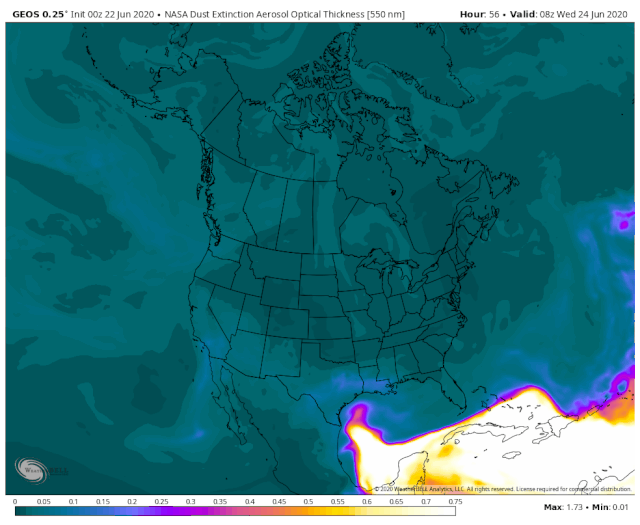 This influx of drier air should drop rain chances to very low or non existent. With partly sunny and dusty skies, temperatures will probably remain at around 90 degrees. The dust will significantly knock down visibility and likely play havoc with allergies. Take this into account when planning any outdoor activities this weekend.