Good morning. I hope you enjoyed the colder weather this weekend, because after a brief warm-up through about Wednesday of this week, we're plunging back into very cold (for Houston) conditions much of the rest of January.
Monday
After a cold start generally in the 30s, Martin Luther King Jr. Day will see a nice warm-up under sunny skies. Highs will reach the mid-60s, with very light wind northeasterly winds. Low temperatures on Monday night will drop into the mid-40s, beneath clear skies.
Tuesday
As winds turn more southerly overnight, Tuesday will see warmer conditions with highs likely topping out in the low 70s. Skies will again be sunny and although dewpoints will be rising, the air will still be comfortably dry. Lows on Tuesday night will only drop to around 60 degrees.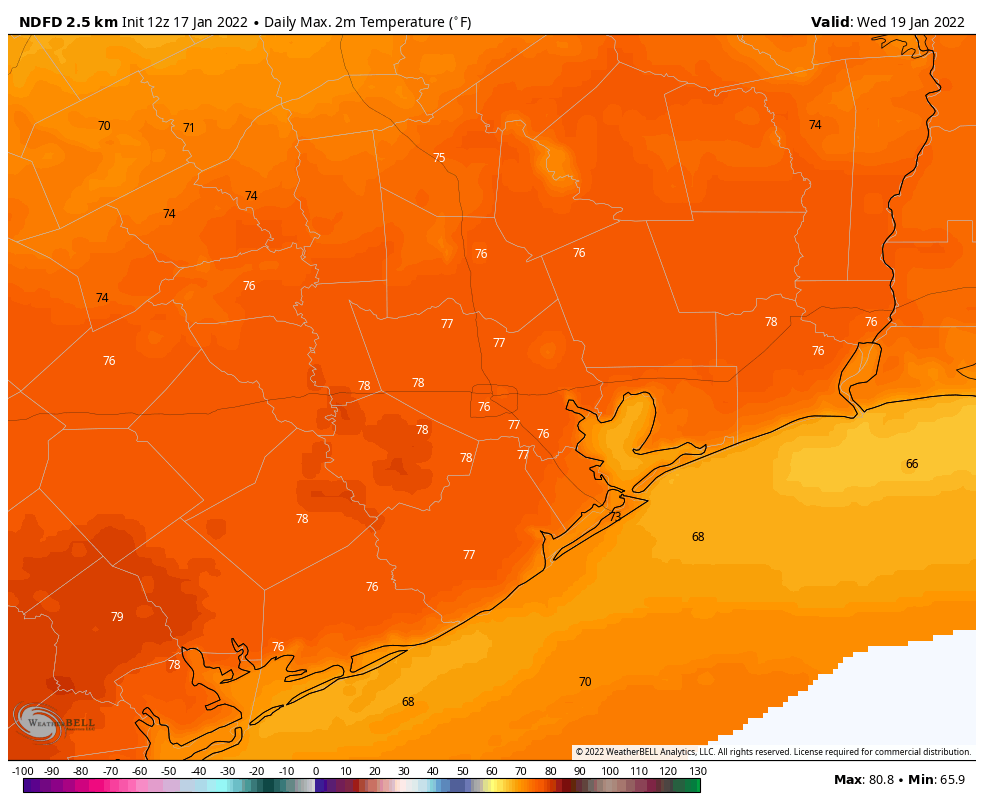 Wednesday
This will be a fairly warm day, with highs likely reaching the mid- to upper 70s. Winds will start to kick up out of the south in response to an advancing front, perhaps gusting to around 20 mph. This front will push into the region later on Wednesday, likely during the evening or overnight hours, but some timing questions remain. I think most of the area will likely see some light rain with this front, with accumulations ranging from 0 to 0.5 inches for most. Showers are probably more likely closer to the coast than for inland locations.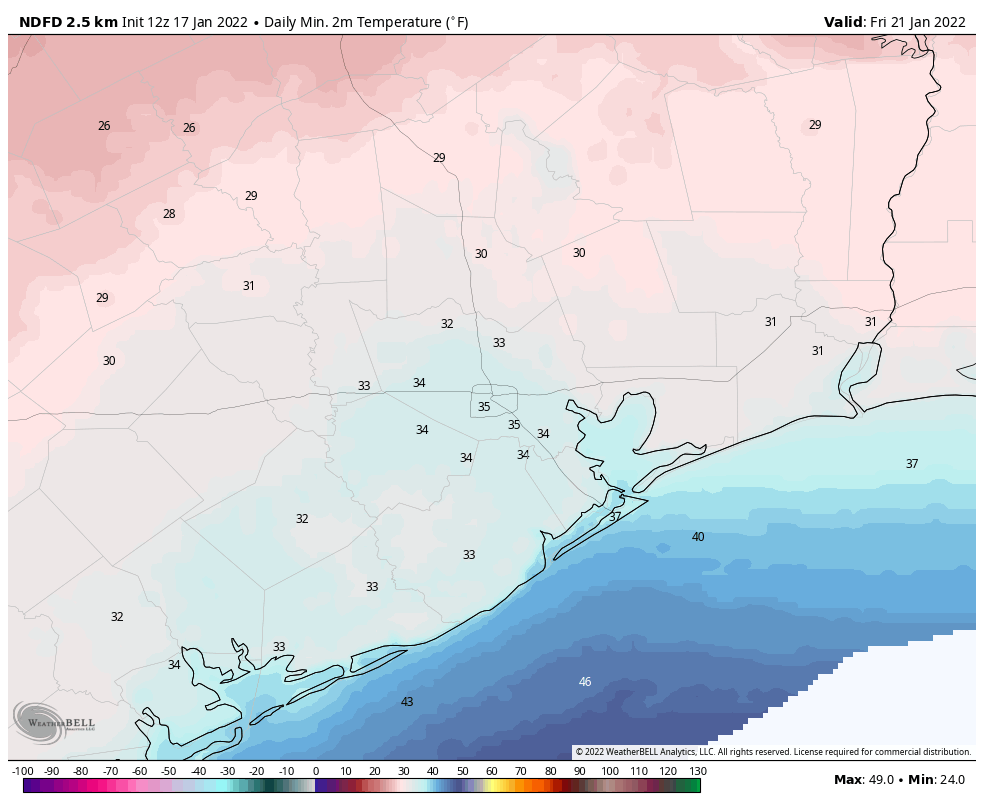 Thursday and Friday
Unlike we often see with cold fronts, while this one will have cold, dry air at the surface, there will be a layer of more moist air aloft. Effectively, this means we'll see an ongoing chance of precipitation and partly to mostly cloudy skies to end the work week. These will be cold days, likely with highs in the 40s, and Thursday and Friday nights will drop into the 30s, with a light freeze possible inland. The potential for light precipitation and temperatures near freezing does raise the possibly of seeing some sleet for well inland areas, or possibly even snowfall, on Thursday or Friday nights. Right now I'd rate these chances as fairly low, but certainly non-zero, especially for areas inland of Interstate 10. It's something we're watching, and will keep you in the loop as our confidence increases.
Saturday and Sunday
Saturday is going to start out cold, likely in the upper 20s to lower 30s for inland areas, and slightly warmer closer to the coast. And the weekend will remain chilly, with highs perhaps around 50 degrees, and lows in the upper 30s to low 40s. Skies will be partly to mostly sunny, but we can't entirely dismiss the possibility of some additional rain showers on Saturday and Saturday night. Highs may recover to around 60 degrees by the middle of next week, but overall conditions should remain chilly and winter-like for the foreseeable future.