Good morning. We've got a fairly complex forecast for the week ahead, including some reasonably cold winter weather and the potential for some light sleet, ice, or snow later this week. There's nothing to be too concerned about, but any little bit of wintry mix is worth discussing for this southern region.
Tuesday
We have absolutely no weather concerns for today, which should yield absolutely splendid weather. Skies will be partly to mostly sunny, with light southerly winds. As a result, highs should climb into the low 70s, with enough dry air outside for conditions to be most pleasant. Humidity levels will creep up a bit tonight, and overnight lows will only drop to around 60 degrees. This very likely will be the warmest night for the rest of January in Houston, because things are about to take a turn for the colder side of things.
Wednesday
Just as Tuesday night may be the last "warm" night of this month, Wednesday could be the last warm day for January. The day will start partly sunny, and I expect highs to at least get into the mid-70s. However, clouds should start to build during the late morning or early afternoon hours, and this is when we'll start to see a chance of scattered showers and perhaps a thunderstorm or two.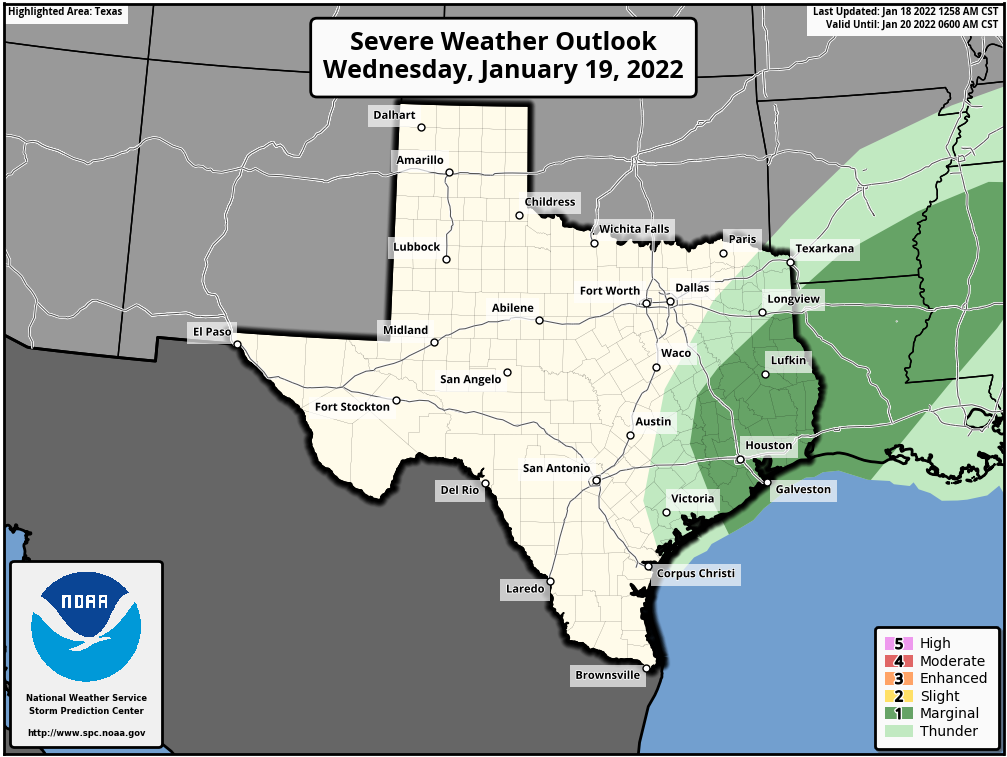 As the front approaches, likely reaching our northwest areas before midnight, the central Houston area around midnight, and the coast a couple of hours later, a few stronger storms may develop. We may see some brief, small hail or possibly a tornado, but for the most part I think the region will just pick up between 0 and 0.5 inch of rain. Any severe weather that develops is likely to do so near the coast, or in the vicinity of Galveston Bay. Temperatures will drop sharply after the front's passage.
Thursday
We'll wake up in the 40s on Thursday morning, and due to overrunning moisture higher in the atmosphere skies will remain cloudy and cold. Brisk northerly winds, with gusts of 25 mph or higher, will make it feel quite chilly. Highs on Thursday may remain in the 40s or possibly reach 50 degrees, with the ongoing potential for light rain. The question is whether this light precipitation persists into Thursday night.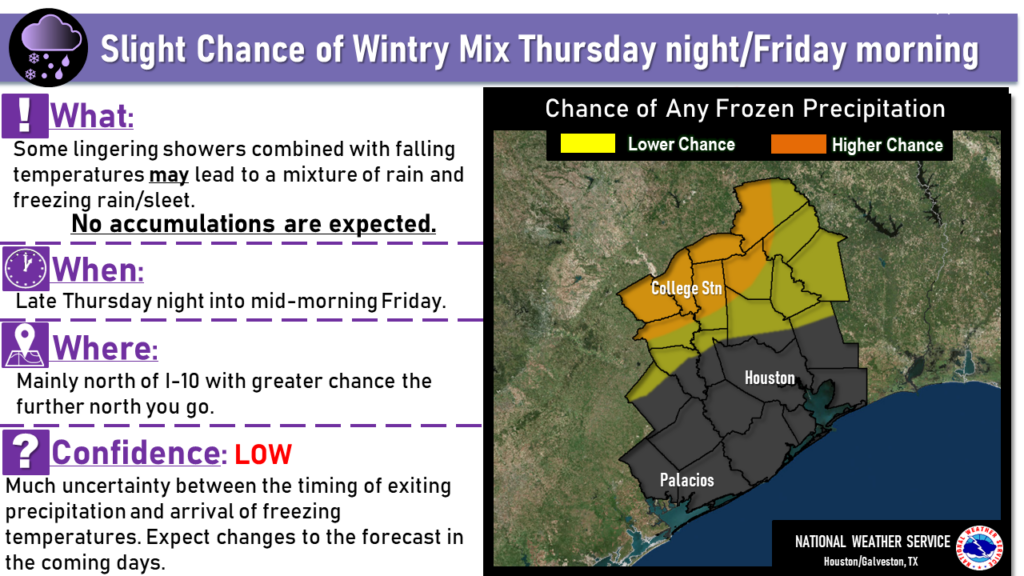 If it does, as temperatures fall to freezing for inland areas, we could see rain transition to sleet, ice, or snow. While any amount of ice is a concern, at this point we don't see much potential for accumulations. This wintry mix is most likely to occur north of Highway 105, but if you live north of Interstate 10, or will be traveling those roadways later on Thursday night, this will be something to monitor just in case. We'll remain on top of it for you.
Friday
Conditions improve somewhat on Friday, with lighter winds, and drier air moving in from the north to end any lingering rain. Although the sun makes an appearance during the afternoon hours, highs should again be in the 40s for most. Clearing skies will allow for an even colder night Friday, with much of the region possibly seeing a light freeze early on Saturday.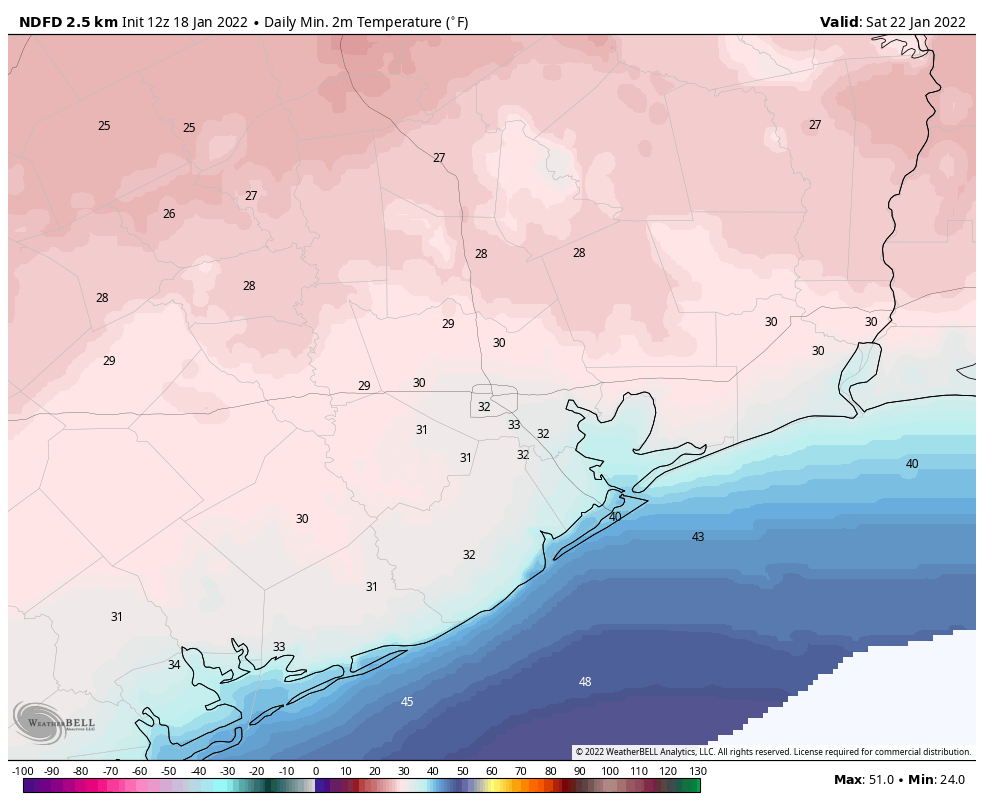 Saturday and Sunday
The weekend looks cold, but at least it should be mostly sunny. Look for highs on both days to slot in around 50 degrees or a tad warmer. Lows should be in the upper 30s for Houston, with slightly warmer conditions along the coast.
Next week
A chance of rain returns to the forecast early next week, and highs should eventually recover into the low 60s. Nights will likely remain in the 40s, however, as winter's chill sticks around this time. Late January really is the "dead" of winter for our region, so these colder conditions are to be expected.