Houston will experience two pleasant, mostly sunny days before a cold front barrels into the region early on Saturday. This will set the stage for a chilly and blustery weekend, with temperatures near freezing across much of the area on Sunday and Monday mornings. Beyond the cool weather, there are no concerns for the week ahead.
Thursday
Conditions today will be pleasant, with sunny skies and moderate westerly winds. Expect highs to reach about 70 degrees. Low temperatures tonight will drop into the upper 40s in Houston, with slightly cooler conditions further inland, and a bit warmer along the coast.
Friday
Winds will shift to come from the south on Friday, perhaps gusting to around 15 to 20 mph during the afternoon hours. This will allow for a slightly warmer day, with highs in the low- to mid-70s. Skies should remain mostly to completely sunny, however. Clouds begin to build overnight, with temperatures likely holding in the mid-50s.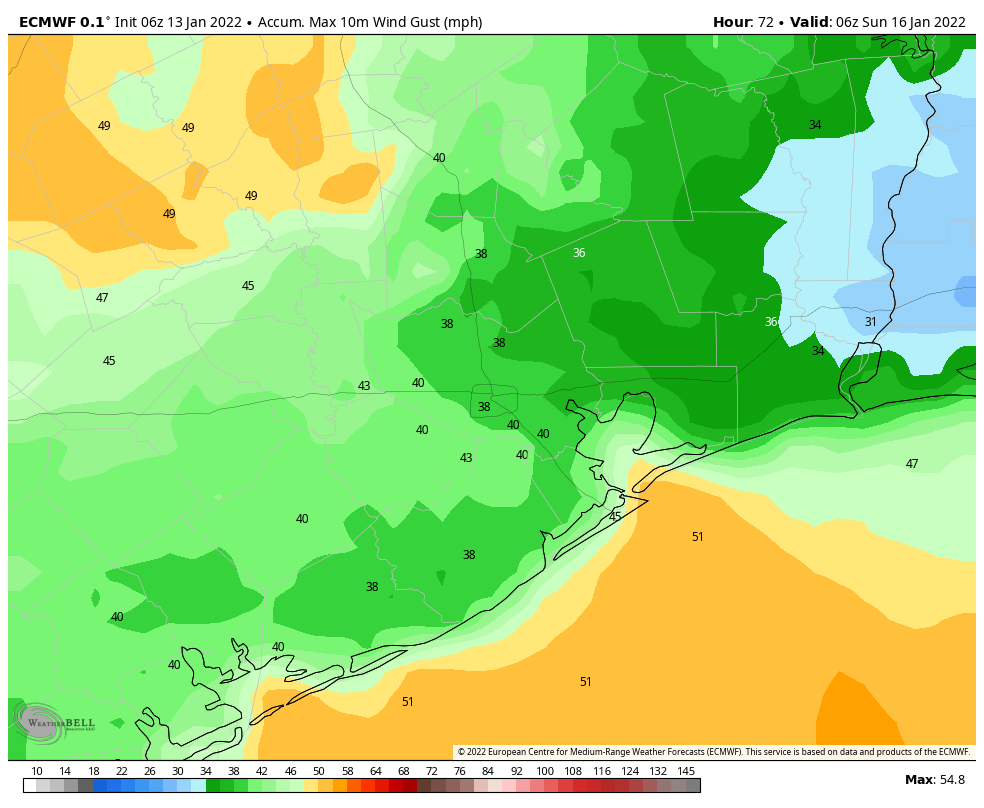 Saturday
The timing of this weekend's cold front has advanced a little bit, and it now appears as though it should reach western areas during the pre-dawn hours on Saturday, central Houston by around sunrise if not before, and push off the coast by 7 to 9 am. Some scattered, light showers are possible with the front near the coast, but for the most part is should be a dry passage. In the front's wake, winds will kick up out of the north at about 20 mph, with gusts as high as 30 to 40 mph. These winds will likely peak during the afternoon and early evening hours. Temperatures on Saturday afternoon will probably hover in the mid-50s, dropping quickly during the evening and overnight hours.
Sunday
Lows on Sunday morning will likely start out in the mid-30s. Winds should subside some overnight, but during the pre-noon hours on Sunday we should still see some gusts of about 20 mph, and this will make the morning feel very brisk indeed. If you're participating in the Houston Marathon, please dress accordingly, as morning wind chill temperatures should be in the 20s. High temperatures on Sunday, beneath sunny skies, will likely peak in the mid-50s before another cold night with temperatures dropping to the mid-30s in Houston, with a freeze possible for outlying areas.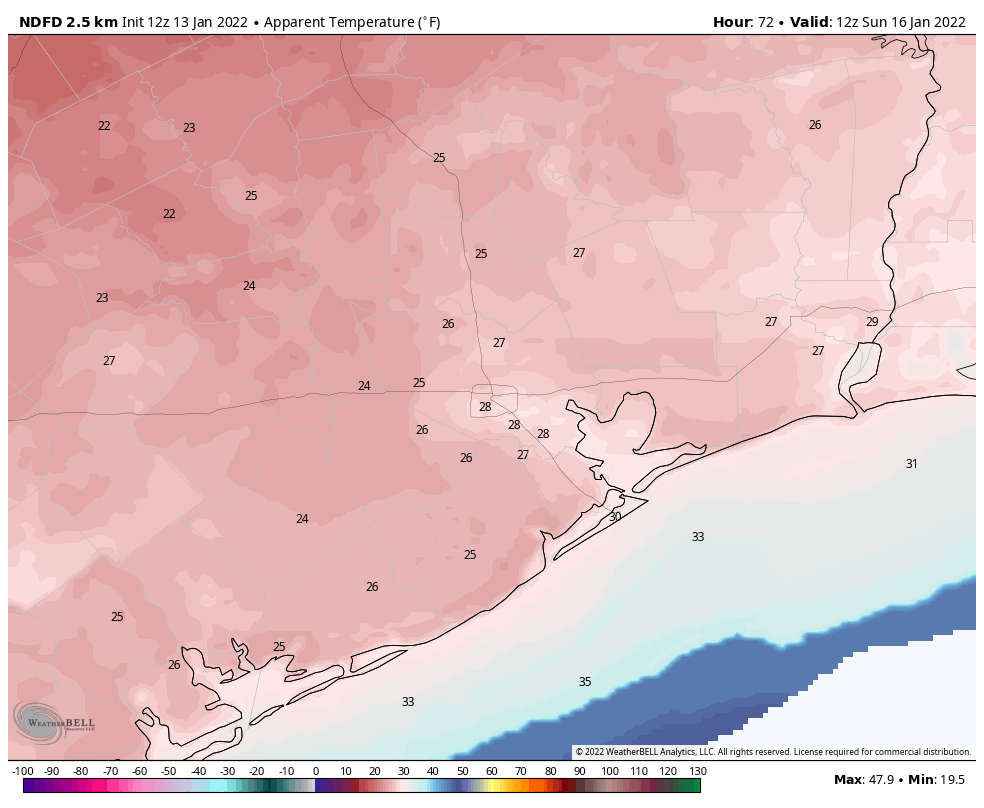 Next week
We'll see a gradual warm-up through about Wednesday of next week, with highs likely reaching the low- to mid-70s before some kind of front arrives. Light rain is possible with the front, which should knock overnight lows into the 40s or possibly even 30s for the second half of next week. As ever, details are to come.