For now there's no indication of extremely cold weather, but the rest of January does look to be rather winter-like for Houston. While there may be the odd 70-degree day, for the most part we'll be colder during the daytime, with plenty of nights in the 30s and 40s. A freeze is possible as soon as Sunday morning in outlying areas of the region, and it will definitely make for a cold Houston Marathon.
Wednesday
Temperatures have fallen to around 50 degrees this morning, and with a fair amount of cloud cover they'll be slow to rise before noon. But with more sunshine this afternoon, I'd expect much of the region to see high temperatures in the low- to mid-60s. Light northeast winds will turn more westerly this afternoon. With clearing skies later today and tonight, most areas should see low temperatures drop into the 40s overnight.
Thursday and Friday
These will be a pair of splendid days, with sunny skies and highs between 70 and 75 degrees. Overnight lows will range from the upper 40s to low 50s, for the most part, with generally moderate winds. Dewpoints will creep into the upper 50s by Friday afternoon or evening, so it will feel a bit humid, but overall these will just be wonderful weather days for the region. Enjoy!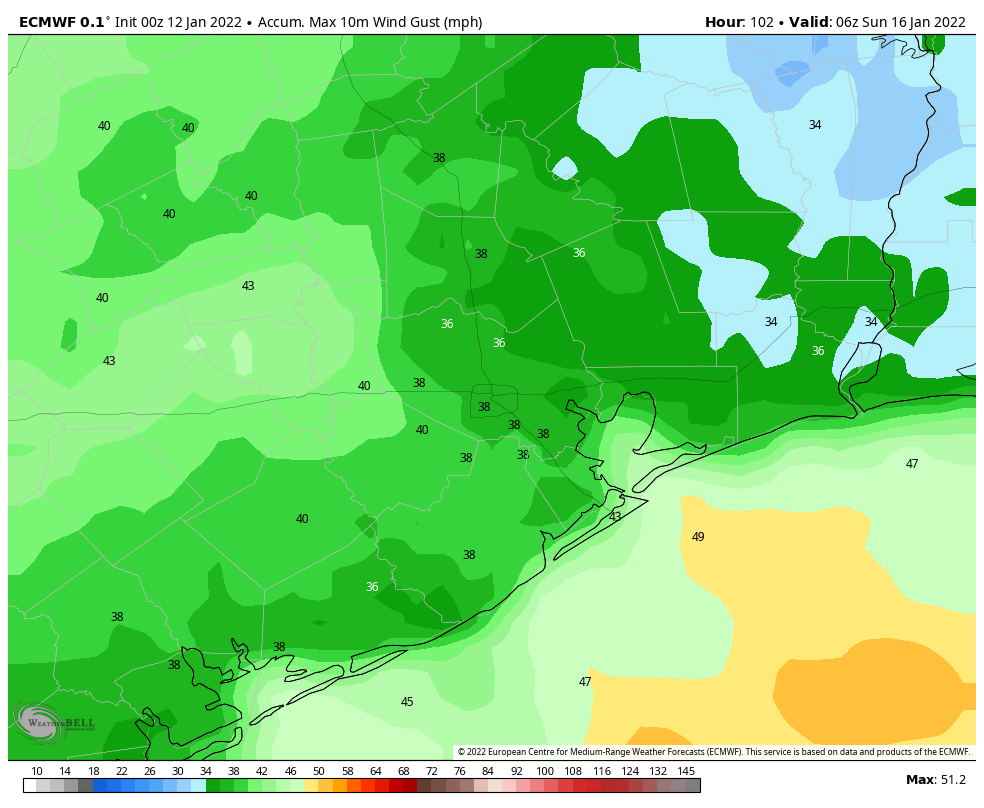 Saturday
Change will arrive by Saturday morning, with a strong front pushing into northwest areas probably sometime around sunrise or shortly thereafter, into Houston during the mid-morning hours, and arriving near the coast around Noon. It's likely that the front's passage will be a dry one, or with only a bit of light rain, but with plenty of wind. Gusts on Saturday afternoon may well get above 30 mph as temperatures hover in the 50s despite sunny skies. Winds will continue to blow on Saturday night as lows drop into the upper 30s in Houston.
Sunday
The good news if you're running the marathon is that we can be highly confident in dry conditions, both in terms of humidity as well as clear skies. For those who like the cold, Houston Marathon start line temperatures will be rather chilly, too. Expect the mercury to be somewhere between 35 and 40 degrees. The less good news is that while winds will slacken some from Saturday, I think we'll still see a persistent northerly wind on Sunday morning of about 10 mph, with gusts from 15 to 20 mph. That is less than ideal for both runners and all the amazing volunteers at the marathon. Highs will climb into the 50s during the afternoon. Lows will drop into the 30s on Sunday night, with some inland areas again seeing a light freeze.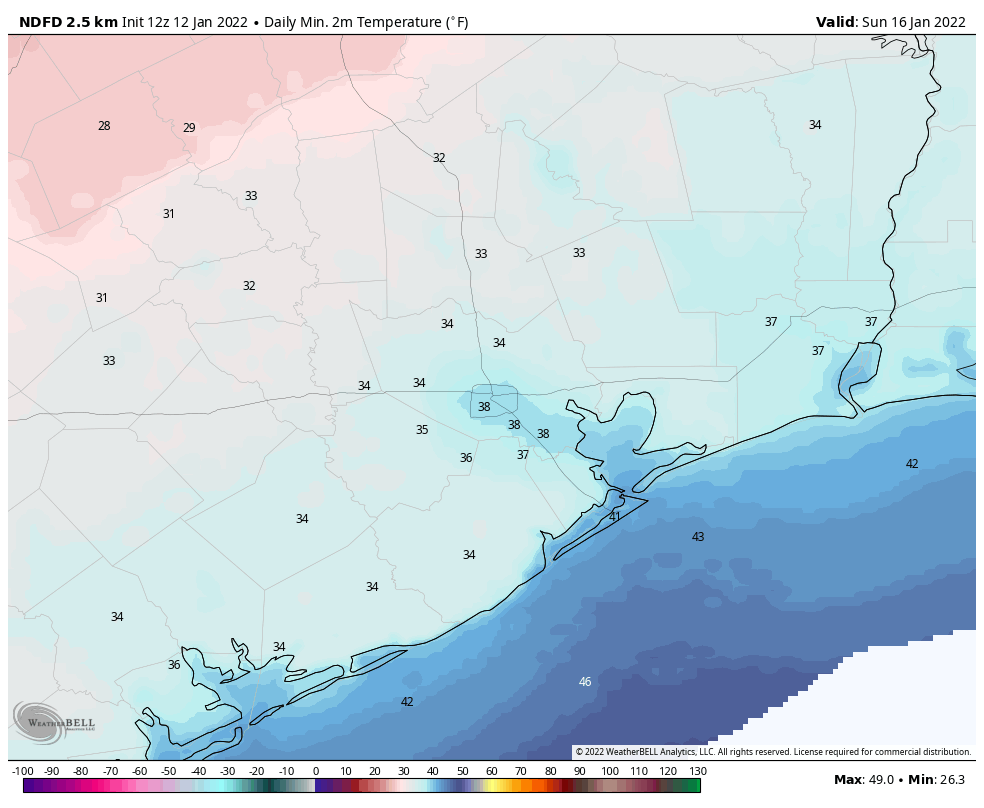 Next week
Temperatures will gradually warm next week through about Wednesday, when the next front arrives. This one has a better chance of producing some rainfall, but nothing that looks too crazy in terms of amounts. Lows should drop back into the 40s toward the weekend.