It is quite warm across the Houston region this morning, and the muggy air will hang around for about 24 hours longer before a front rolls through to bring a bit of a reprieve from the humidity. The key question is how much rain might accompany it (not much). As most of Houston has only received about 2 inches of rain, or less, during the last 40 days we could certainly use some precipitation.
Today
Some light showers have streamed across northern parts of Houston this morning (primarily in the Montgomery County area), and for the most part I don't see any rain falling in the city itself this morning. Some rain chances will linger into this afternoon, with thunderstorms possible if the cap over the region can be broken. Again, chances for this appear to be best north of the city. Otherwise, look for highs in the mid-80s with mostly cloudy skies.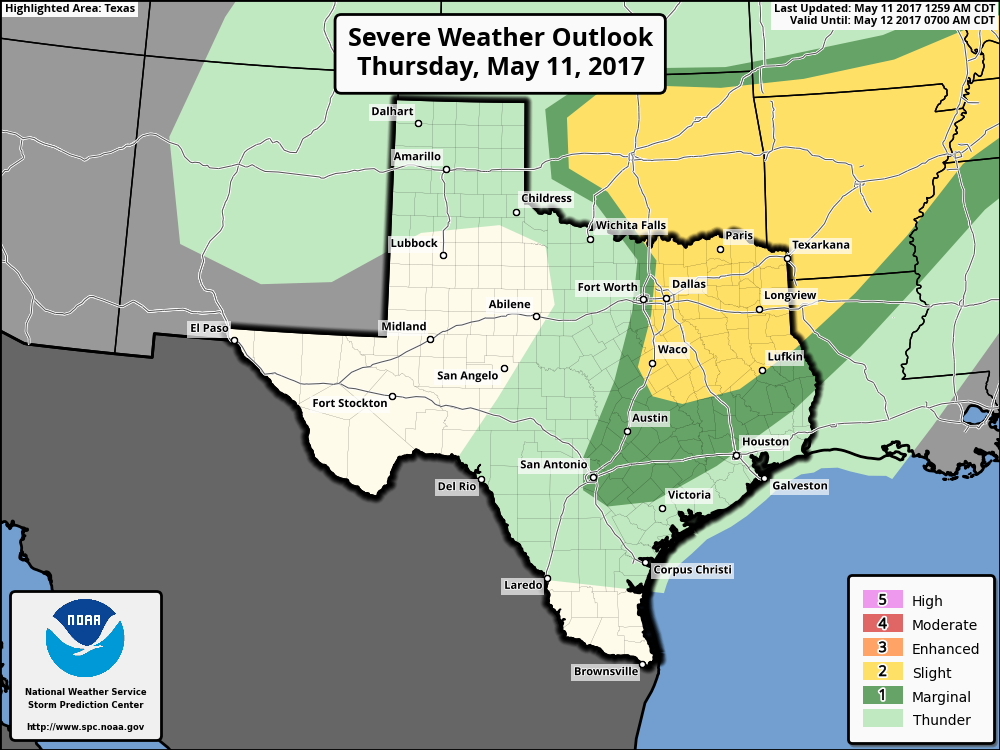 (Space City Weather is sponsored this month by Jetco Delivery)
Friday
The front itself will push toward Houston by early Friday morning, and we may see some additional rain showers as the front moves into the city during the pre-noon hours, and off the coast by noon or during the middle of the afternoon hours. Again, I'm not expecting anything significant, perhaps a tenth of an inch of rain, or two, for areas that do see rain. Many of us probably will not. It will probably take until Friday evening before we really feel the limited cooling from the front, and especially the drier air.
Saturday and Sunday
For mid-May this looks to be a quite a pleasant weekend. We're going to see mostly sunny skies, highs in the mid-80s, lows in the mid-60s, and low humidity. Nothing to do but get outside and enjoy the weather.
Next week
The return flow of moist air from the Gulf of Mexico will set the region up for warmer conditions next week, along with humidity. We'll see some slight rain chances beginning as soon as Tuesday afternoon, and it's possible that more widespread showers will develop by the end of next week, but I'd not bet on that just yet.
Posted at 6:50am CT on Thursday by Eric