After a disappointing night of basketball, many Houstonians will be seeking positive news this morning (though the crazy exciting Astros beat the Yankees on a thrilling final play). In the weather department, we can satisfy your wishes.
Friday and Weekend
Perhaps some of you were roused from sleep between 1:30 and 3 AM this morning? A leading line of thunderstorms pushed through areas from Houston and north to southeast parts of the region overnight. That has since cleared the coast.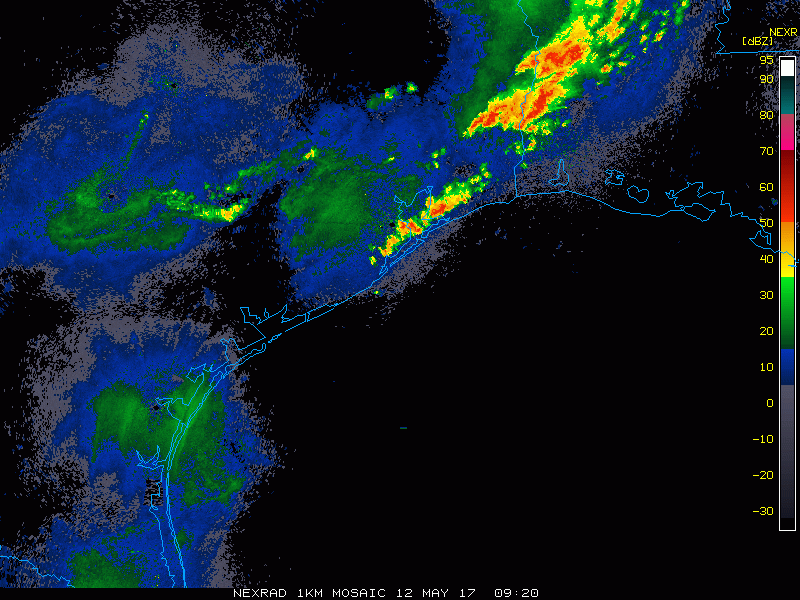 We might see an isolated shower or two yet this morning, but the cold front should push through Houston by 7-8 AM. With the front exiting the coast today, expect humidity to drop through the morning and afternoon. Dewpoints should be in the 50s by this evening, which is considered quite comfortable. High temperatures should get safely into the low to mid 80s this afternoon. I wouldn't be shocked to see upper 80s down near El Campo or Bay City today. Bottom line: Today should be a fine day.
It will be a gorgeous night tonight with lows in the mid-60s. Then we'll shoot for the lower or middle 80s on Saturday with full sunshine. Sunday will be a repeat of Saturday, but with temps a degree or two warmer (mid to upper 80s) and humidity a tick or two higher. Lots going on in the area this weekend: Puppies for Breakfast at Market Square Saturday morning, Pups to the Pitch for the Dash/Sky Blue match Saturday afternoon, among other things. And the weather looks perfect for all of it!
(Space City Weather is sponsored this month by Jetco Delivery)
Next Week
We believe that today's cold front is going to be our last true front of spring. Yes, we could perhaps get another dose of drier air or a front that comes close, but in terms of really refreshing air, this may actually be it. Next week sees onshore flow resume with gradually increasing humidity and increasing temperatures. Expect more persistent mid or upper 80s for highs and lows into the 70s.
On a larger scale, the pattern over North America will shift into an early summer look, with an Eastern U.S. ridge supplemented by a Western U.S. trough. Where does this put Texas? Basically sandwiched in the middle. That's the transition zone, and it often leads to numerous rounds of showers and thunderstorms.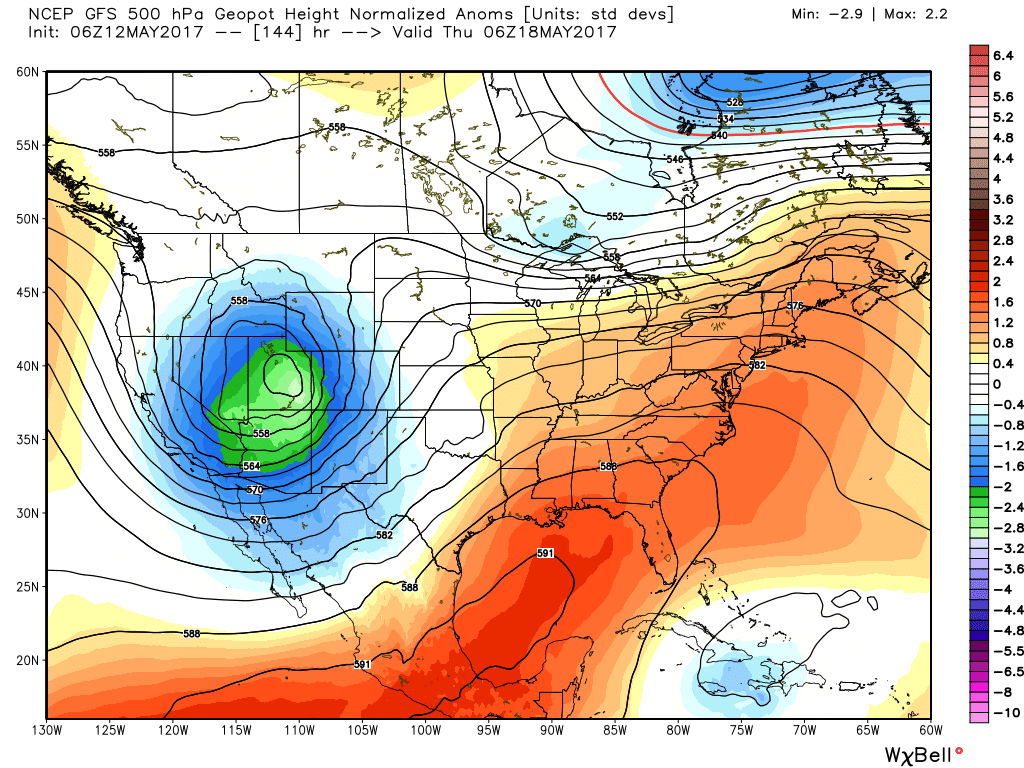 Weather models show stronger onshore winds and increased shower risk beginning about Wednesday. I do think the Houston region will have atmospheric capping issues to overcome for us to get thunderstorms next week. Northern Texas and interior Texas may have less of that. I think those areas in the I-35 corridor, Dallas, and the Plains may see multiple rounds of strong storms. For Houston, we'll wait and see. This could be the type of pattern where we get leftover complexes of thunderstorms drifting in during the overnight or early morning. There's nothing indicating anything serious in our backyard at this point, but I would expect the forecast late next week to evolve as we get closer and can see more details. Stay tuned.
Posted at 6:40 AM Friday by Matt