Good morning. Houston faces four or five more fairly warm to hot days—today should be the hottest—before the arrival of a fairly robust cold front. The really good news about this front is that there should be plenty of atmospheric moisture to work with, so our confidence has begun to increase in a pretty healthy amount of precipitation accompanying the front. While it's too early for precise information, 1 to 3 inches of rain would go along way toward ameliorating some of our recent dryness.
Wednesday
Today is going to be pretty muggy as tropical moisture moves into the area. Highs should push into the low 90s for much of the region, with partly to mostly sunny skies, and some of the highest humidity levels we've seen in a while. Winds will be light, generally out of the southwest. A weak front will approach the region this evening, and this should spark a 10 to 20 percent chance of rainfall late this afternoon, evening, and overnight. Don't expect rain, and then you won't be disappointed when it fails to materialize. Lows will drop into the low 70s tonight.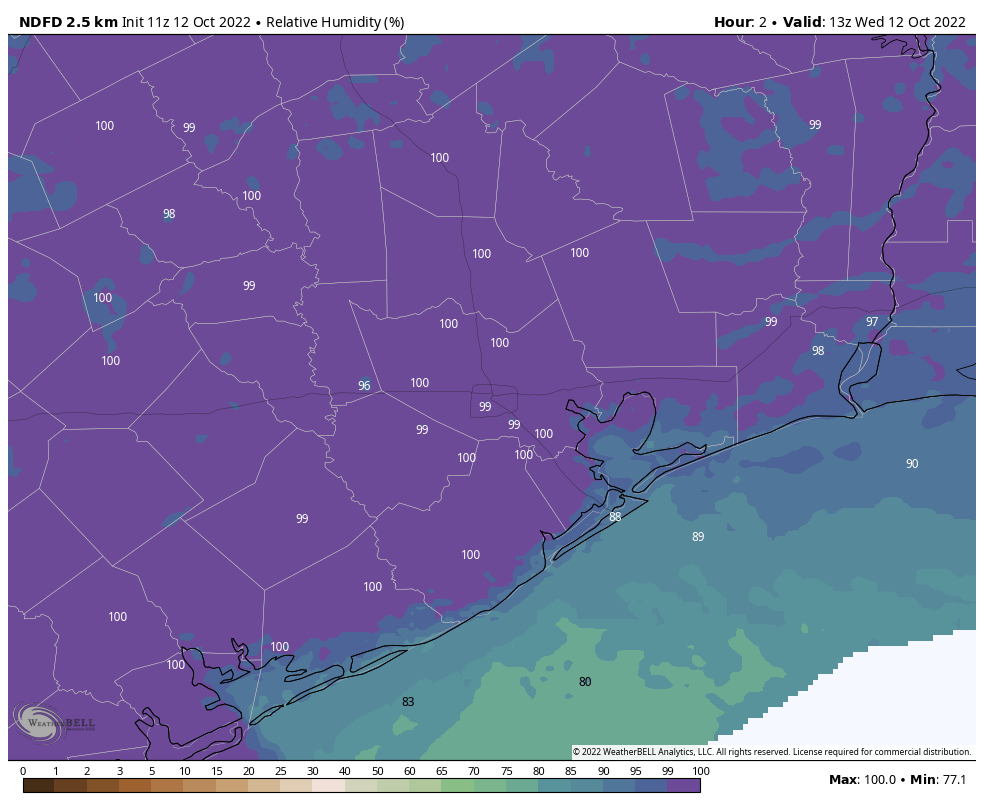 Thursday
As a modest amount of drier air filters in on Thursday, we can expect sunny skies and highs near 90 degrees. The evening hours should be pleasant, with drier air and temperatures in the upper 70s. Overnight lows will drop into the mid- to upper-60s for the region.
Friday
Drier air starts to go away as winds turn to come from the southeast. Look for sunny skies and highs of around 90 degrees. Lows on Friday night will be a couple of degrees warmer than Thursday night.
Saturday
The first half of the weekend will see humidity levels rise, and partly sunny skies. As moisture levels rebound, we will probably have about a 20 percent chance of rain. Look for highs near 90 degrees once again, with a warm and humid night.
Sunday
Rain chances on Sunday are better, perhaps 40 percent, but I expect showers to remain fairly scattered. Look for more clouds, and as a result highs in the mid-80s.
Monday and beyond
The stronger front looks set to arrive some time on Monday, and combined with a moist atmosphere, this will bring our region's best chance of rain in more than a month. Forecast models are still quite variable in their outcomes, but I think much of the region should see at least 1 inch of rain, with the potential for more. I am quite optimistic about this right now, but since this remains five days out we just can't offer any guarantees.
Colder and drier air after the front is coming, however, and I expect Houston to see at least a few days with highs in the 70s and lows in the 50s. Some inland areas may even touch the 40s by Wednesday or Thursday morning, if you can believe that.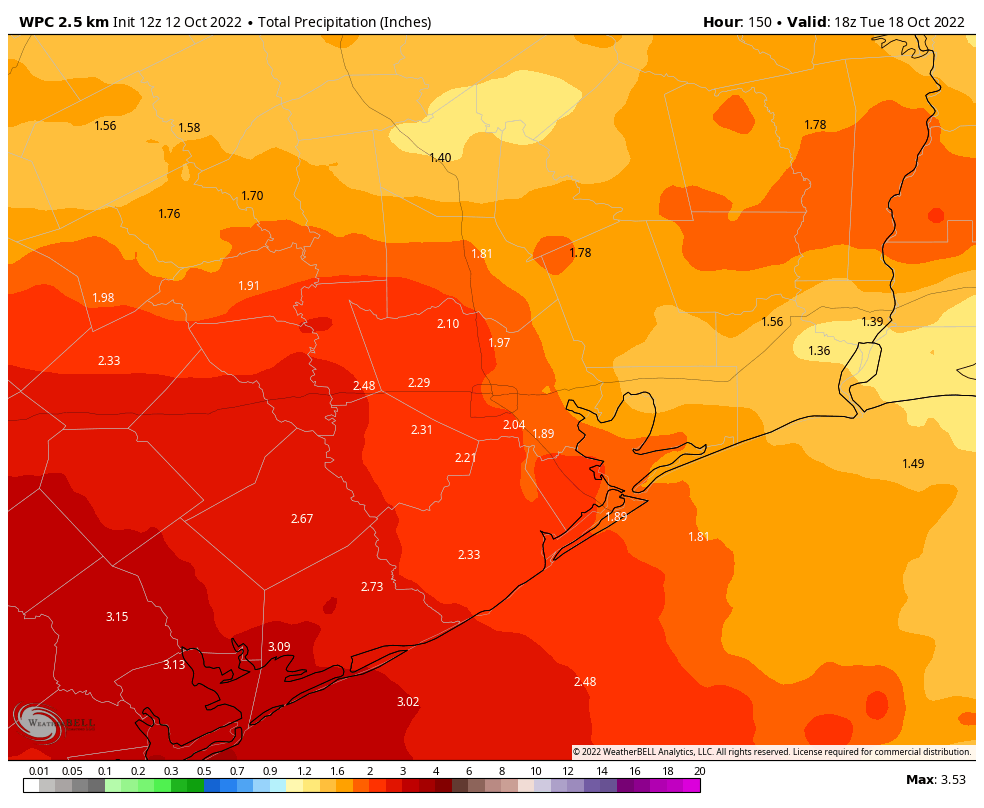 Tropics
Tropical Storm Karl has formed in the Gulf of Mexico. Should you be concerned if you live in Texas? No. We told you more than a week ago that the Texas hurricane season was over, and when we're that definitive on something you should probably trust us. The storm could bring heavy rainfall and flash flooding to parts of the Veracruz and Tabasco states on Mexico this week, however.