Hurricane Ida has strengthened significantly today, going from barely tropical storm status to a Category 1 hurricane with 80-mph sustained winds. Unfortunately, there is little to inhibit further strengthening this weekend. After Ida moves across Cuba tonight, the combination of low wind shear, a moist atmosphere, and blazing hot Gulf of Mexico sea temperatures are ideal for rapid intensification. For this reason, the latest National Hurricane Center forecast brings Ida to a Category 4 major hurricane before landfall along the central Louisiana coast on Sunday afternoon. Confidence is very high in this track.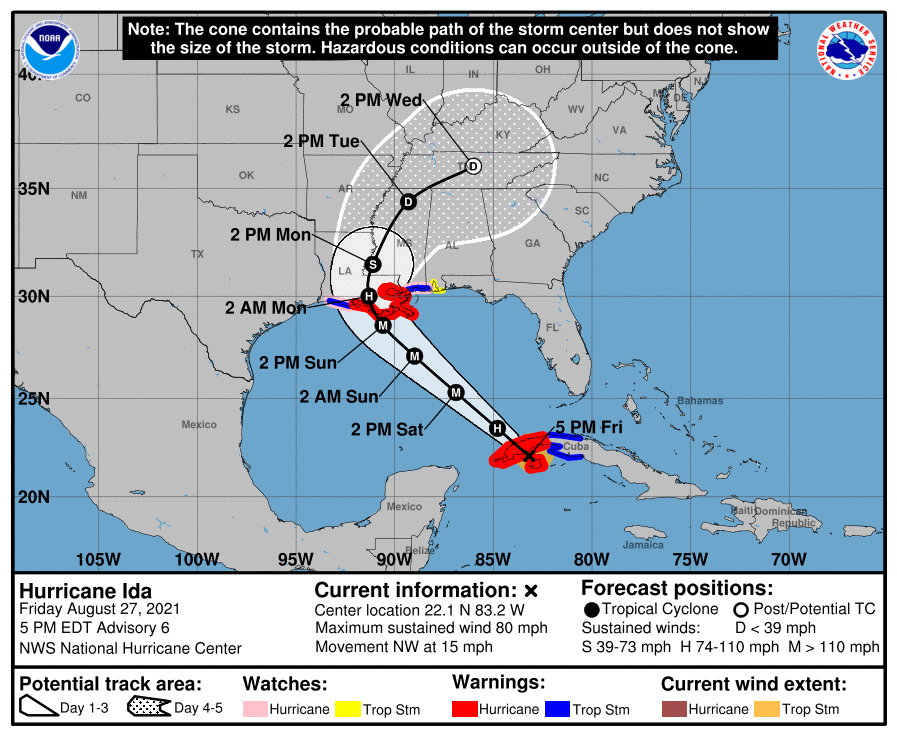 This post will address what such a storm will actually mean for people on the ground. First up is a forecast for "wind gusts." This is different than sustained winds, which are how forecaster define the intensity of a storm. But gusts are an appropriate measure of maximum winds. Here's a forecast for the swath of highest gusts from Ida. It is not gospel, but it offers a good approximation of what to expect, where. There will be major structure damage and widespread power outages.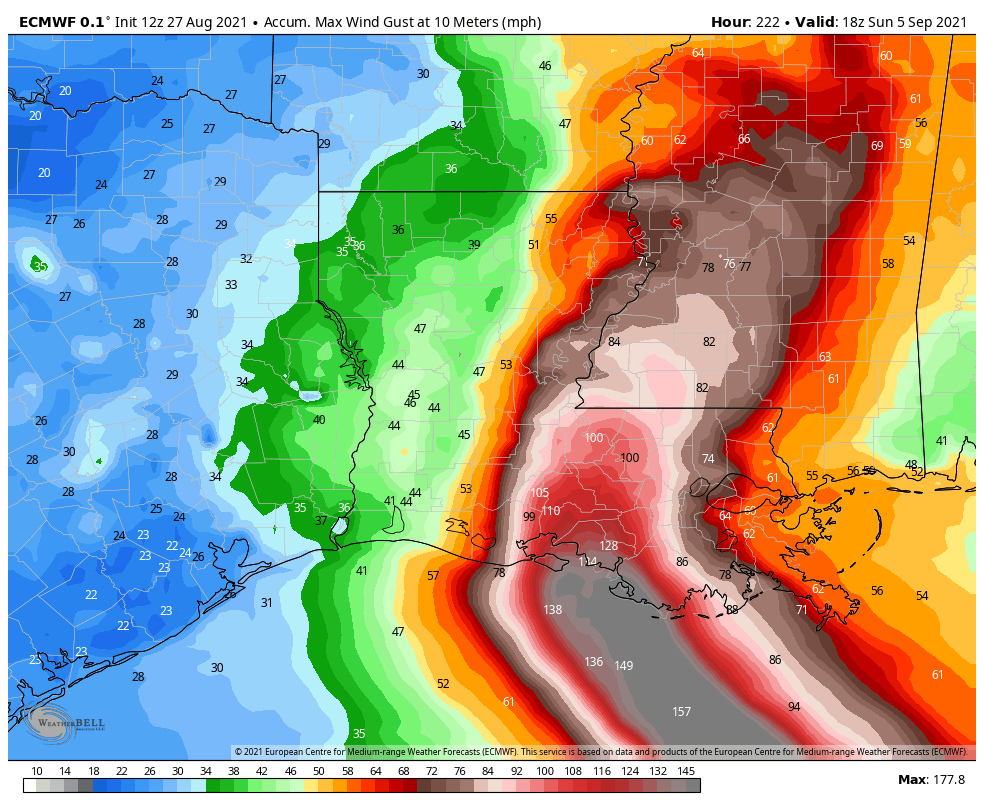 The next threat from a hurricane like Ida is storm surge. The graphic below from the National Hurricane Center is the best estimate for the combination of surge and tide above normal water levels. Ida will bring a dangerous storm surge to the Mississippi River delta area, and parts of New Orleans not behind the levee system.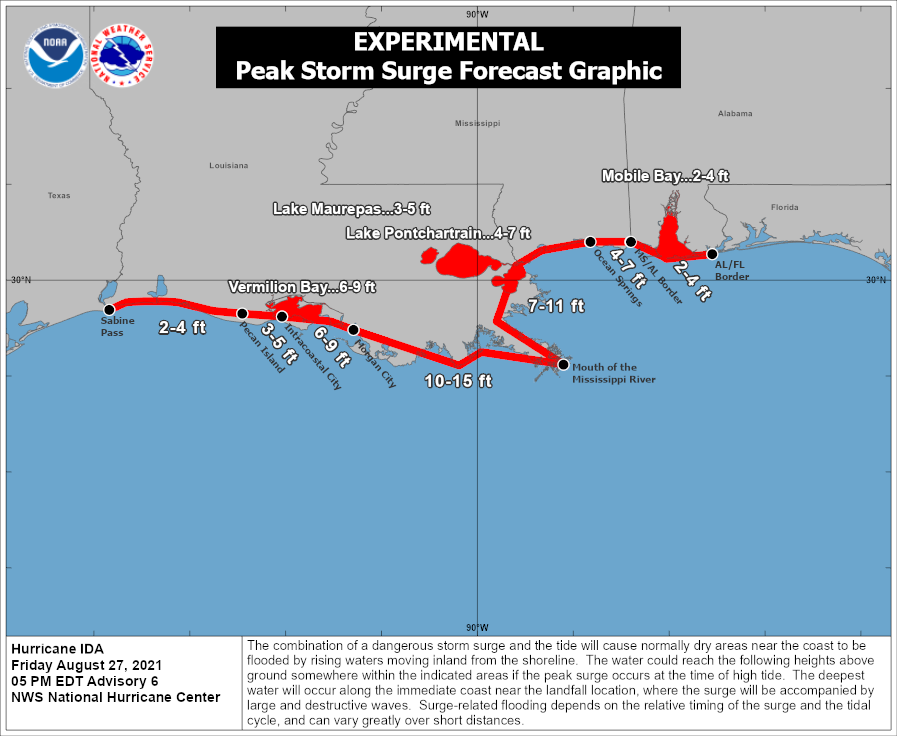 The final major threat from a hurricane like Ida is inland rainfall. The storm is going to keep moving, but it will slow a little as it approaches the coast and moves inland. This should allow for some areas of southeastern Louisiana to experience 10 to 20 inches of rainfall, which will be falling on top of a significant storm surge. These are dangerous amounts of water for unprotected areas.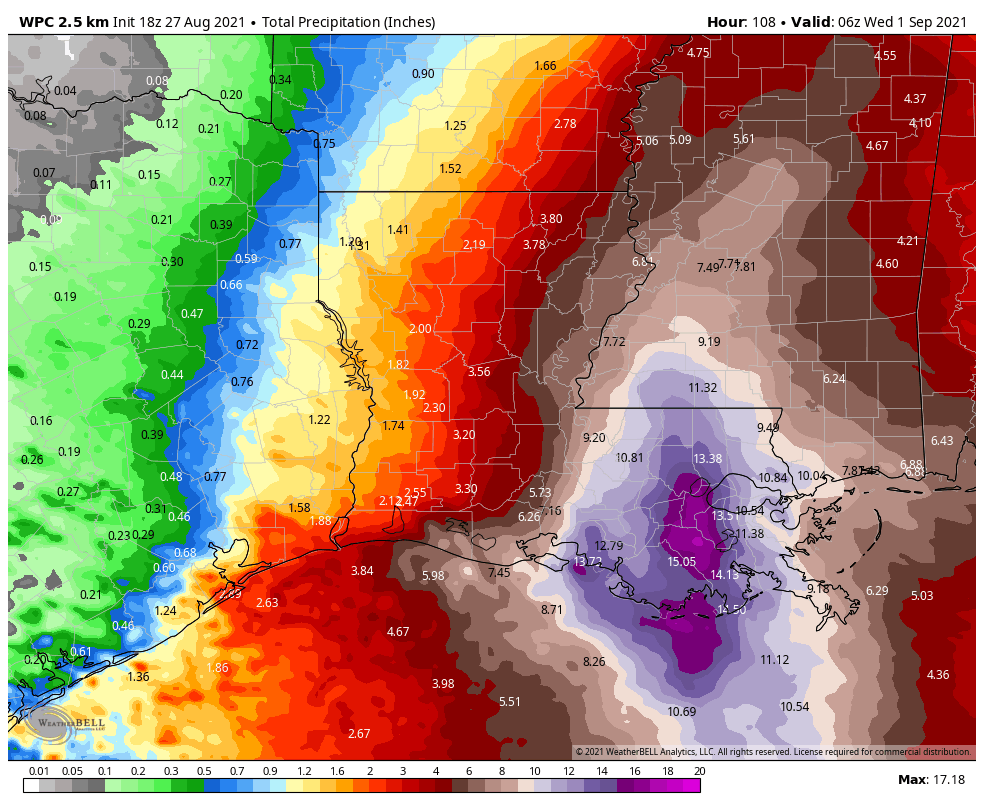 There is not much of a silver lining for this storm, which is set up to deliver a gut punch to the state of Louisiana. The only thing we can offer is that the western part of the state—including Lake Charles—that was pummeled during the 2020 hurricane season should escape the worst of Ida. After this storm moves away from New Orleans later on Monday and Tuesday it will be time to help. That is something the generous people of Houston are very good at.
Matt or I will have an update on Saturday before noon.