Good morning. Temperatures are generally in the upper 60s across the Houston metro area, with nearly matching dewpoints. This is our new normal for awhile, as we are going to see substantially warmer than usual conditions for the next week, with high temperatures in the 70s to 80 degrees, and moderate nights. This anomalously warm weather will persist into the weekend, at which point a cold front should finally bring some relief.
Monday
Coastal areas are seeing patchy to dense sea fog this morning, which has reduced visibility to one-quarter mile or less for some areas. An advisory is in effect. This may persist until 8 or 9 am before lifting. Later today, skies should be partly to mostly sunny, with highs in the upper 70s. Winds will be out of the south at about 10 mph, with gusts up to 20 mph. There's a slight chance of some light, misty rain this afternoon. Low temperatures tonight will be sticky, with lows unlikely to drop much below 70 degrees.
Tuesday and Wednesday
Our weather will continue to be dominated by a persistent southerly flow through the middle of the week. So we can expect days much like Monday, with a chance of fog, highs near 80 degrees, and a mix of clouds and sunshine. There's a slight chance of light rain both days. Overnight lows will be around 70 degrees, with is far, far above the normal low this time of year, the upper 40s.
Thursday and Friday
It looks like a weak front will approach the area on Thursday, increasing the chance of some light rain to about 30 or 40 percent. The front should knock a bit of heat and humidity out of the forecast, but not too much. Lows may drop into the upper 50s for inland areas on Thursday night, but most of the Houston metro area will be in the 60s. Highs on Friday may be in the mid-70s, with partly to mostly sunny skies.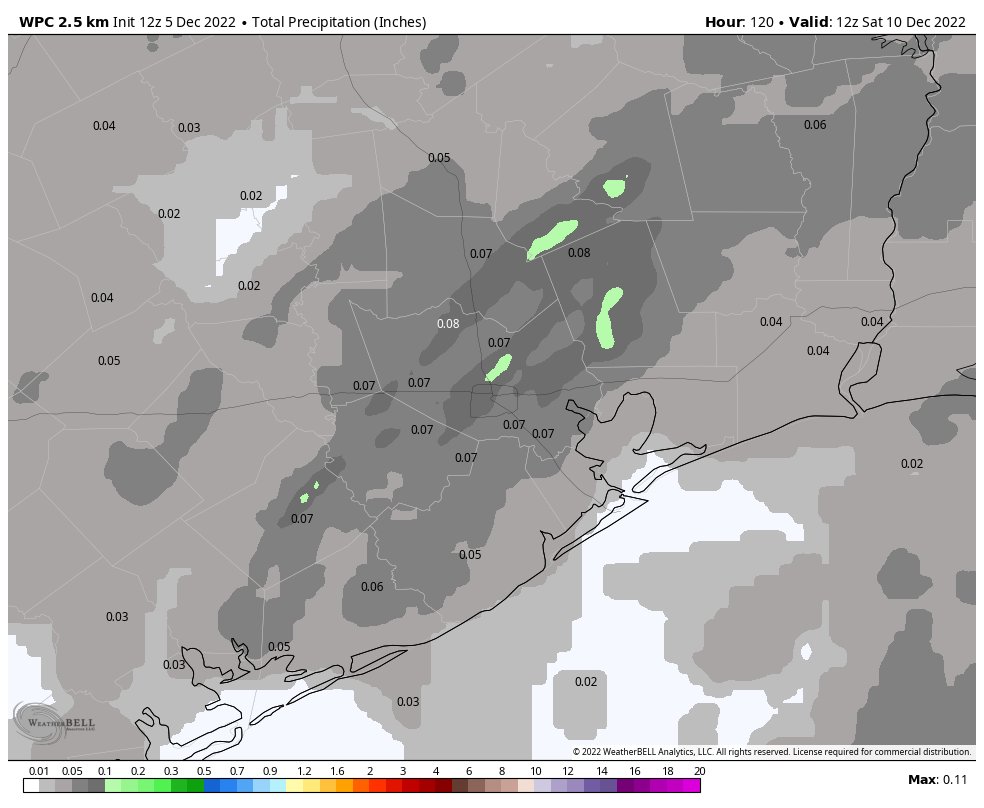 Saturday and Sunday
The aforementioned weak front will probably move back onshore as a warm front on Saturday, bringing with it a chance of rain showers. Highs on Saturday will probably reach the upper 70s, with partly sunny skies. Another, stronger, front seems likely to push through on Sunday or Sunday evening, and there may be some additional showers with its passage. So the forecast for Sunday, at this point, calls for about a 50 percent chance of rain with highs in the 70s.
Next week
The second front should knock highs down into the 60s for much of next week, with lows perhaps in the 50s or even 40s. It will, at least, start to feel more like the holiday season. The details on how cold, and for low long, are fuzzy. But winter should make something of a comeback.