There is not a whole lot to say about our weather for the upcoming week in <checks notes> early December. High temperatures will be around 80 degrees for much of this week and weekend. More winter-like weather is coming with a definitive pattern shift, but that probably is a week away. So until then we'll be singing Frosty the Air Conditioner Man rather than Frosty the Snowman.
Tuesday
The overall pattern today is the one we're going to see for awhile, which is to say high pressure offshore and lower pressures over the central United States. This will drive an onshore flow that will keep our conditions warm and fairly humid, especially for December. Highs today will reach about 80 degrees or just above in the city of Houston, with warmer conditions possible inland, especially to the west in places like Katy. Look for partly sunny skies and light southerly winds. There is about a 10 percent chance of rain. Lows tonight will drop into the upper 60s.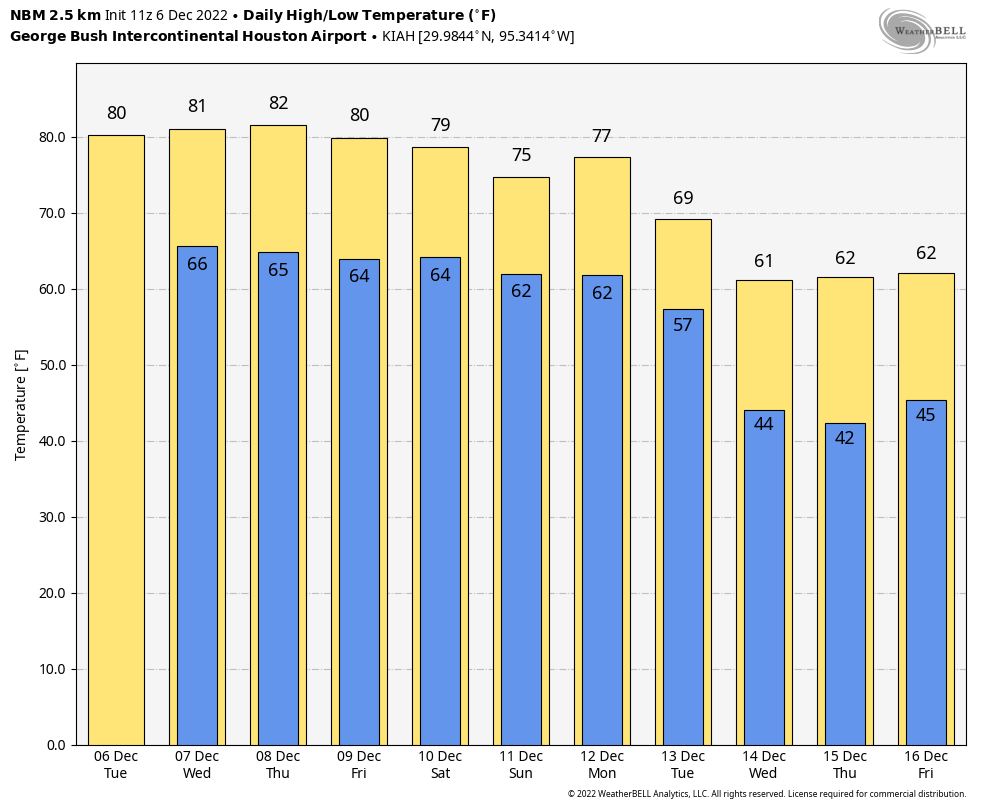 Wednesday
If anything, temperatures on Wednesday may be a degree or two warmer than Tuesday, with a mix of sunshine and clouds. Rain chances are perhaps 20 percent, but anything that falls will be light and probably briefly lived. Expect another warm night.
Thursday and Friday
Welp, I had hoped for some slight relief toward the end of the week as a front pushed into Houston, but it now appears that this weak front will wash out before pushing too far into the metro area. As a result, we can probably expect a pair of warm days with highs near 80 degrees, partly to mostly sunny skies, and perhaps a 20 percent chance of rain. Areas well inland may see some slightly cooler and drier air from the front.
Saturday and Sunday
The weekend should see continued warm weather, with highs likely in the upper 70s, and partly to mostly sunny skies. Rain chances may be slightly higher, in the vicinity of 30 percent, as another front washes out over the area. This front may bring some moderately drier air to Houston, especially away from the coast. But it's still not going to feel anything at all like December outside.
Next week
We're likely going to have to wait until Monday night or Tuesday for the next real front to barrel into Houston. However, when it does come, there is pretty good agreement in the global models that this front will mark the start of a pattern change for much of the United States, including Texas. The second half of December does look winter-like for our region, although it's too early to have any confidence in details for Christmas Day.