Good morning. After some storms on Sunday night, Houston's weather remained mostly calm on Memorial Day. As we enter June the region should remain in this gray pattern, with on-and-off rain chances for most of the rest of this week. This isn't great weather for those who are looking for sunshine, but if you're hoping to put off the start of Houston's summertime slog of 90-degree days, you're in luck.
Today
Despite the mostly cloudy start this morning, Houston might actually see some sunshine later today—if only briefly. Moisture levels aren't that high, so I'm only expecting a few scattered showers to go along with highs in the mid- to upper-80s. Overnight lows will be in the low to mid-70s for most of this week.
Wednesday
As moisture levels pick back up on Wednesday, we'll see somewhat better rain chances, and we can't rule out of a few scattered, heavy rain storms during the day. Highs should be in the mid-80s with mostly cloudy skies.
(Space City Weather is sponsored this month by Jetco Delivery)
Thursday and Friday
By Thursday an upper-level disturbance should combine with fairly high moisture levels to produce a really healthy chance of rain across the Houston area. While we can't rule out flooding given the time of year and moist atmosphere, it looks like these storms should produce 1 to 2 inches of rain to end the work week for most people, rather than an absolute deluge. We'll be watching it closely regardless. Highs should remain in the mid-80s.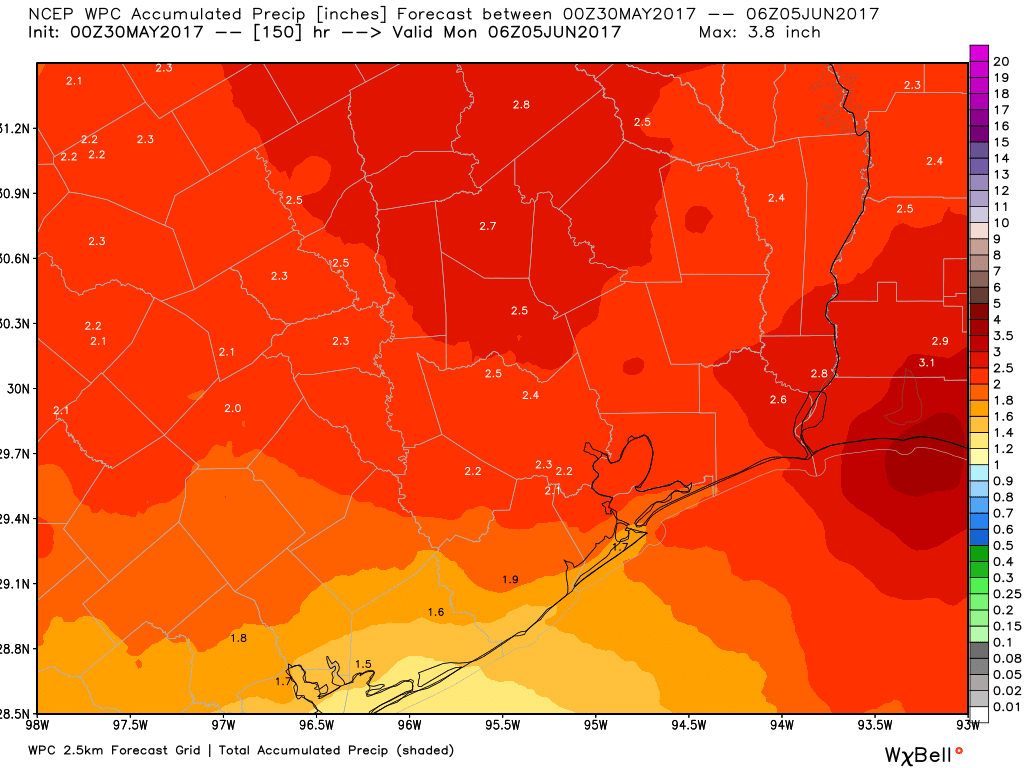 Next weekend
The forecast for this weekend isn't particularly clear, but the best bet is that we're going to remain in this quasi-moist regime, with decent rain chances and partly to mostly cloudy skies. At this point I don't think we're looking at any significant flooding, but that remains a potential threat that we'll have to look out for. This pattern may hold through the early part of next week before we finally see clearing conditions and characteristically warmer summer days in the low 90s. Honestly, there are worse ways to begin the month of June—such as with a tropical storm or highs in the 100s.
Posted at 6:45am CT on Tuesday by Eric