So far the forecast for Houston remains on track. Nearly all of the heavy rainfall has remained west of Interstate 45, with generally 1 to 4 inches falling between Wednesday afternoon and Thursday morning. A few areas, such as western Montgomery County, saw as much as 5 inches. Now, we've got to get through one more day before skies clear this evening and the new year dawns brighter.
Thursday daytime
After storms waned during the wee hours of Thursday, we're starting to see activity fire back up west of Houston around sunrise. This mass of storms should generally move from west to east during the daylight hours, bringing an additional 1 to 3 inches across much of the Houston area. However, the forecast will be complicated by the front's interaction with a low-pressure system presently along the Texas coast, near Corpus Christi. As this low moves north today, it could induce some severe weather to the south and east of Houston—especially the closer one gets to Beaumont and Port Arthur. The threat will be strong winds amidst severe thunderstorms, and possibly a few tornadoes. The area of greatest threat is shown below.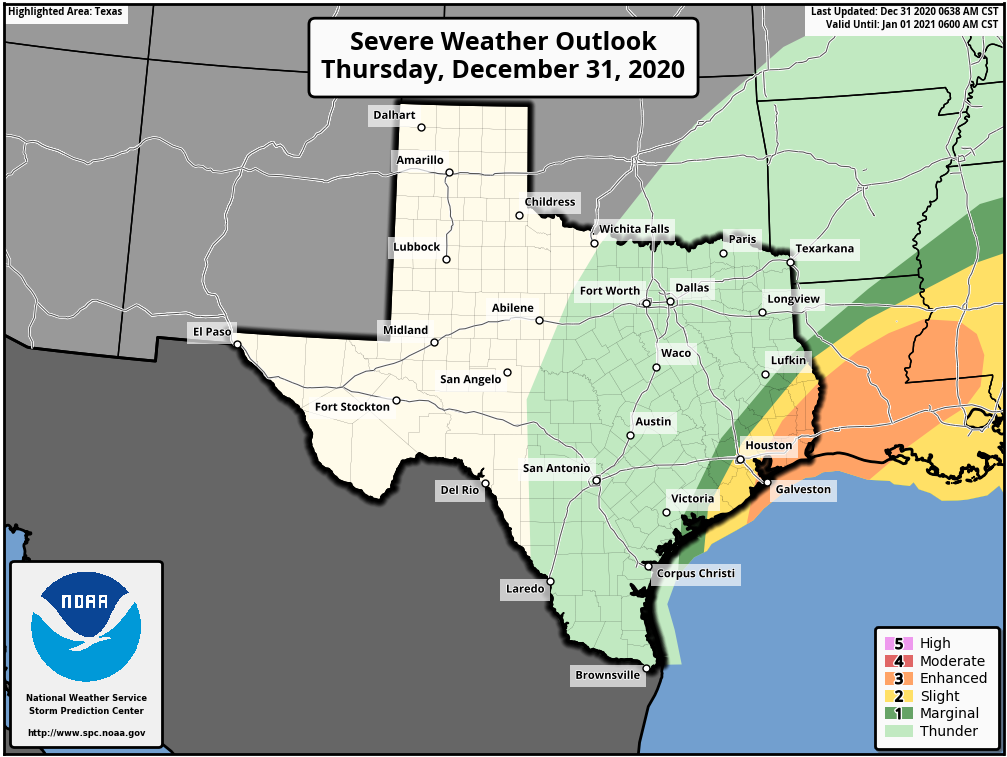 New Year's Eve evening
The cold front presently draped across the Houston region will finally lift to the northeast this afternoon and evening. I think rains should be gone from the central Houston area by around 4 to 6pm CT today, and rapidly pull away to the east after that time. Temperatures after sunset will quickly drop into the 40s, with brisk westerly winds blowing at 15 to 20 mph, and higher gusts. Bottom line: If you're outside when the clock strikes midnight, it will "feel" like it is in the 30s.
New Year's Day
Lows will drop to around 40 degrees before rebounding into the upper 50s on New Year's Day. After some morning clouds, skies should be mostly sunny.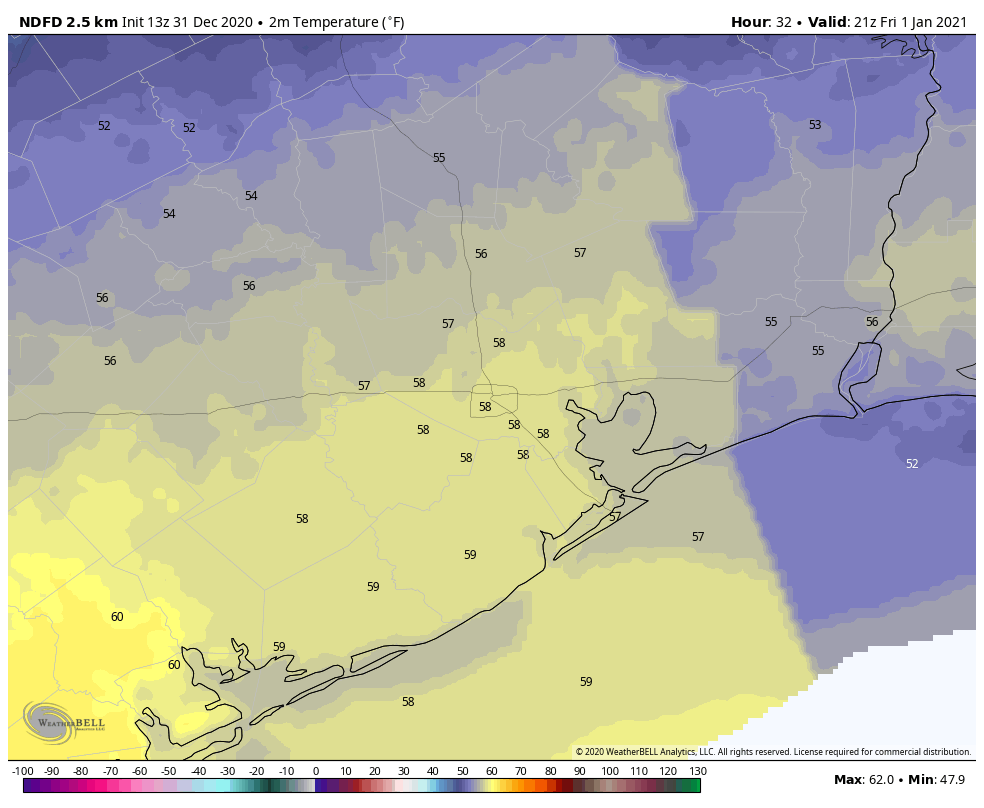 Saturday and Sunday
Expect more sunshine throughout the weekend, with highs in the mid-50s on Saturday, and low 60s on Sunday.
Next week
Houston will likely see a slow warming trend next week before another front arrives on Wednesday or Thursday to keep our weather reasonably cool. This one may bring some additional rain, but nothing like we've been experiencing with the current front.
2020 Hurricane Season
If you missed it, we published Part I of our hurricane season wrap-up on Wednesday, and will publish Part II later today.