In the wake of Tuesday's cold front, Houston will now see a period of chilly days with partly to mostly sunny skies through the weekend. Clouds, some humidity, and rain chances return on Monday. All in all, it will feel a lot like winter in Houston.
Wednesday
Winds are blowing out of the north this morning at 10 to 15 mph from the northeast and this influx of cooler air should continue for most of today, limiting high temperatures in the mid-50s despite the presence of sunny skies. A few clouds will develop overnight, but temperatures should still drop to around 40 degrees in Houston as winds slacken somewhat.
Thursday
Some clouds will work their way into the region on Thursday ahead of the next cold front, so expect partly sunny skies during the morning, and grayer conditions as we get toward evening. Highs should reach the upper 50s for most locations, with light northeasterly winds. Overnight lows will drop into the low- to mid-40s. Some light rain is possible Thursday night as the front passes through early Friday morning.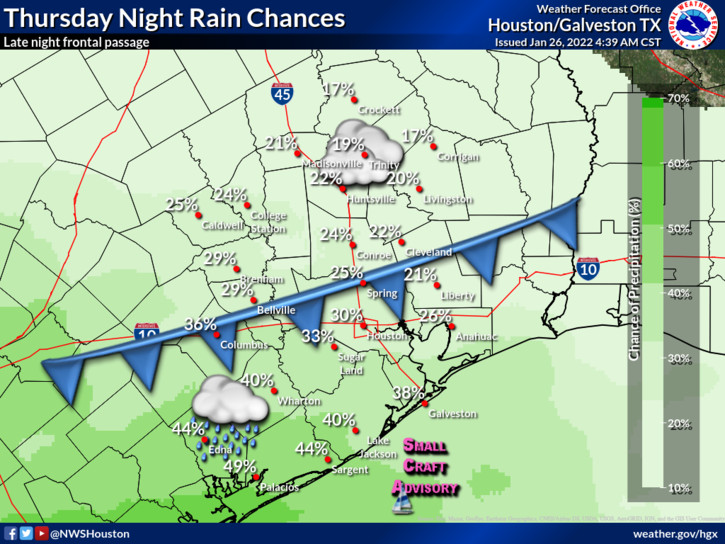 Friday
Skies should begin to clear out in the wake of the front, but even with the sunny skies temperatures will crest in the mid- to upper-50s. This will be a somewhat chilly day, with winds gusting out of the north at or above 20 mph during the daytime. Lows Friday night will drop into the 30s in Houston, and a light freeze is possible for outlying areas.
Saturday and Sunday
The weekend looks tremendous for late January, with mostly sunny skies and cool, dry air. Look for highs near 60 degrees on Saturday, with overnight lows dropping to around 40 degrees, and highs in the upper 60s on Sunday.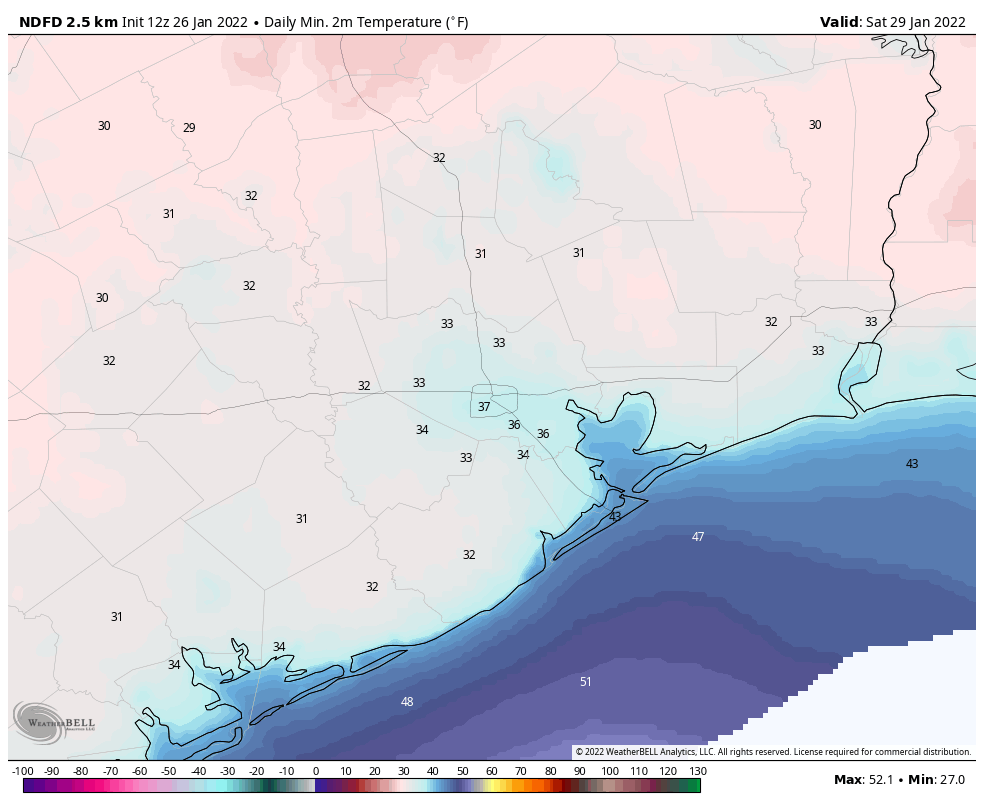 Next week
As the onshore flow returns, look for increasing atmospheric moisture levels to spark a decent chance of rain through about Wednesday. Highs should eventually climb back into the low 70s before a front late on Tuesday or some time Wednesday brings more chilly weather back into the picture, with nights perhaps dropping back down to around 40 degrees. Look for rainfall accumulations of perhaps 1 inch next week, give or take.