Tomorrow is the first day of August, which means we are now heading into the peak of hurricane season for the Texas coast through the end of September. It's a marathon, and it's important for all of us, residents, public officials, and forecasters alike to pace ourselves through the next few weeks. That's partially why Eric and I are here, to let you know when a system is worth spending time worrying over. And right now, there's nothing out there we need to be seriously concerned with.
Tropical outlook in a sentence
We are seeing tropical waves begin to move across the Atlantic with a little more aggressiveness now, and while some systems may develop over the next couple weeks, none at this point is a Gulf concern.
Near-term summary
The tropics have come to life in the last week, with several tropical waves that have at least managed to hold together more respectably than anything we've seen since hurricane season began.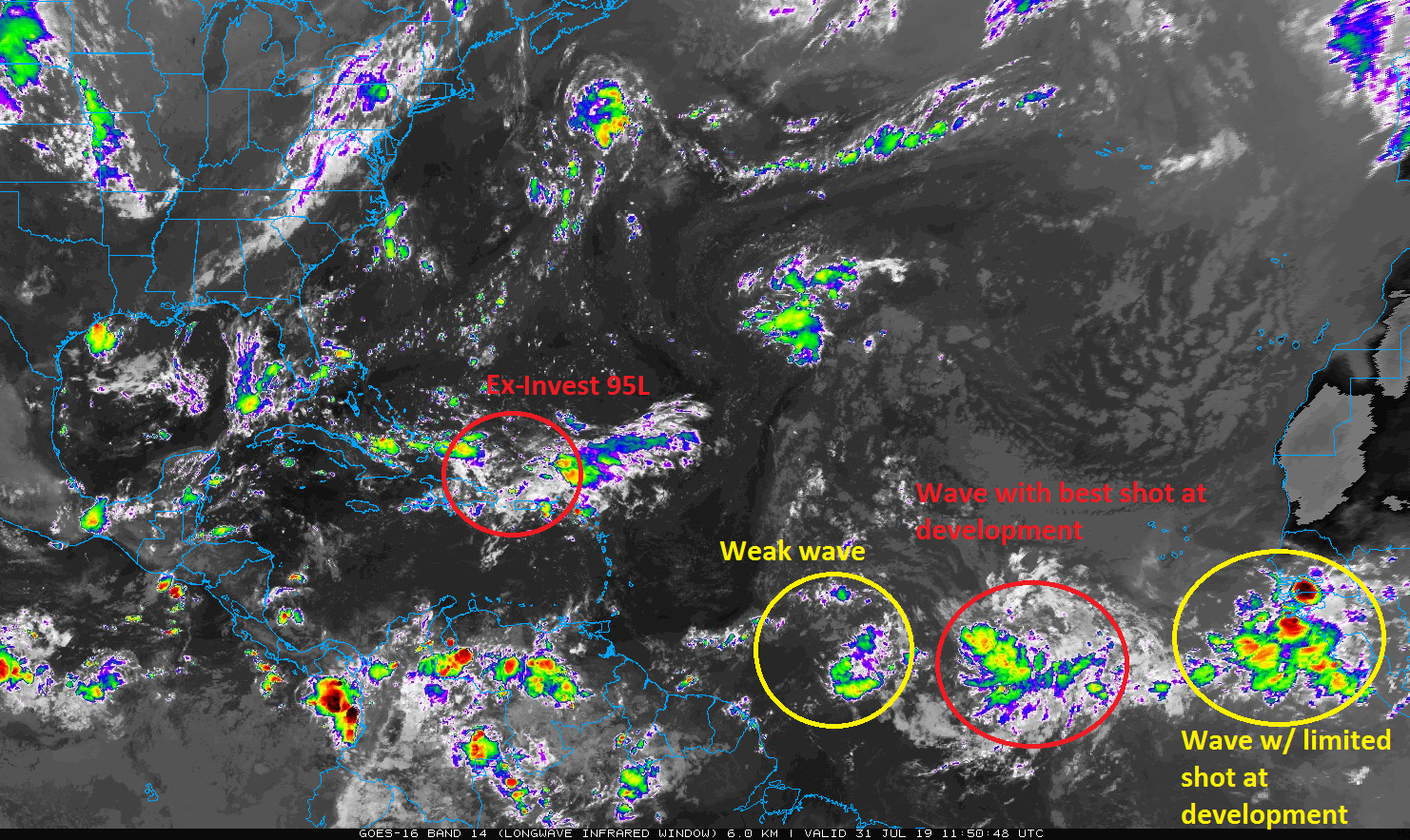 You can see the waves lined up from earlier this morning on the satellite image above. The first one of note is what had been dubbed Invest 95L by the National Hurricane Center (NHC). It's moving into the Bahamas now. It's not organized in any meaningful capacity, and I believe it has lost the 95L tag, but the NHC gives it about a 10% chance of doing so over the next few days. Because of another trough digging into the Eastern US, this system will likely get pulled north and northeast toward or east of Florida. At this point, I think this one is a non-issue.
Slightly longer-term outlook
The next wave is about two-thirds of the way to the islands from Africa and is not a concern. Behind it, however, is a rather robust wave that I think has a pretty good shot of development.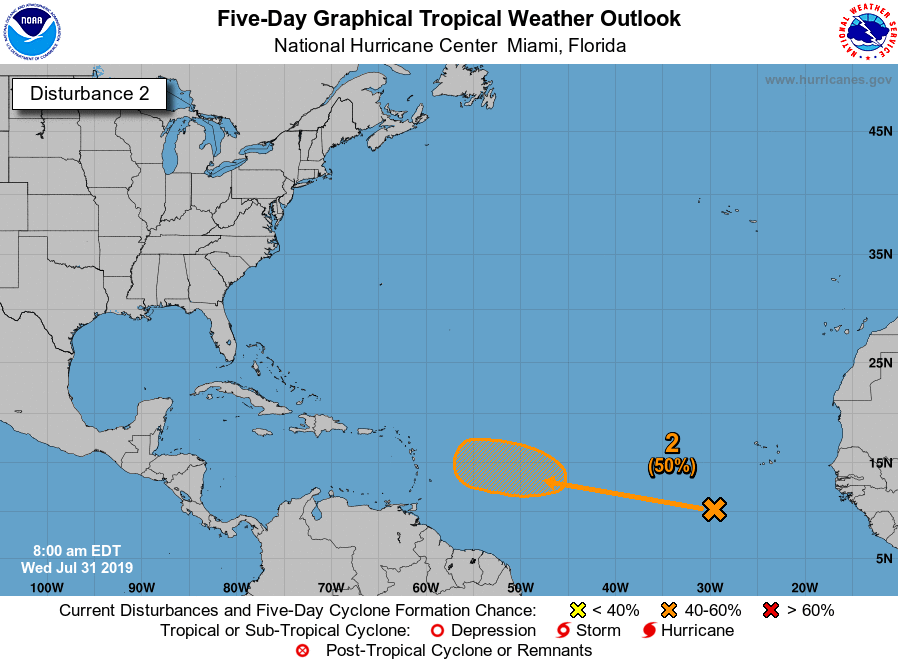 This one will not develop in a day; the hurricane center is giving it a 50 percent chance of development by the weekend just east of the Caribbean islands. Where does it go from there? Read on.

The key to where this disturbance goes will be the way the upper pattern looks in the Atlantic. So let's take a gander. Here's a map from the European ensemble mean for day 7 (next Tuesday evening)
What you have is a pretty robust area of high pressure over the Central Atlantic. How strong this is and how it is oriented will determine where the system treks. A week from today, the system should be located somewhere near that cluster of red "L's" in the northeast islands or near Puerto Rico.The high pressure over the Atlantic will likely generally steer this disturbance west and then west-northwest across the Atlantic. From the islands, it will probably either trek over Hispaniola or just north into the Bahamas.
From there, where will it go? It's obviously too far out to say with any specificity. But if you look at the downstream pattern from where the system would presumably be located, there will be some challenges for this system to get into the Gulf. I believe it would probably turn to the northwest or north near or east of Florida based on this look, as there should be a dip in the jet stream in the Eastern U.S. that could capture this and force it northward. I also believe that this won't be an especially strong system, so it may be easier to get pushed around. For now, our advice is to not worry much about this. Worth noting, there are not even any outlier models or ensemble members that bring this to the western Gulf as of this morning.
If you have a vacation to the Bahamas or Puerto Rico or the northern Leeward Islands, then you'll want to monitor this, but at this point, the system is expected to develop only slowly, so there are no serious concerns there right now either. For Texas, like any deep Atlantic system, you probably only need to check in on this every few days until next week. By then we will know a good bit more about where it should go, but Eric and I are not really concerned with this at this time.
Behind this disturbance there are other waves, but none at this point is expected to develop. In fact, things may go a bit quieter for a time heading into mid-August. I wouldn't expect that to last though, as things almost always heat up as we approach September. But if we can buy a couple weeks in August with limited development, that's all the better. We will of course keep you posted on any new developments.